FRUSTRATING FILMOGRAPHIES #2
page 3
john cribbs
wes craven's MUSIC OF THE HEART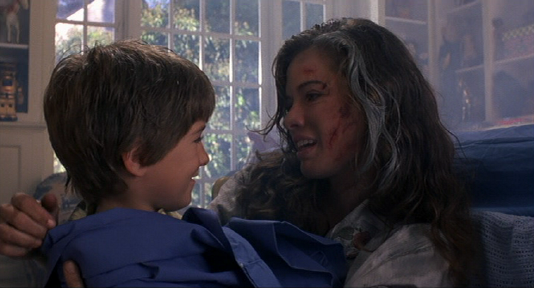 Just consider this: in New Nightmare, Heather Lagenkamp, playing a fictional version of herself, is widowed after her husband dies in a tragic car "accident," of which she witnesses the horrific conclusion. In my opinion that's much worse than dealing with a douchebag ex who ran away with your best friend, which Streep suffers through like a modern martyr in the first half of Music. In Nightmare, Heather can't even mourn her late husband without Freddy showing up to fuck up the funeral. Then she has to deal with a son who's having a psychotic breakdown, a doctor who thinks she's insane, a pretentious artist version of Robert Englund, a brutally murdered babysitter and a giant Freddy dangling her child over oncoming traffic! I think one of Meryl's kids tells her to shut up at one point while they're having a fight, but neither of them tape knives to their fingers and sulk around the apartment making ominous growling noises. Just watch poor Heather desperately try to keep her son from falling asleep for fear that he won't wake up and then try to feel bad for Meryl when she might have to find a new job. Honestly, what's the appeal to a mother like this?
(Not to mention the fact that, playing an actress famous for a role in a horror film and therefore certain to be shunned for life from all prestigious award nominations, Heather – the character, although Lagenkamp playing herself is more impressive acting-wise than Streep in anything she's ever done – is humble and realistic. Unlike Meryl Streep who, by sheer fact that she is the perpetually phony, award-hording mother hen of Hollywood, comes off as icy and condescending in any role she plays. But we'll come back to that).
I won't even get into the character of Doug from The Hills Have Eyes, who no sooner has been widowed after his wife is murdered by mutated mountainfolk than he's forced to exercise his single parent duties by rescuing his kidnapped baby from said mutants. What's worse, struggling to raise and support your kids in Harlem or trying to stop your baby from being eaten by savage cannibals?
Obviously, it's taken for granted that the seventh entry in a series about a demonic nightmare child murderer couldn't possibly be as true a portrait of a struggling single mother than an inspirational true story starring Meryl Streep. But did Craven himself, looking back at life in his twilight years, start feel a tinge of regret over his exploitation of clueless teen victims in the Elm Street series? Is Freddy not a good enough role model?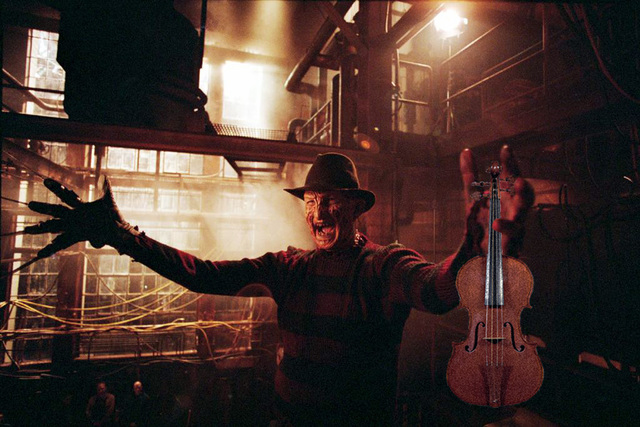 The thing is, Craven's direction of M.O.T.H. – and his storytelling – feels hugely self-conscious. He seems to be aware of the Inspirational Teacher movie clichés and veers away from them, something you'd think would be a good move. But with this kind of formulaic story, leaving those elements out just throws the whole thing off balance. Take the initial conflict that one could expect from this kind of movie: inner-city kids have zero interest in learning to play violin. You'd expect it would be the teacher's first big hurdle. Sure enough, one of the black kids in the first class announces "Violins are for wimps!" forcing Meryl to assure him that violins are in fact "cool." By the next scene, the kid seems to have come over completely to her way of thinking and turns out ten years later to have become a professional violinist. She literally doesn't meet any hostility from a single student (except one who complains to her parents that teacher is too mean) for the rest of the movie. Apparently, this posse does do homework.
Craven is normally a good storyteller, he understands conflict. Like the rising tension between Bill Pullman and Baby Doc's police in The Serpent and the Rainbow that ends with a ten-penny nail being hammered into his scrotum. The man knows conflict.
Speaking of Serpent, remember how interesting Haiti was in that film? Craven actually shot on the island. His settings are usually pretty memorable, from the row of Springwood, Ohio houses lined up for the slaughter in A Nightmare on Elm Street to the Los Angeles ghetto in The People Under the Stairs. But here, even shot by the usually-great cinematographer Peter Demings, the city is just a background to uninteresting events. It's almost as if Craven was worried about playing up the "urban" angle to the story: after a rote ride in a taxi cab with shots out the windows of run-down buildings and dodgy street dwellers complete with cabbie chirping "Welcome ta East Harlem!," the film stays pretty much confined to the school and apartment sets. In his worry to make the city not look ridiculously dangerous, Craven tamed it into a complete non-entity.
There are a few other examples of avoiding the standard practice of Urban School drama that only make the story confusing. Like in Dead Poets Society (and Dangerous Minds, for all I know, and certainly in The Substitute) a classmate dies tragically, in this case it's a drive-by shooting (remember, Harlem). But I'm pretty sure it's just some random kid who's never pointed out specifically, it might not even be a boy from Meryl's class. Honestly, I have no idea: the only recognizable student characters we remember are because of a physical trait (black, handicapped), not because any of them are well-developed. Again I have to ask: did Wes avoid creating "urban kid" characters out of fear of stereotyping them?
Whether Wes was considered more of a whore for reaping the profits of the exploitation market for twenty plus years or for selling out to make his Miramax Message Movie, the numbers speak for which pimp owns the street. Whereas 1972's Last House on the Left turned $50,000 into $10 million internationally for its investors, 1999's Music of the Heart made back a mere $15 million of its $27 million price tag. The film's failure didn't stop studios from churning out more Inspirational Mentor/Underprivileged Can-Do Pupil movies in the following decade (Coach Carter, Freedom Writers, Akeelah and the Bee) but it paled in comparison to the success of the horror film released the same day, a remake of William Castle's The House on Haunted Hill which would go on to do nearly $41 million from a $19 million budget.
Despite the film's financial letdown, it brought Miramax the attention at award time Harvey and Bob were undoubtedly after. Playing an inspirational teacher had scored an Oscar nod for Edward James Olmos in Stand and Deliver as well as Richard Dreyfuss in Mr. Holland's Opus, a 1991 Image Award for Best Actor for Morgan Freeman in Lean on Me and a Blockbuster Entertainment Award win and MTV Award nomination for Michelle Pfeiffer in Dangerous Minds. Peter Donat won an Oscar and Peter O'Toole was nominated for playing the same celebrated teacher in both versions of Goodbye, Mr. Chips, respectively. Robin Williams was recognized for his desk-climbing in DPS and would later win for his slight variation as "inspirational psychologist" in Good Will Hunting. This kind of role is Oscar Spanish fly: Meryl Streep would have signed on if Harmony Korine was directing. She had already emasculated the terrific director Carl Franklin by getting him to helm One True Thing, her successful Oscar bid from the year before, and probably thought she was doing him, and Craven, a big favor. At this point in her career "actress" seems almost secondary to "award monger."
Still, it's absurd that the Academy went for such obvious bait. The conversation must have sounded something like:
"What about Meryl? What was Meryl in this year?"
"Inspirational inner-city school violin teacher movie directed by –"
"Stop right there. You had me at inspirational!"
What more proof do you need that the Oscars ruin movies than to look at movies like this, or Sidney Lumet's The Morning After featuring an Oscar-nominated performance from Jane Fonda?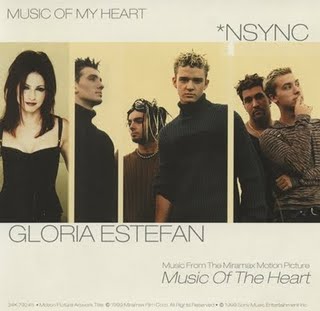 Also nominated for an Academy Award (and a Grammy!) was the eponymous song from the closing credits written by Diane Warren and performed by Estefan with N Sync. Gloria and the guys implore the subject of the song to "Help me to free the me inside," and claim they "opened the door to something I've never known before." (i.e., thanks for teaching us how to play violin, we hadn't done that until now.) But there was that little violin player inside, just waiting to get out. Would they have been as inspired, I wonder, if Streep taught the tuba? Oboe? A different string instrument like the harpsichord?
Ironically, 1999 was the same year the first real film that could be considered "horror" was nominated for five major Oscars: M. Night Shyamalan's The Sixth Sense was up for Best Picture, Director, two acting awards and Best Original Screenplay. And of course it was a mammoth hit, bringing in $293,500,000 domestically, $672,800,000 internationally off $40 million. Harvey Weinstein had blown his chance to finance it after ostracizing Shyamalan on his last film, but at least he had his little violin movie.
Music of the Heart is dedicated "to anyone who's ever been told their dreams are out of reach." Did people honestly tell Craven he'd never be allowed to make a movie about an Inspirational Violin Teacher? Did this movie help him free the "me" inside? Most people looked at Wes Craven directing this movie as a novelty, but it's really just incredibly embarrassing. I'll reiterate that it's one thing to want to do something different and another to do something that's just definitively stupid. So here's my final theory: he didn't threaten not to do Scream 3. The Weinsteins refused to let him do Scream 3 unless he made this mockery of a Message Movie, figuring the gimmick would pay off. Of course it didn't, and everyone went their separate ways (but only after Wes was forced to tell a series of lies about really wanting to do this picture more than anything in the world to save face.)
These days Craven seems to be fine with churning out the same old stuff, producing remakes of The Hills Have Eyes parts 1 and 2 and Last House on the Left (next year sees Platinum Dunes' revival of the Nightmare series, which Craven has nothing to do with it). And today, as I finished writing this, it's been announced that Wes Craven has officially signed on to Scream 4 along with old pal Kevin Williamson. So either you believe his story and we can all expect a brand new Weinstein Brothers-produced Inspirational Music Teacher Enriches Underprivileged Urban Kids movie directed by Wes Craven, or you believe me and we'll just get another goddamn Scream movie.
One last thought. An alternative title for this movie? The Trills Have Eyes.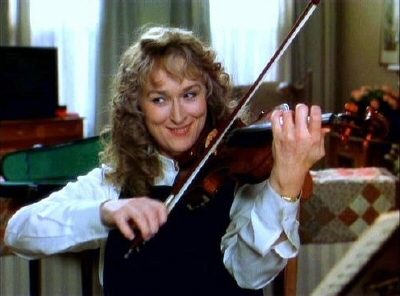 Summation:
The director: Wes Craven
The movie: Music of the Heart (1999)
Why so out of place in director's filmography?: Sappy, sentimental drama about an inspirational teacher/musician with nary a cannibal or knife-glove in sight.
Why the director strayed (his story): Allegedly a self-described desperate desire to make at least one film outside the horror genre.
Why the director strayed (my theory): Blackmailed by the Weinsteins as a gimmick to try and sell tickets, with Scream 3 held over his head.
Scale of embarrassment for the director: 10 out of 10
His triumphant return to form: He'd return to horror with Scream 3 the following year, but it wasn't until 2005's Red Eye that people started taking him seriously again.
<<Previous Page 1 2 3 Next Page>>
home about contact us featured writings years in review film productions
All rights reserved The Pink Smoke © 2009