SUMMER MOVIE PREVIEW 2011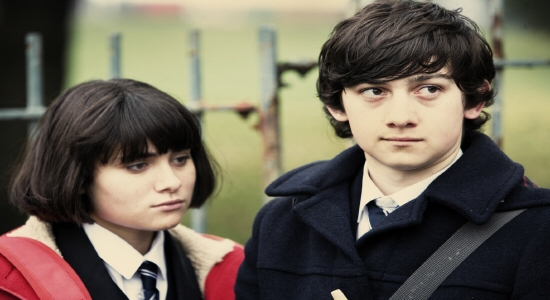 paul cooney, john cribbs & eric pfriender
<< click here for Summer Movie Preview 2011 Part I: MAY >>
JUNE 3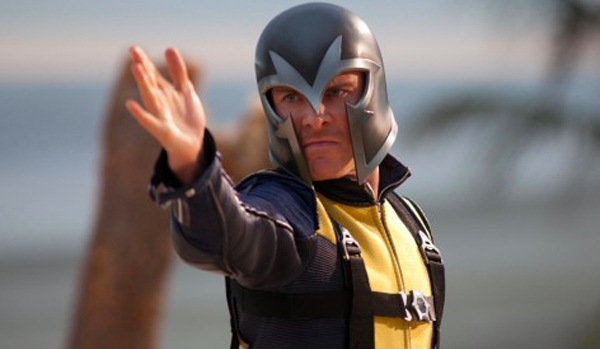 X-MEN: FIRST CLASS (Matthew Vaughn, 20th Century Fox)
Professor X (James McAvoy) and Magneto (Michael Fassbender) are two young men discovering their powers. Banding together with fellow mutants to stop a threat to the world, a rift grows between the two forces, leading to the founding of Professor X's X-MEN and Magneto's Brotherhood, and the beginning of their eternal war.
PAUL: Blah blah who gives a shit?
ERIC: I was a fan of what Bryan Singer was doing with the X-Men franchise. X-Men 2 is pretty great, and it's a shame Superman got in the way of him finishing what he started. I don't know much about this Matthew Vaughn character, but McAvoy and Fassbender seem well-suited to their roles as younger versions of Charles and Erik, and setting their emerging conflict against the backdrop of the Cuban Missile Crisis seems like a cool idea. It certainly can't be any worse than X-Men Origins: Wolverine, which I couldn't even get through half of.
JOHN: Ok, time to weigh in on this summer's most bloated subgenre. I was flippant about Thor, but in all honestly I'm totally going to see all these superhero movies coming out in the next few months. I want the Marvel ones to be huge hits so we get a fresh set of movies over the next few summers - Speedball starring Timothy Olyphant! Night Thrasher starring Will.I.Am! - that set up an epic New Warriors film!
Seriously, I fully endorse all this hilarious Marvel movie excess, true believer! They really should make a movie based on every single member of every team (even the guys nobody likes like Maggot and The Falcon.) Has anybody alerted Hollywood to the classic What If-? series, which presented alternate versions of famous Marvel storylines? On top of the countless sequels and re-boots, they could remake every single movie all over again with only slight variations! Even if they continue churning 'em out at the pace of Summer 2011, in one hundred years they'll just be getting around to releasing What If-?: Silver Sable.
I risk isolating my fan base with the sheer amount of geek trivia that I'm about to dish out but, unlike Pfriender, I do know who's in the Avengers. And I'm really looking forward to seeing the Wonder Man movie, the Scarlet Witch movie, the The Vision movie, the Yellowjacket movie, the Wasp movie...
Hold on, how come I don't see any of those on the summer schedule? How come my favorite Avenger (AND my favorite X-Man) Dr. Hank McCoy aka The Beast is in this new X-Men movie - played by that lanky bit of jailbait from A Single Man - but not in The Avengers?? Who's playing She-Hulk? Is Rage not an Avenger anymore? Listen, my knowledge of comics is largely based on the Marvel Universe trading cards (series 2.) I guess the current roster might have changed somewhat over the last 20 years...maybe I'm not as knowledgeable as I thought.
Anyway, whoever the hell's in the movie (and in the upcoming Puck and Sasquatch films that will set up Alpha Flight), I'll be curious enough to see them unless Brett Ratner is in charge. Which brings me to this First Class business.
I think the best scene in any of the X-movies so far was the very first one in the first film, where we see tiny Magneto destroying the fence when the Nazis are pulling him away from his mommy. That opening sets up the background of a character, a major theme of the movie and introduces mutant powers to the audience subtly and without any dialogue. Obviously, a full-fledged prequel is not going to be able to do that, but if the last two Fast and Furious movies are any indication, prequels are even better than the original movies!
I want to say it takes balls to do an X-Men movie sans Wolverine, especially after Origins was such a disaster. Does the movie deserve credit for that? Also, is this scene supposed to be a Basic Instinct homage?: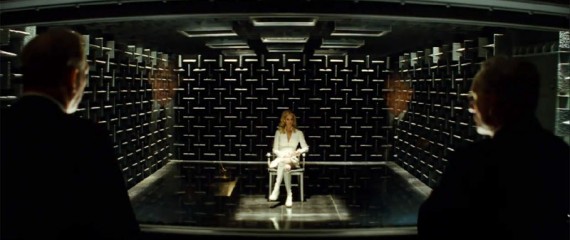 Casting I'm up in the air about. I can get behind Michael Fassbender (if he'll let me) as Magneto, although they should have just thrown a rug on Patrick Stewart's head and let him play Professor X again. The obvious stink factor here is Jennifer Lawrence as Mystique. Seriously, what the hell?? How does bland Jennifer Lawrence grow up into Rebecca Romijn? "Oh, well she's a shape shifter," you smugly interject. Yeah well if she's a shape shifter, why would she ever make herself look like Jennifer Lawrence? If you could be anyone, would you transform into Natalie from "The Facts of Life?" No you fucking wouldn't!
I shouldn't complain about the cast. At least Zoe Saldana isn't in this.
I will mention that Rose Byrne is popping up in too many damn movies this year, but honestly I can't be annoyed with her in this one. For one thing, her name sounds like an X-Men character. So welcome to the X-Men, Rose Byrne - hope you survive the experience!
And have you seen the TV spots? Magneto yanks a submarine out of the sea! If it was Ian McKellan, you'd think that was a sexual euthanism, but this is just Michael Fassbender using his power of magnetism to pull a full-sized sub from the ocean. That's much cooler than moving a bridge slightly to the left for a slightly more convenient commute to Alcatraz.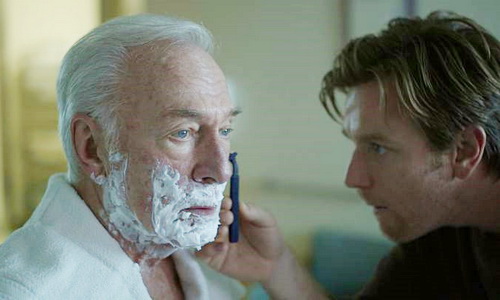 BEGINNERS (Mike Mills, Focus Features)
At the age of 75, Hal (Christopher Plummer) decides to tell his son, Oliver (Ewen McGregor) that he (a) has terminal cancer and (b) is a gay man with a younger lover.
PAUL: Oooooh! Sweet sassy molassy I do like the looky loo of this little gumball drop of a movie. That is quite a bomb to drop on your hunky son. So after Captain Von Trapp escapes the Nazis and leads his children to fame and fortune singing ditty poos, he tells his long lost son Ewan McG, yes, I am in fact a poofter, and I gots me a hot young stud to bang away with during my golden years! Land sakes! Are they going to be golden shower years too? You'll have to buy your ticket like everyone else fuckface!
ERIC: Based on the trailer alone, this movie is full of quirky, indie-style traits that make me think I'm going to hate it: tasteful inclusion of a homosexual character, a dog that thinks in sub-titles, a director with indie-cred who I actually know nothing about because his last movie had the unbearable title Thumbsucker. But...the trailer actually makes the movie look pleasant. I'm probably too busy to catch this in the theaters, especially as I'll most likely be going to see Tree of Life again the week this comes out, but I would rate this as "quite possibly Netflixed sometime in the fall."
JOHN: I would drop the "young gay lover" bomb first. Cuz then if your son Ewen McGregor is uptight about it, you can be all "Yeah? Well I got cancer too, asshole. How does THAT make you feel?" Most likely, it will make him feel like an asshole.
Have I already used my "Ian McKellan is an old gay British guy" gag? Chris Plummer is Canadian anyway, it wouldn't work here.
But yeah, the preview is all about that "woooo fake craziness! People will drive their cars up on curbs! Old people with a new zest for life will learn what 'dance music' is! The movie is narrated by a dog!" Plummer is really campaigning for that Oscar, but until they sequelize The Silent Partner I doubt he'll turn up in anything I have even a remote amount of interest in.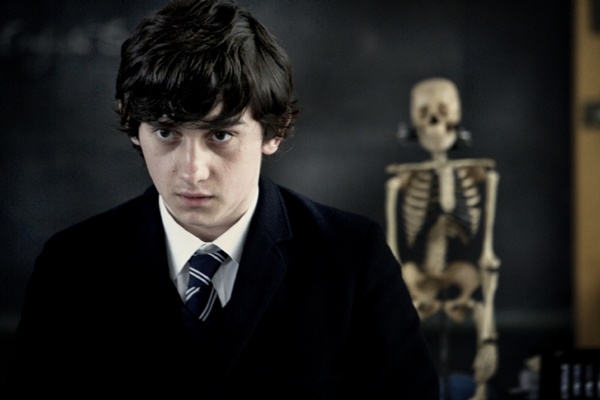 SUBMARINE (Richard Ayoade, Weinstein Company)
15-year-old Oliver Tate (Craig Roberts) has two objectives: To lose his virginity before his next birthday, and to extinguish the flame between his mother (Sally Hawkins) and an ex-lover (Paddy Considine) who has resurfaced in her life.
PAUL: Intriguing. So a 15-year-old orphan lad is trying to lose his virginity...on a submarine. Well honk my hooter this sounds like an edgy flick! I don't think he'll have much privacy but I'm pretty sure he'll have no problem finding a randy sailor to take his cherry 20,000 leagues under the sea. Is it against US Navy policy? Most likely. Will lust prevail? Most definitely. Take my ten bucks, Hollywood! You got me again!
ERIC: This movie looks unbearable, and your ad campaign that seems to be based entirely on the notion that this movie is "presented by Ben Stiller" is not helping. Someone you know who thinks they are cool because they like things that are "underground" or "different" will recommend this movie to you because they think they like it, and they think that their having seen it is some kind of hip status symbol. Don't listen to them.
JOHN: All I can say is, I hope the Weinsteins don't fuck it up too bad. Because this is honestly a really special and very funny movie that is going to be a lot of people's new favorite. I can not wait to see it again, I can't wait for my Rushmore-loving, Richard Ayoade-loving wife who happens to be NAMED Jordana (except with two n's) to fall in love with this movie (although I have hyped it up way too much - how could I not??)
I don't blame Eric for being unimpressed - I wouldn't be impressed with something described in a blurb on the preview as "up-to-the-minute fresh" by the LA Times. But I didn't feel any hipper at the end of Submarine. I just felt really, really happy.
On a side note: what in the description made Cooney think Oliver Tate is an orphan?
PAUL: I don't know why I thought he was an orphan...maybe I thought he would be better off without his whore of a mother, who is obviously not raising him properly. Why didn't she get him a prostitute on his 13th b-day like a real parent?
JUNE 10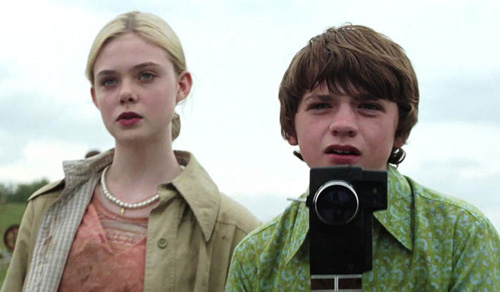 SUPER 8 (JJ Abrams, Paramount)
Ohio, 1979: when kids shooting a super 8 movie witness a train crash, their shock soon turns to feelings of suspicion and horror after disappearances and inexplicable events begin to take place in town.
PAUL: Mmm I love movies set in motels. Is that because, aside from rose water and cinnamon, I find the scent of stale semen and ammonia to be intoxicatingly beautiful? Probably. A heroic motel manager discovers he is out of bleach and clean sheets right before an undertaker's convention is do in town, and he knows those morticians like to party! Can he get his Super 8 spruced up so those morbid party animals can have a good time with the town whores, or is he going to lose the convention to his hated rivals down at the Motel 6? We shall fucking see!
ERIC: Steven Spielberg and J.J. Abrams team up to bring you a tale of mystery, horror and wonder, harkening back to the days of Close Encounters of the Third Kind and starring a bunch of kids and the coach from Friday Night Lights. [Billy Bob Thornton?? --john] I've always read Abrams as more of an idea-man high-concept producer rather than a proper filmmaker/ director, but this looks... promising. I'll go with promising.
JOHN: I thought James Gunn's new movie bombed but I guess they're already on the 7th sequel??
Man, I wish that's what this was. But whatever, I'm conceivably excited for a homage to sci fi B-movies...that's what this is, right? It seems they're being all Cloverfield-style secretive about this one, and since Cloverfield turned out to be just fine I might be inclined to cut this one some slack despite the fact that the names "J.J. Abrams" and "Steven Spielberg" don't do anything for me.
The addition of the great Ron Eldard and new poster boy for pockmarked motherfuckers everywhere Noah Emmerich are pluses.
This is the first movie to be named after a film stock since 8 MM - maybe it's the third part of that holy trilogy? Does Johnathon Schaech return?
JUDY MOODY AND THE NOT BUMMER SUMMER (John Schultz, Relativity Media)
When her parents take an unexpected trip to California, third-grader Judy Moody (Jordana Beatty) creates a series of dares in order to have the most thrilling summer of her life. Her way-cool Aunt Opal (Heather Graham) and little brother Stink (Parris Mosteller) join in the adventures. Co-starring Jaleel White.
PAUL: I heart it. A) Her name rhymes. Awesome. B) She decides to liven shit up by creating a series of dares? Who dares wins! She's like Marky Mark in that she has moxie oozing out of her pores. You can't contain that charisma! I want in on this thrill ride La La Land. Hello what's this? Her brother is named Stink? Adorable scamp alert! Don't tell me she has a way cool Aunt with a goofy name like Opal? This movie might become my new best friend. If only Rachelle Wood was cast as the way cool aunt instead of Heather Graham, who is nowhere near the age of 18. Still, I'll cut the Moody crew some slack cause they are kicking ass with this plot at least. Off to the dry cleaners to get my trench coat so I can be first in line!
ERIC: Watching the trailer for this makes me glad I don't have kids, because if I did I would be obligated to know what this shit is. Also, why do I feel like the zany aunt who is actually more of a child than the children she's ostensibly baby sitting is actually what Heather Graham is really like?
JOHN: The return of Urkel! It's like he never left! Could the resurgence of Reginald VelJohnson be far behind?
What's up with the hairdos in this movie? Everyone's hair is a weird color. That's auteurism I guess. Like Beginners, the preview promises a lot of fake fun/craziness, although it also pushes a Bigfoot subplot, which as everybody now knows from my latest Video Oddity is a good move if this movie is trying to gain my attention. Which it almost certainly is not.
<<Previous Page 1 2 Next Page>>
home about contact us featured writings years in review film productions
All rights reserved The Pink Smoke © 2011