2010: ANOTHER YEAR IN REVIEW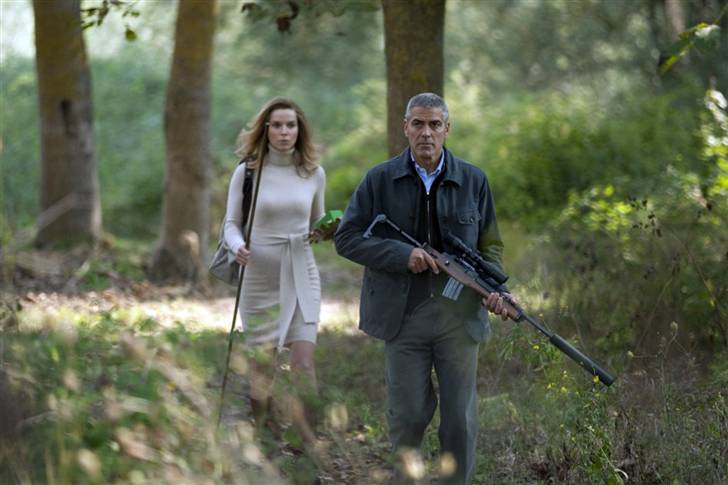 john cribbs
page 3
AWARDS 2010
Significantly have not seen: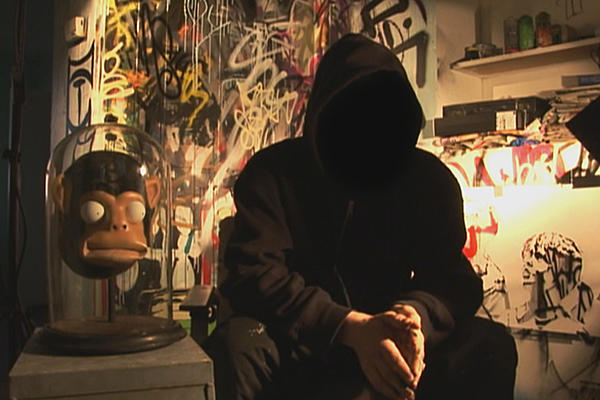 Carlos (sorry, I just haven't had the time)
Exit Through the Gift Shop
The King's Speech
I Am Love
Inspector Bellamy
The "Local Hero Award" for most Overrated Underrated Movie: Never Let Me Go
The "Jeremy Irons in Dungeons and Dragons Award" for giving it your best shot even though you probably shouldnt have: Michael Fassbender in Jonah Hex
Movie nobody remembers: Tim Allen's directorial debut Crazy on the Outside
Acceptable sequel: Toy Story 3
Pointless sequel: (tie) Paranormal Activity 2 and Little Fockers
NOT a sequel? Repo Men, The City of Your Final Destination
Funniest subtitle to a sequel: Money Never Sleeps (which should have been called Rock 'n Roll Never Forgets)
Movie that must be pissed to share its title with a Resident Evil sequel's subtitle: After.life
Most unfortunate title: Just Wright
Most unworthy title: (tie) The Sorcerer's Apprentice and From Paris with Love
Most inexplicable title: Knight and Day
No promises, title: Remember Me
Much better than it had any right to be: Unstoppable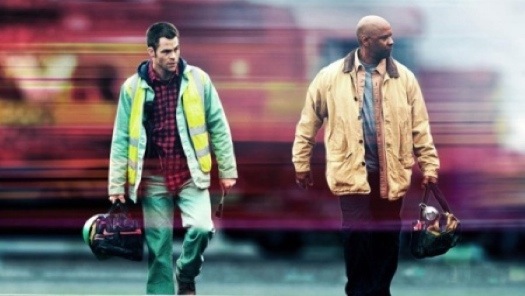 It's all Ethan Suplee's fault! I guess he was thinking about that delicious Hitler calzone he was going to have for lunch. I guess Tony Scott and Denzel had fun playing choo choo on their remake of Taking of Pelham 123. Since I heard that one was actually decent but refused to see it out of fidelity to the original, I gave this one a shot and have to admit it did a good job tapping into the energy of other "runaway train" movies like The General, Spiderman 2 and, uh...Runaway Train. The director's typically intolerable aesthetic works here where the intensity is always up, like Scott's trying for the most intense orgasm he ever enjoyed and just keeps - on - pushing! It feels strangely old fashioned and welcoming, a rare achievement for a filmmaker whose recent movies have been a slap in the face to action cinema. Crazy. Maybe it's not too late to learn how to love and forget how to hate.
Not as good as it should have been: Splice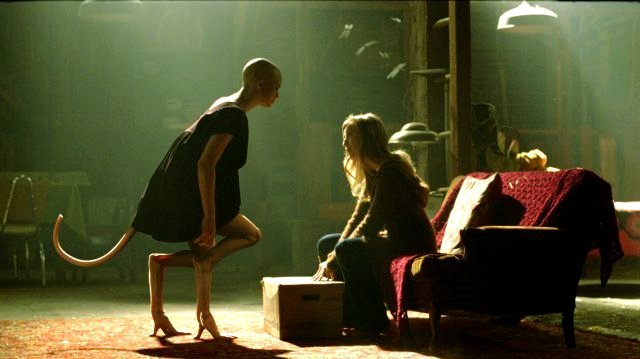 It's a shame when a film about a team of lover-scientists who combine the DNA of a blob with a human and come up with a butt-headed French model with a spiky tail that wants to mate with the father then mutate into a male and get it on with mom turns out as generic as this one, especially since the director made Cube all those years ago. It's still got its moments, most of them supplied by the lovely and talented Sarah Polley, but its Species-style ending brings everything to an abrupt halt just as the movie is getting interesting.
Movie I'm outright appalled to admit I actually liked: MacGruber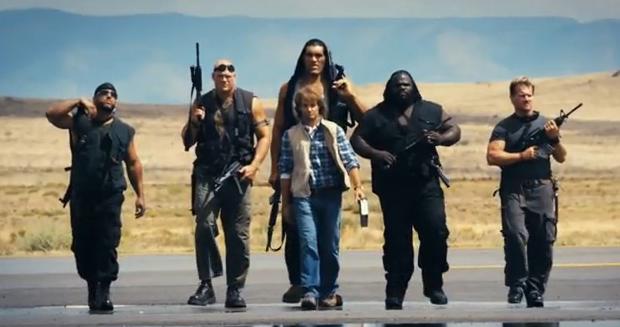 I never thought I'd say this, but I now have so much more respect for Ryan Phillipe than I ever thought would be possible, and I hope he feels good about his choice to play the straight man in this movie. What should have been another dollar bin, one-joke SNL sketch inflated beyond capacity and padded with unfunny improv and worthless cameos was instead not only hilariously funny, it felt like an actual action movie with some genuinely great jokes thrown in there. Holy shit, how did that happen? In all honesty, it may be my 12th favorite movie of the year.
Biggest disappointment: John Carpenter's The Ward
Also disappointing (in order of how much better I expected them to be): Iron Man 2, The Wolf Man, The Expendables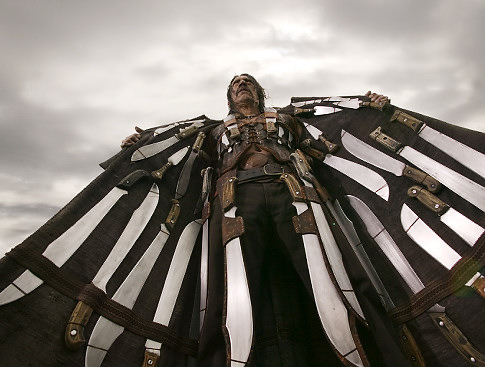 Worst trend of the year: Fake movies becoming real movies (Machete, the upcoming Thanksgiving)
Returning trend I didn't miss: Literary works retooled into high school comedies a'la Clueless, She's All That, 10 Things I Hate About You and now Easy A
Trend of the year I'm not coming anywhere near: Claustrophic "trapped" movies (Buried, 127 Hours, Devil)
Weirdest remake: Neil Labute's Death at a Funeral
Most unnecessary remake: (tie) Let Me In and I Spit On Your Grave: Unrated
Remake with most inaccurate title: The Karate Kid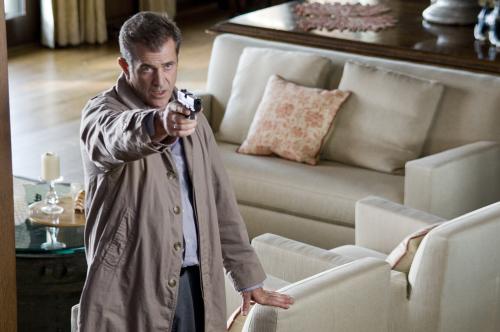 Remake with the most disappointing omission from its source material: No kissing the tip of his dead daughter's dildo for Mel Gibson in Edge of Darkness
Best ending: They crash and die? Alain Resnais' Wild Grass
Worst ending: BOO! John Carpenter's The Ward
A little too close to my life for me to enjoy: Rhys Ifhan laying around in his boxers watching a Lindsey Lohan movie on TV at 3am in Greenberg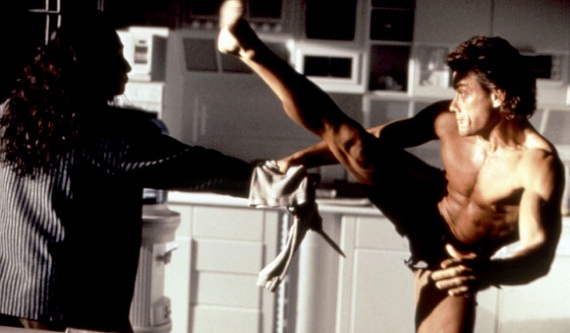 The Problem Child Award for best movie watched, heard, or shouted out by characters in a movie: Timecop in Hot Tub Time Machine
Best movie watched, heard or shouted out by characters in a movie WHO DID NOT APPRECIATE IT: Belle Epoque in The Fighter
Best movie mom: Andy's mom (Laurie Metcalf) in Toy Story 3
Worst movie mom: (3-way tie) Sarah Polley in Splice, Blake Lively in The Town and "Smurf" in Animal Kingdom
Best villain: Lots-O-Huggin' Bear (Toy Story 3)
Best character name: Dieter von Cunth (MacGruber)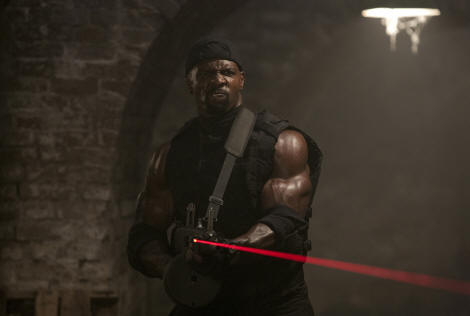 Runner-up: Hale Caesar (The Expendables)
Worst character name: Fisher Willow (The Loss of a Teardrop Diamond)
Worst director name: Nash Edgerton (The Square)
Best thing I saw in 3-d in 2010: (tie) Kelly Brook and Riley Steel sync-swimming in Piranha 3-D and Steve-O inside the flying porta potty in Jackass 3-D
Best two reasons to sit through a movie: Violante Placido, The American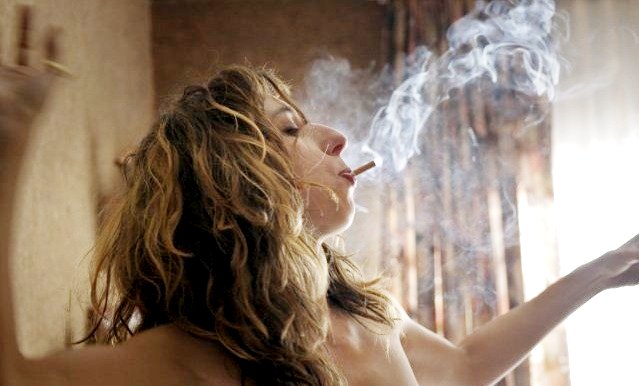 Runners-up: Maricel Álvarez, Biutiful
The "Maggie Gyllenhaal Award" for a Nude Scene I Wish I Could Un-see: Greta Gerwig, Greenberg
Best death: "Aim for the bushes!" RIP Highsmith & Danson from The Other Guys
Worst death: Helicopter full of kids gets nuked in the first five minutes of The Losers
Most surprising death: Boltie's not gettin' up... (Super)
Standout joke: The silent fight at the funeral in The Other Guys
Standout lame joke: That the pricetag for Grown Ups was $80 million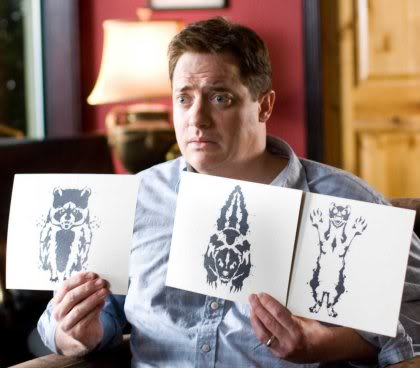 Best AD dialogue: "Nice fit, pound cake!" (delivered off-screen and aimed at a woman's jumpsuit-wearing Brendan Fraser in Furry Vengeance)
Most offensive theft: Naked Gun's beaver joke, in It's Kind of a Funny Story (way to kill Leslie Nielson, Zack Galifianakis!)
Definitely not the worst film of the year: Hot Tub Time Machine ("Are you raping??")
Most overrated performance: Jennifer Lawrence in Winter's Bone
Genius most in need of a new agent: Gina Gershon. Joe Pesci's washed up, Helen Mirren has to do it cuz she's married to the director, Bai Ling will do anything as long as she gets to be naked and obnoxious, but what the hell is poor Gina doing in Taylor Hackford's Love Ranch?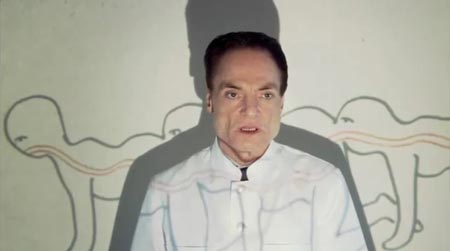 Still not entirely sure this movie wasn't a joke: The Human Centipede (First Segment)
Best cameo: Totoro, Toy Story 3
Worst cameo: Laurence Fishburne, wasted in Predators
Cameo created just for me? Thomas Jane and Clifton Collins Jr. as the vegan cops in Scott Pilgrim vs the World (also Don McKellar was in there!)
My favorite 2010 'smoke article written by Chris Funderburg: The Whole History of My Life: The Smartest Man in the World
My favorite 'smoke article written by me: Bruno S
Best blu-rays (& dvds):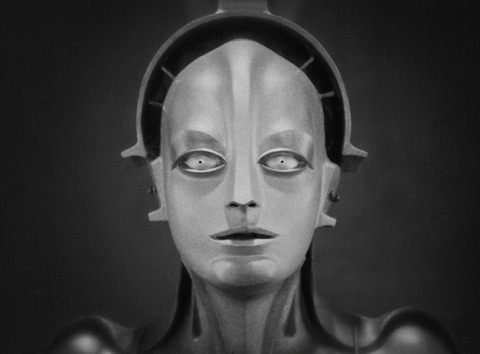 The Complete Metropolis (Kino)
Alien Anthology (Fox)
The Outfit (dvd, Warner Archives)
The Thin Red Line (Criterion)
Brewster McCloud (dvd, Warner Archives)
Paths of Glory (Criterion)
Apocalypse Now: Full Disclosure w/ Hearts of Darkness documentary (Lionsgate)
Buster Keaton: Sherlock Jr (Kino)
The African Queen (United Artists)
Filmmaker of the year: Mike Leigh, Another Year
Filmfucker of the year: Tim Burton, Alice in Wonderland
BEST BITS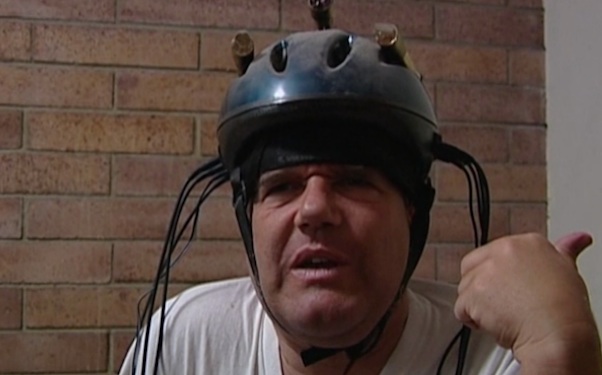 Jeff's Tesla-like helmet for communicating spiritually with Tiffany in I Think We're Alone Now
MacGruber's notepad
An unrecognizable Joe Anderson's sad, gradual transformation into one of The Crazies
Vampire home invasion in Daybreakers
God touches Rainn Wilson's brain in SUPER
Christian Bale picks up the cake and takes off down the street in The Fighter
Spalding says goodbye to his dad in And Everything is Going Fine
Hermione erases her parents' memories of her in Harry Potter and the Deathly Hallows Part I
"Everything's against me!" Josh Brolin laments in True Grit
"That's actually hilarious!" Chris Evans as Lucas Lee in Scott Pilgrim vs the World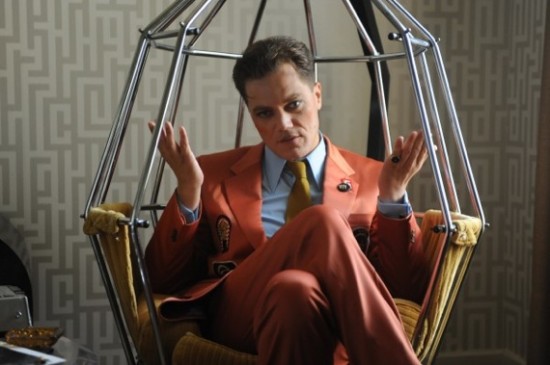 Michael Shannon as sleazy and insane yet oddly effective band manager Kim Fowley in The Runaways
Imelda Staunton in Another Year
Oliver Tate's letter to his mother from "your husband" in Submarine
"It's you! You turned around and you weren't another girl, like in the movies!" The charming conclusion of Submarine
Antonio Banderas won't give Naomi Watts a direct answer when she confronts him with her true feelings, and you suspect it's not the language barrier, in You Will Meet a Tall Dark Stranger
The couple share an unexpected moment together during the intolerably corny love song in Everyone Else
Spalding recounts his family bursting into dance to Chumbawamba in And Everything is Going Fine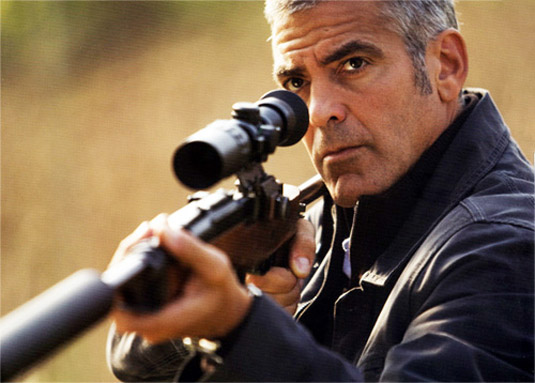 The American shoots the girl in the snowbound cottage in the back of the head.
The Ghost Writer successfully executes an impromptu escape from the roll-on/roll-off ferry, leaving his pursuers to shake their fists at him from the deck. Now what?
She didn't cook the rabbit, did she?? The Illusionist frantically checks around the apartment.
Safe back in The Town, the heist crew freezes as a shocked elderly cop glares at them from his cruiser.
The Sleeping Beauty is a natural skull bowler!
Early morning run in Boxing Gym
Things get creepy: the old woman hangs out in the background as the reunited cast awkwardly recite dialogue from the movie in the lady's apartment, a moment as uncomfortably weird as any in Best Worst Movie Troll 2.
Fire from the dragon's mouth lights up, forming an ominous silhouette from behind the clouds during the final battle in How to Train Your Dragon
Koji Yakusho holds up the bloody banner before the final battle: "TOTAL MASSACRE!" Takashi Miike's 13 Assassins
Best moment of the year: "Mini-bar!" Tabloid
Most gruelling moment of the year: The look on Mary's face when she meets Katie. Another Year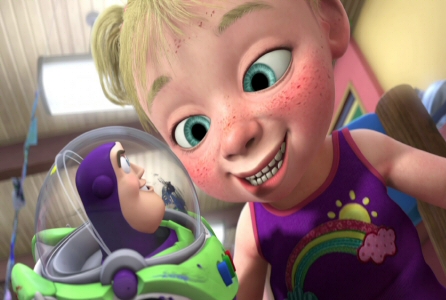 And the best scene of the year: The kids flood into the Caterpillar Room and chaos reigns. Toy Story 3
<<Previous Page 1 2 3 Next Page>>
home about contact us featured writings years in review film productions
All rights reserved The Pink Smoke © 2011