24 HOUR MOVIE MARATHON RECAP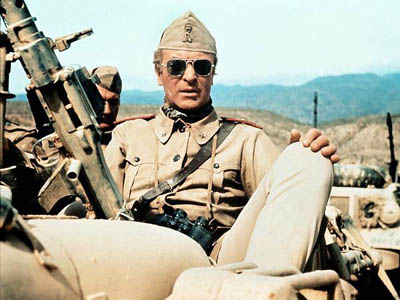 page 2
john cribbs & christopher funderburg
11:00 A.M.
john:
PENNYWHISTLE BLUES (a.k.a. THE MAGIC GARDEN)
donald swanson, 1952.
(passed over SENNA and COME SWEET DEATH.)
I can't tell what's more impressive: that Chris came up with the idea of unearthing this lost film from Francois Truffaut's 1957 "Top 10" list, or that he actually managed to find a print of it (in South America, I think?) All I knew going in was what Funderburg - who also hadn't seen it - wrote in his article on Truffaut's list, which was essentially that it features a lot of non-professional actors running around a slum in Johannesburg, all linked by a wad of cash that moves from one hand to another miraculously improving their lives. To me, that sounded better than the story of a Formula One racer who everybody says was greatest even though he died in a crash (Senna) or the first of a five-part series of which I would probably never see the sequels (Come Sweet Death.)
When the title came up and said The Magic Garden I got genuinely nervous for a moment that the wrong print had been ordered or something, then I remembered that this was the U.S. title. This is the only film credit for Tommy Ramokgopa, who plays the bow-tied hobo who steals £40 that an older man intended to donate to the church "to help make a difference" then spends the rest of the movie re-stealing it after it's helped a poor person get what they want. Ramokgopa is really funny to watch scurrying around, but I think I was most charmed by the flat performances of the non-actors. It was adorable to see one person after another look at the money and affirm "Yes, this is a very good thing that has happened." My favorite bit is where Ramokgopa hides in a trash can, two cops come over and ask what he's doing. He shouts "I live here!" and slams the lid shut; one cop looks to the other and delivers the punchline with as much pep as his non-actor self can muster: "This housing problem is really getting serious!" Although I wasn't thrilled with the 20 minute African jazz medley and thought the ending was a little too abrupt (for a film that really got me to care about its characters), this is a work that stands alongside Miracle in Milan and The Wonderful Ice Cream Suit as one of the great "poor people find happiness" comedies. I'm glad I got to see it.
This was the only film I overheard someone openly criticizing after the screening. The guy hated it, but somebody else quickly jumped to its defense, which is exactly the kind of thing I was hoping for!
christopher:
breakfast with wife and baby. sleep.
(passed over SENNA, PENNYWHISTLE BLUES and COME SWEET DEATH.)
...but PENNYWHISTLE BLUES!
donald swanson, 1952.
I had about 4 hours set aside in my schedule in case I needed sleep - from 10:45 a.m. to 2:30 or so, our Director of Programmer Brian Ackerman would take over the intros and I could theoretically get some rest. Since I live in Queens and the JBFC is up in Westchester, I had rented a room in a hotel nearby - this also allowed my beautiful wife Maritza and gentlemanly one year-old son Parker to join me for the experience. I went back to the hotel, ate a little breakfast with Mari and then decided to get some shut-eye... even though I wasn't even remotely tired. It was a beautiful, blue-skied, sunny day out and I honestly didn't feel like sleeping. But I figured this was my only opportunity, so I should take the break and not risk burning out later. Oof - what a mistake that was. I had to wake up about 2 hours later and it. was. awful. I felt like someone had wacked my skull with a mallet - I was groggy and sluggish for a couple hours and I felt way worse than I did before caught the nap. I should've just stayed up. I missed Pennywhistle Blues and Three Outlaw Samurai for this? Two movies unavailable on vhs or dvd? It was like Mark Cuban's plastic surgery: a fucking botch job.
Fortunately, because it's such a rarity, I got the chance to check out Pennywhistle Blues later in the week before the print shipped back to England. There's so much to be said about the film that I suspect John and I will write a longer article on it in the near future: a movie starring black South Africans filmed on location in a small South African township in the 1950's that avoids the pitfalls of racism, condescension and ethnographic misery tourism? Much like the stolen cash circulating through its plot, this thing is both a miracle and a wry joke. It's part slapstick chase comedy (the sequences of thief Tommy Ramokgopa* being chased by massive mobs instantly recall Buster Keaton), part musical (British director Donald Swaonson wisely cast singers and musicians in almost every role, so even if none of them have ever before appeared in front of a camera, his actors are all natural performers) all wrapped in a circular, fable-ish story. It's short and fast-paced, you never have a chance to catch your breath between the comic chase set-pieces and the impromptu musical numbers - it's just an amazing film considering the context. Sure, the whole thing is very rough around the edges, but if ever the term "ramshackle charm" could be applied, it is to this movie. I can see why Truffaut cited it as one of the best films of 1957 and even a cold-hearted snob like Boseley Crowther gave it a positive review. The soundtrack which combines swing-jazz, gospel and local South African idioms alone is worth the price of admission...
* In the closing credits, he's listed as "Tommy Machata," so I'm not even clear what his real name is.
1:00 P.M.
john: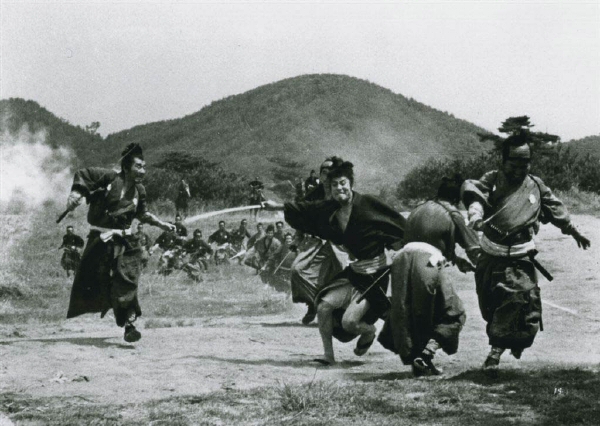 THREE OUTLAW SAMURAI
hideo gosha, 1964.
(passed over THE T.A.M.I. SHOW..)
Just fucking awesome. I was bummed that Chris wasn't able to track down Don Siegel's Baby Face Nelson, which was originally slated to screen in this slot, but my disappointment was quickly discarded when I found out what was taking its place. I've only seen two films by Hideo Gosha - Sword of the Beast and GoyŰkin - but based on those two films alone I consider him one of the Big Three of jidai-geki directors (Okamoto and Kobayashi loyalists, feel free to duke it out amongst yourselves.) This is actually his first film, made a year before Sword of the Beast (and two years before the awesomely-titled and awesome-sounding Cash Calls Hell) and has the same star, Mikijiro Hira, who recently made an appearance in Miike's 13 Assassins. But the main character is played by the great TetsurŰ Tanba, the veteran of too many Japanese classics to list here but always instantly recognizable to me for his role as the back-hairless Tiger Tanaka from You Only Live Twice (this was before Tatsuya Nakadai became pretty much Gosha's full-time leading man.) The movie was based on a tv series, also starring Hira, which Gosha had developed.
Like the From Beyond screening, my impression was that some of the younger audience members went into an action scene laughing at the goofiness of one man taking out 20 to 30 dudes, but that their mockery quickly gave way to "holy shit, that was fucking crazy" silence and admiration. Even though you could do a checklist of the things taken from previous samurai films, Gosha makes it all feel absolutely original when he isn't busy making it absolutely awesome. I don't want to blaspheme here, but he may be even better at staging action sequences than Kurosawa himself. All three outlaws are terrific, with portly spear-handler Isamu Nagato (who looked real familiar but hasn't really done much else of note) going above and beyond in scenes where he feels the guilt over mistakenly killing a peasant in self-defense and hiding it from the guy's wife.
The print was absolutely gorgeous. If I was forced to pick which of the screenings I enjoyed most, it would be between this and From Beyond with 3 Outlaw Samurai getting the slight edge for being a movie I never thought I'd get to see.
christopher: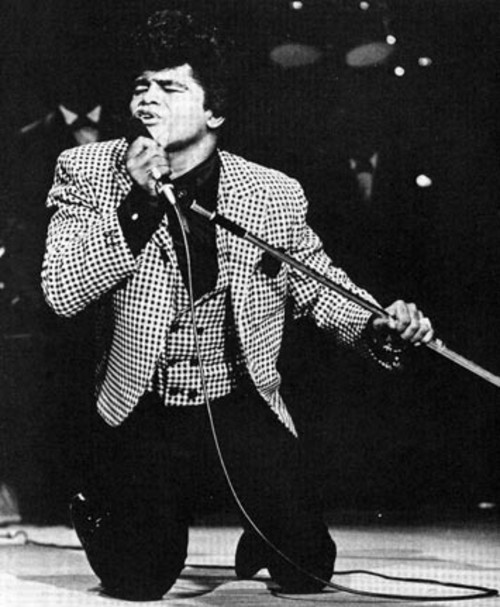 sleep.
eternal.
(passed over THREE OUTLAW SAMURAI and THE T.A.M.I. SHOW.)
I came back to the theater around 2:15 just in time to poke my head into The T.A.M.I. Show screening and catch James Brown doing his whole "help me off the floor, I got nothing left in the tank... BLAM! I'm dancin' again!" routine. The Rolling Stones came on after him and while they were great, you could tell that even they knew they had made a mistake in demanding to follow up James Brown. The film was NY Times critic (and JBFC Board member) Janet Maslin's pick and it really energized the audience. This was one of a handful fo screenings that when it ended, the whole theater just exploded in raucous applause. Music films always kill. It's just a fact. Some top-notch Go-Go dancing in this one, to boot.
3:00 P.M.
christopher: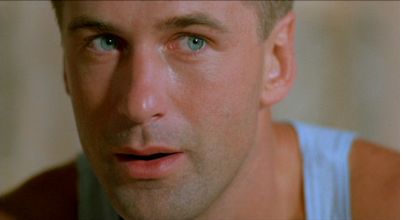 MIAMI BLUES
george armitage, 1990.
(passed over NIGHT SHIFT.)
What is there to say? I'm working on the 6th and final Whole History of My Life installment and this film is the subject, so I can't/don't want to write too much about it. I picked this film and presented it to the audience as "my favorite film, not necessarily what I think is the greatest film ever made, but the one that means the most to me." I left out "because I heavily identify with Alec Baldwin's sociopathic anti-hero Frederick Frenger, Jr." And maybe I should have added, "Truthfully, I just as much identify with Fred Ward's Detective Hoke Moseley, a schlubby loser who gets the crap kicked out of him by Frenger and has his gun, badge and false teeth stolen. The film is a ostensibly a black comedy, but what it really is, is a hilarious tragedy." I'm sure John got tired of me leaning over and gleefully tallking to him about all of my favorite little details, although he obviously loves the movie almost as much as I do and pointed out his share of brilliant minutiae. I am, of course, very happy to have had the opportunity to see a 35mm print of it on the big screen, even if the heads and tails of each reel had terrible emulsion damage that made it occasionally look like Miami was in the midst of a neon-green snowstorm. It's a great-looking film, unsurprisingly because of D.P. Tak Fujimoto - but in a theater its gorgeously garrish palette of pastel and neon really stood out in the wallpaper and convenience store windows and gaudy jumpsuits. Director George Armitage angles for a fairly subtle evocation of these elements and they're a little lost on home video. On the big screen as opposed to the t.v., the feel of Miami Blues reminded me a lot more of early Jonathan Demme films like Something Wild and Married to the Mob with their genuinely joyful celebration of kitsch beauty. Again, this is unsurprising because of their shared cinematographer Tak Fujimoto... and shared costume designer Eugenie Bafaloukos... and shared editor Criag McKay... and the fact that Demme produced Miami Blues just before the breakout success of Silence of the Lambs forever changed his career. As much as kitsch beauty can be understated and unironic, those films all feature an understated and unironic photographic admiration of kitsch beauty. I was happy to see it with an audience that laughed at all the right times and squealed in discomfort at the appropriate moments as well. It's a testament to this film's greatest that I get psyched every time a song as tired as "Spirit in the Sky" (written and performed by someone named Norman Greenbaum apparently?) comes on.
john: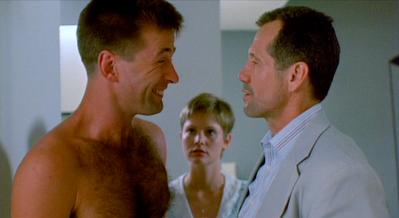 MIAMI BLUES
george armitage, 1990.
(passed over NIGHT SHIFT.)
This was a tough choice, as I've seen both films - two brilliant examples of classics that transcend their genre - a million times, and can quote large chunks of either from memory. I think what it ultimately came down to was the preference to hear that recurring Fender Telecaster fuzz box intro to Norman Greenbaum's "Spirit in the Sky" rather than Rod Stewart crooning "That's What Friends Are For" (and I think we can all agree that Quarterflash's eponymous theme song is one of the least distinctive in film history.) In fact, Miami Blues won pretty much all the one-on-one match-ups. George Armitage vs. Ron Howard? Even Big Bounce is better than 95% of Howard's filmography. Shelley Long vs. Jennifer Jason Leigh? They both play prostitutes, but only one of them gets naked (luckily, it's the one I'd want to see naked.) Fred Ward vs. Michael Keaton? Oh shit, don't make me choose! I think it's safe to say that Hoke Moseley and Bill Blazejowski are two of the greatest characters in cinema history, two roles where the actor is so perfectly cast you literally can't fathom anyone else playing that part.
You know what? Miami Blues wins. Because even though Night Shift is one of the funniest movies I've ever seen, I don't know if anything in it is as funny as BLAM! "Stop or I'll shoot!" ["That was a warning shot that accidentally hit you!" - christopher]
5:05 P.M.
christopher:
dinner.
(passed over TAXI DRIVER and DIARY OF A COUNTRY PRIEST.)
Look, I'll be honest with you, I don't like Taxi Driver and I don't like Bresson (although, Diary of a Country Priest is one of three or four of his movies that I do appreciate.) I slotted this one-two punch because a) there were new prints of both films and b) Paul Schrader was supposed to come introduce both of them. It didn't work out that way, so John, Maritza, Parker, Eric Pfriender and I went to the Candlelight Inn for dinner. It was delicious. John got a "Balboa" and dipped it in syrup. The night before, he got a chicken cordon bleu and dipped that in syrup. It was amazing both times he did it, so I can't really fault him. Eric played with Parker the whole time, which was nice: he was on baby duty and didn't even realize it. I'm not going anywhere with this. My apologies.
eric:
dinner.
(passed over TAXI DRIVER and DIARY OF A COUNTRY PRIEST.)
Due to circumstances beyond my control, I was only able to get up to Pleasantville for the tail-end of this extravaganza. (I donít know when it happened, but my life is suddenly busy and complicated. I donít ever remember planning my summers out before they started- theyíre supposed to be full of lazy, idyllic days with no pre-arranged agenda, but I somehow already know what Iím doing everyday between now and Labor Day and it all feels very stressful. I donít think Iím doing this right.) I had just seen the new print of Taxi Driver downtown at the Film Forum a few months ago, and subsequently picked up the new digital transfer to BluRay, so I met Chris, Maritza, Parker and John at the Candlelight for some fuel for the next few hours rather than try to catch the five oíclock session, spent an enjoyable half-hour hanging out with Parker in the lobby of the Burns, and then settled in for Demmeís Something Wild.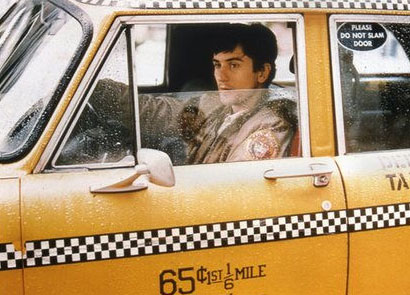 john:
dinner.
(passed over TAXI DRIVER and DIARY OF A COUNTRY PRIEST.)
Instead of attending Taxi Driver or Diary of a Country Priest, I went to dinner at the Candlelight Inn with the Funderburgs. Eric Pfriender met us there and guilted himself into having wings. I followed along the closed captions at the end of Men in Black II on a TV, mainly to keep myself awake I think, although it may have been the captivating drama. On the way back to Pleasantville, a bird smacked right into Eric's windshield directly in front of me. At first I thought it was a bad omen, then I realized the bird was probably just referencing the opening of Out for Justice. Nice one, bird.
7:35 P.M.
christopher:
baby-sitting.
(passed over LOLA and SOMETHING WILD.)
My wife had never seen any of Jonathan Demme's movies apart from The Silence of the Lambs, so I offered to take Parker for an hour and 45 minutes and let her get in on all our hot, hot marathon action. I stuck around for Demme's intro to the film and it was a typically charming anecdote about the misery of having Swing Shift taken away from him and how he found his love of filmmking again by moving back from Hollywood to New York City and doing Something Wild. He's had a strange career and to hear him talk about it you realize how he's been driven by a desire to do what him happy, to take on projects that he finds interesting and worthwhile... and how startling that is. He doesn't seem even slightly motivated by careerism or making money, he's just a guy who wants to do what he wants to do. Turning your back on Hollywood (which he's done essentially 3 times now in his career - or at least thrown them complete curveballs) just simply isn't done by filmmakers at level he's at. Demme's career, with its unpredictable twists and constant rejuvenation, seems to be an argument heavily in favor of doing so. Anyway, watched a lot from the booth and Something Wild killed it with our audience. Maritza loved it. It's a great audience film - when Ray Liotta shows up, people just go nuts. Parker put a popcorn bucket on his head for a bit, walked around the lobby and attempted to open every door and cabinet, as is his steez.
eric: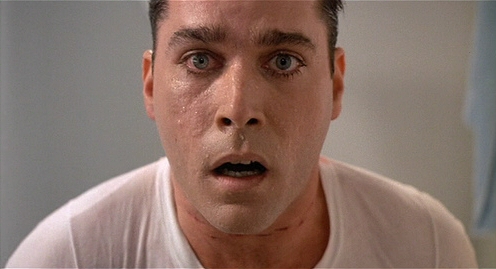 SOMETHING WILD
jonathan demme, 1986.
(passed over LOLA.)
Demme himself was on-hand to introduce the film. His intro was rambling and confusing in a way that made it endearing. He jumped back and forth chronologically several times in his story, but the intro involved Roger Corman, Haiti, David Byrne, Haiti, his wife, rediscovering his love of movies, the script for Something Wild, and Haiti. More than anything, he seemed to want to talk about the Jacob Burns Film Center rather than his movie, and rightfully so. I was obviously getting there late, but the sense of celebration surrounding the event was impossible to miss, even this deep in.
The film itself, which I hadnít seen before, was awesome. Itís chock full of Demmeís multi-cultural obsessions and weird low-budget quirks. It moves, and the plot has its own weird logic without ever being predictable. It was great to see The Feelies doing a cover set as the band for the High School reunion. And suddenly, a (very) young Ray Liotta appears more than halfway through the film, and things take a turn for the intense. Legend has it that seeing this performance convinced Jonathan Kaplan to cast Liotta in Unlawful Entry. Just kidding. Legend has it that this performance convinced Scorsese to cast Liotta in Goodfellas, and that totally makes sense. (He even has a little wall-punching moment!) Liotta is a live-wire here, charming and terrifying in equal measure. And for a film that has its fair-share of funny quirk, the home-invasion climax is genuinely horrifying.
john: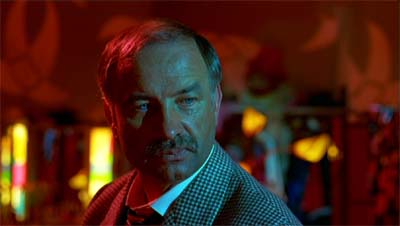 SOMETHING WILD intro/LOLA
jonathan demme, 1986.
(passed over SOMETHING WILD.)
There was still about an hour of Taxi Driver left when we got back to the theater. I could hear Bernard Herrmann's haunting score in the bathroom, which made me want to recommend to the 'Burns brass that they just play that soundtrack in there all the time. I hung out with my good friend Parker Funderburg, who was wearing overalls a shade of vaguely pastel pink which he rocked nonetheless. Then I piled into Theater One with everybody to see Jonathan Demme introduce Something Wild, apparently a big deal since he's curated a regular series at the 'Burns but never done an intro for one of his own movies. Demme's enthusiasm was infectious, and although I wish he had talked more about the movie itself (he modestly turned this intro over to gushing about the 10th anniversary of the theater) he at least said something about where he was at the time he made the film: devastated by his experience on Swing Shift, revitalized by his first visits to Haiti, ready to fall back in love with filmmaking after reading Max Frye's kooky script.
I didn't stick around for the movie itself because I wanted to see Lola. It's one of my favorite Fassbinders, how could I resist? Did you know that Fassbinder was in love with Armin Mueller-Stahl's eyes? Even though it was Xaver Schwarzenberger creating all the lighting effects to really bring out Armin's baby blues, you can imagine the relish Fassbinder must have taken in getting those shots set up. From the last time I watched it, I came away with the impression that Barbara Sukowa stole the show, but I was totally wrong: Mueller-Stahl is amazing in the movie. He's hilariously dorky when relating how he'd like his office redecorated and painfully wounded when he discovers the truth about Lola. The transitions between scenes - a blare of disoriented music and a fade-out/fade-in wave - is probably my favorite thing ever. I'm going to have to figure out how to rip that off.
9:55 P.M.
eric: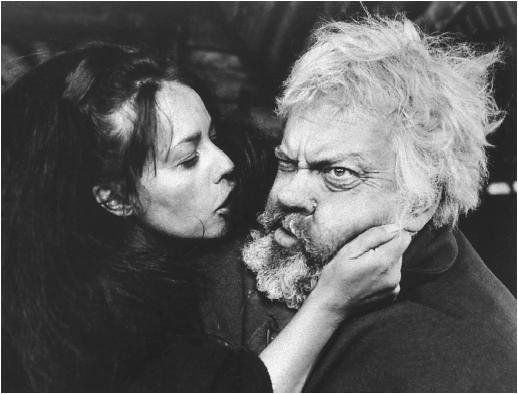 CHIMES AT MIDNIGHT/13 ASSASSINS
orson welles, 1965./takashi miike, 2010.
(passed over MINER'S HYMN.)
Seeing the impossible-to-see Chimes at Midnight was one of the things that convinced me to arrange my schedule so that this was the four-hour block of films Iíd be able to squeeze in, so I was pretty excited even before Chris got on stage and gave it the hard-sell. So imagine my dismay when a few minutes in I realized ďOh, yeah. This is a Shakespeare adaptation, and I am completely unfamiliar with the source material, and thus I am bored.Ē I donít know any of the Henryís or the Richardís, so it made it really confusing and hard to get into.
The film looks amazing, particularly when Welles is shooting the massive interior chambers of the medieval castles, or scenes where the various characters are playing out the drama in front of huge armies. The battle scene about an hour into the film is particularly awesome, ending with everyone just covered in mud and slop. But at the risk of sounding like a philistine, Iím just too old to sit through a movie pretending Iím into it if Iím not, even if itís "good for me." Starting about five minutes in, people began defecting, their silhouettes passing in front of the screen as they made their move for one of the other two theaters. I waited until this seemed like it was over so I could convince myself I was the last one, then made my way to 13 Assassins.
I timed it right, finding a seat about ten minutes before the final battle, which basically takes up the second half of the film. It lived up to the hype. It obviously would have been an even bigger payoff had I seen all of the preparations for the attack, but it still works, with the right balance of cartoony violence and straight-up brutality. The "Total Massacre" moment is as badass as anything in film history.
christopher: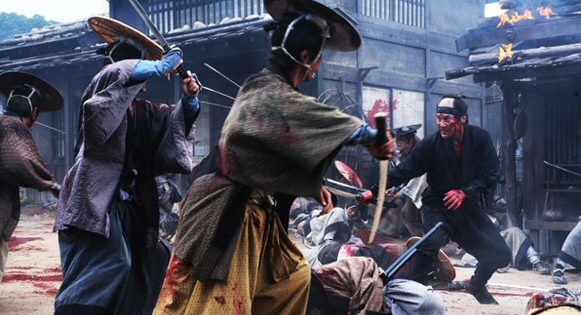 13 ASSASSINS
takashi miike, 2010.
(passed over MINER'S HYMN and CHIMES AT MIDNIGHT.
I took John, Maritza and Parker back to the hotel, so I missed the beginning of the film, but that's ok because I had already seen it. We hadn't originally planned on screening 13 Assassins in the marathon - we just had the print laying around and decided to throw it on screen because the other two movies (Chimes at Midnight and Miner's Hymn) were so challenging. The mood was so celebratory that not offering something fun as a capper just seemed morally indefensible. Nevertheless, most folks choose to see the 51 minute long Miner's Hymn and just be done with it. There was a healthy audience for Miike's comic book variation on Seven Samurai and, man, does it play well with an audience. The first hour of the film is slow and solemn, really it's such an effective build-up to the gonzo battle sequence that takes up the final hour of the movie: it's a simple quiet/LOUD juxtaposition, but does it ever work. Plus, the extended action sequence is top notch and because it's an iconoclast like Miike at the helm, there's a real sense of danger: everything could end ugly for our heroes. I was kinda surprised by how easy it was for me to endure a two-hour film that I had recently seen at the end of what was in actuality a 25 hour marathon, but this movie is high grade propulsive action film insanity, so it ended up being a breeze to sit through.
I suppose I should offer some final thoughts on this massive event that I engineered, but really what is there to say? I got up and down the board compliments on every aspects of it, my bosses were happy, our board of directors was happy, the audience was happy, the theater staff was happy, everybody was happy, so what is there to say? I'm bummed that I missed Three Outlaw Samurai and I guess that's a funny response to have: I watched 9 or so movies in a day but still felt like there was more to see, too much I missed. I would've love to have gone back and took a look at How to Get Ahead in Advertising, The T.A.M.I. Show was clearly an amazing collective experience that I missed out on and even seeing 20 minutes or so of Taxi Drivermade me wish I had given that film another chance (on the big screen, a gorgeous new print, with an enthusiastic audience.) Folks were immediately excitedly asking me about "the next time," everyone from Janet Maslin to a clearly sleep-addled teenage girl to the theater manager, but my instinct was that I really think this should be a special one-time event. When an experience is unfolding, it's hard to understand the value of it maybe being "once in a lifetime," but that's really how I felt: I intended this as a singular tribute to the 10th Anniversary of an organization I've been fortunate enough to be a part of from almost the very beginning. Sure, there's always more to see, more you can do, other movies to program, but having my family and my two best friends with me for this one day (and getting bought a celebratory martini by Demme, to boot)... it was something special. Isn't that enough?
john:
driving home.
(passed over 13 ASSASSINS, MINER'S HYMN and CHIMES AT MIDNIGHT.)
I decided to leave before the final screening so I could get home at a decent hour. I won't lie, I was starting to lose steam pretty fast, and something told me that neither a documentary about miners or an Orson Welles Shakespeare mash-up were going to jolt me back to life. The second half of 13 Assassins might have, but the first hour probably would've put me into a coma. My wife wanted to hear all about it, but I brushed her off and faded into a deep sleep. I dreamt of exiled samurai warriors and unicorns.
<<Previous Page 1 2 Next Page>>
home about contact us featured writings years in review film productions
All rights reserved The Pink Smoke © 2011