THE SMOKE'S 50 FAVORITE FILMS OF THE 1990'S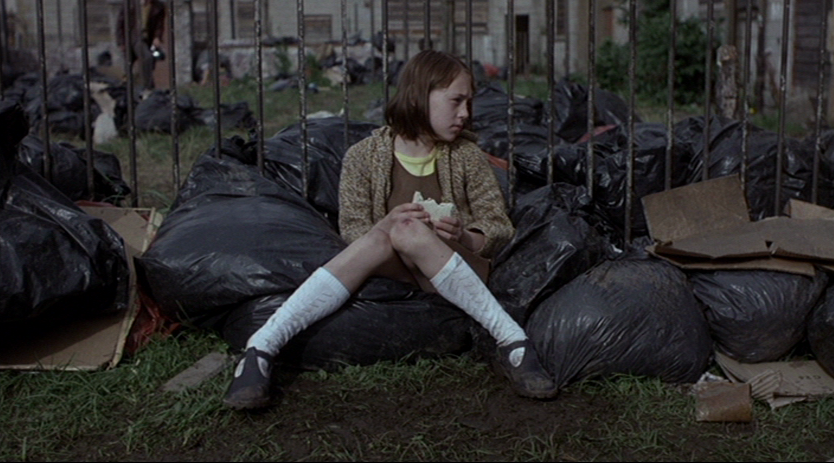 Yep - lists. The internet's overflowing with them. "8 Best Pie Flavors from Central America"...you get the idea. But a discussion of notable films from the 90's came up years ago among future 'smoke writers (back in what is now being referred to as "the myspace days"), and we wanted to bring that discussion back. All five participants - John Cribbs, Christopher Funderburg, Ian Loffill, Marcus Pinn and Stu Steimer - were asked to come up with their 75 favorite movies from that long-ago decade: the results were then calculated into one master list of 50. Each film will be written about over the next five weeks as we draw out this self-indulgent entry into the endless abyss of movie lists, classed up thanks to contributions from some of our favorite film writers.
50. BAD LIEUTENANT (1992, Abel Ferrara)
stu steimer
I don't know what it says about me, the contributors of the Pink Smoke, or the cinema of the 1990's in general that the first two films that I have been assigned to write about for this project focus on hormonal, puncture-scarred junkies rapidly de-railing off the tracks of sanity as protagonists, but nevertheless it seems to – in my opinion at least – generate strong films, or at the very least, strong characters. And this is the case of one of the strongest of the decade.
Although the mugwumps are noticeably lacking and the ejaculation-spurting typewriters are sparse, the fever-soaked nightmare is still relatively the same. Just trade the heroin for the bugspray and you got yourself a picture; a picture most identifiable for its star.
Had anyone else been cast in this movie other than Keitel I don't think I would be ranking it as highly as I am. It is definitely a fine film for sure, and easily Abel Ferrara's finest hour as director (it completes the trilogy of Abel Ferrara films I am actually somewhat fond of, Driller Killer and Ms. 45 being the other two - never saw The Addiction, but have heard good things, maybe I'll watch it some day.) Lieutenant has the power to be far more compelling and mature than the former films, yet still maintain the real true power of a man jerking off in the presence of two underage teenage girls. Calling it the best of both worlds is an understatement, but it is Keitel's performance as the broken redemption-seeking scumbag that blasts it onto a whole other level. His performance has this dynamic, raw element to it that I just can't picture most trained professionals mimicking with a tenth as much finese. It's like watching Jake LaMotta after all the years of gluttonous self-abuse finally catching up to him, struggling with bloodied and bloated knuckles to punch his way through Travis Bickle's New York, stumbling every inch of the way. Most who have graduated at the top of their class in Julliard would not be able to call Jesus Christ a rat-fuck with half as much raw power without coming off as silly and over-the-top. Here it is done, and done with such beautiful style and natural manic charisma. One looks at it and they can only pause and wonder about what the original outtakes and negatives of The Last Temptation of Christ must look like.
Of course, gratitude deserves to be given to Zoe Lund and Abel Ferrara's screenplay for generating such a tortured, fucked-up character for such a tortured, fucked-up performance.
With all his demons hovering overhead, cascading downward faster than the plumes of crack-smoke are able to dissipate, he goes about his day nothing more than an empty shell of a human being. Slouched over a bar stool, a disgusting heap of raw, alcohol-battered flesh, anesthetized and detached, he belligerently screams at disembodied voices on the radio with gun withdrawn before scoring in back alleys (or off the drugs confiscated from the users and dealers he crosses paths with), retiring to hookers for the night before slipping into unconsciousness in a drug-fueled haze that has reduced him to an infantile state of weeping indecipherables. He is all too aware of the exit that he is rapidly approaching, with sharks on his ass, developing a taste for his blood, his foot never shifts from the gas, accelerating into oblivion; the gobs of coke and blood spackling his nose residue of the only fuel left in his tank.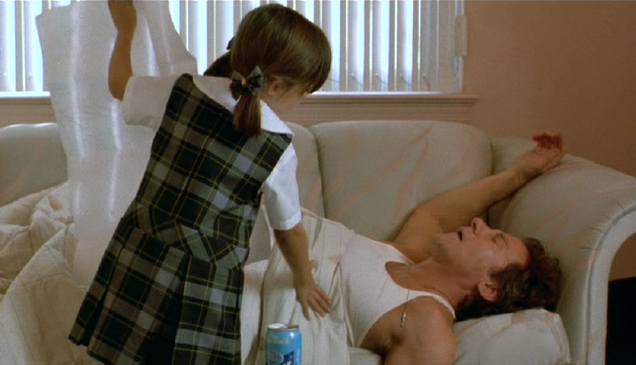 The lieutenant is the living embodiment and personification of any number of Lou Reed songs up on the screen. Self-destructive of a character he may be, and as bleak as the reputation of the film may suggest the end result is anything but nihilistic – in fact, it is probably about as spiritual a film as you are going to see that incorporates free-basing and drug-fueled whore dance parties (I guess if we're going to pigeon-hole it, this would be slightly more in line with Robert Bresson's spirituality than Kirk Cameron's – though even stating that is a bit of a stretch, I am aware.)
A nun gets brutally gang-raped and Keitel's character takes the case. There is no set-up for a mystery subplot here, as she knows her attackers, knows their names, but refuses to relinquish them to the lieutenant. The rapists are young men, likely to garner life-sentences and likely to both be murdered in jail as a result of their crime. "Don't you want these guys to be avenged? Don't you want justice?" pleads the lieutenant to the nun. Her reply is blunt and to the point: "I have already forgiven them." "But do you have the right?" says he.
In this instance it is easier to associate with Keitel's feeling than the nun's. The crime itself is one of callous, merciless brutality, and it is expected that justice be delivered with the same corrosive swiftness. It is an ugly act, virtually impossible to even flirt with attaching it to a concept such as forgiveness. This manifests itself into the film's most explosive scene where the lieutenant is crawling on the floor, screaming and weeping to a hallucination of Jesus Christ. "Where the fuck were you?" Keitel lashes out at a God and savior who forever remain absent, only appearing when the time of need has been ushered into the past. Christ offers no answers to this quandary, remaining a silent and ghostly fixture in the presence of the shattered cop. There are no simple answers to be heard, because there are none to be given. To forgive for such an act becomes almost as repellent and unthinkable as the act itself. The frustrations are evident and palpable. But just as much so, he has to struggle to find some redemption for his own self through this struggle. Choosing to do the right thing is impossible, because there is no "right"; right and wrong just become relative terms, and the whole concept, somewhere down the line, becomes blurred in the swill. The outcomes of either prove problematic: on one hand he can betray the nun for the altruistic purpose of justice, on the other he can adopt the redemptive qualities for which he may or may not struggle to seek in himself and let two violent rapists go free, whose careers as sexual criminals may only perpetuate further. In the end a strange and troubling salvation is found, and because of it lies a mass of blood and gristle, seemingly more broken than before, back shattered and dying on the scorched Earth under the weight of the cross it now goes bearing.
49. LAST NIGHT (1998, Don McKellar)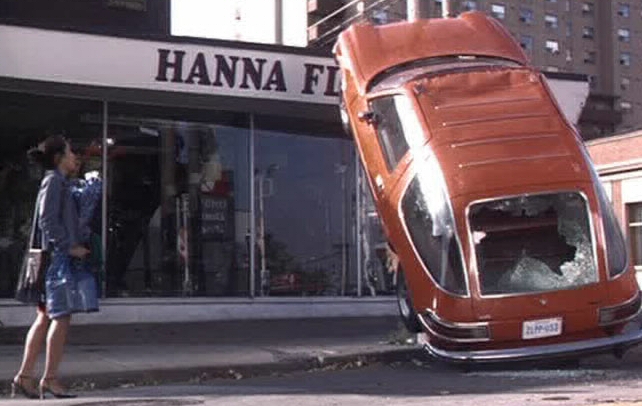 ian loffill
The end of the world, or at least civilisation as we know it, is one of my favourite subjects for a film. It almost always catches my interest and fires my imagination and it's an inherently interesting theme to toy with. When a film dealing with something so important and vital fails to ignite my interest it's just about the worst kind of failure in a film in my view. The late 1990's bought a spate of catastrophe/end of the world films – Armageddon, Dante's Peak, Volcano, Daylight and Deep Impact to name a handful. Commentators were convinced they were trying to capture the zeitgeist but to me they seemed more like a harebrained attempt to revive the disaster films cycle of the 1970's with newfangled technology. Since 9/11 of course films of an apocalyptic or dystopian nature have barely been off our screens and now 2012 has arrived we have yet another excuse to look at the impending apocalypse. Don McKellar's excellent feature film directorial debut Last Night is the perfect antidote to all that nonsense, the flipside of its contemporaries. Speaking of epochs (on a slightly smaller scale) one of the major surprises when I finally put together the list which I submitted here of my favourite films of the 1990's was a strong showing of Canadian films – specifically three choices in my top 10. While there had been successes in the past, the 1990's did seem to be a major breakthrough decade for Canadian cinema. The likes of Atom Egoyan, Guy Maddin, Bruce McDonald, Francois Girard and Lynne Stopkewich became directors of international stature while of course Denys Arcand and David Cronenberg remained high profile auteurs. In bringing together several key talents, Last Night captures that growing confidence as a force in modern film separate from their North American neighbours. The aforementioned McDonald and Girard appear briefly, as does Cronenberg in a more substantial role. Incidentally it shares several cast members in common with Cronenberg's eXistenZ made the following year - McKellar, Sarah Polley (later to become a director herself), Callum Keith Rennie and Kirsten Johnson - and his regular composer Howard Shore has a piano piece on the film's soundtrack. Remarkably Last Night doesn't feel like a relic of its era. McKellar's film sidestepped that particular pitfall with no reference whatsoever to the end of the millennium, even though that was the origin of the idea for the film. What ruins most apocalyptic stories, a timeless theme if ever there was one, is their desire to appear timely. It's much better to find a broader metaphor for the events of the story. Like films such as Miracle Mile, The Road and Time of the Wolf, the emphasis on character rather than the scale of events gives it a more real and urgent quality.
The film's tagline - "It's not the end of the world... there's still six hours left" - nicely encapsulates its dry humour. Here the end of the world is like an awkward New Year's Eve party or a wedding or funeral where you struggle to say anything that feels right for the occasion. It fully captures that feeling where you'd rather be alone or somewhere else. The cause of this apocalyptic scenario is somehow irrelevant. The end is nigh and how these people choose to face their impending doom is what counts. The last day on earth is surely as good a time as any to resolve your personal issues. Patrick (McKellar) is at the centre of the story, intending to spend his remaining time alone to the incomprehension of others. His plan is derailed by Sandra (Sandra Oh) who is attempting to get back to her husband after her car is upended. Old acquaintances, co-workers, friends, family and complete strangers all appear on this journey. Patrick's sister (Polley) and her boyfriend attend a street party. His elderly relatives have a yuletide-themed family meal (even though it isn't actually Christmas) and watch home movies. His friend Craig (Rennie) tries to have as many varied sexual encounters as possible. A marathon runner (Jackie Burroughs) cheerfully counts down the final hours while running through the streets of Toronto. It's suspenseful in a surprising way, even on subsequent viewings. The small, funny and awkward moments that people share make the film almost unbearably poignant. We witness Patrick's clumsy attempt to hotwire a car before admitting he doesn't actually know what to do. Donna (played by the late, great Tracy Wright) confesses at work that she has had a drink every day at 6pm for the last seven years. A child sitting on an abandoned bus pleads with her mum to let her have her ears pierced as if it's the most important thing in the world. We know the end (literally) is coming, but how these people spend their last moments seems important. Nothing can stop the apocalypse and after all, is there ever an ideal way to wrap things up? Patrick and Sandra come together through a shared sense of loss: Sandra's growing realisation that she will never be able to get back to her husband with whom she has made a suicide pact, Patrick having lost the woman he loved to a terminal illness months earlier. McKellar's performance expertly moves his character from obnoxious to empathetic over the course of the evening. When he remarks how privileged they are to witness the end of things, as no one was around at the beginning, it feels right somehow. Because it perfectly matches my own personal concerns and hang-ups with one of my favourite themes, Last Night is one of those very rare films that I actually feel lucky and grateful to have come across.
48. BLACK ROBE (1991, Bruce Beresford)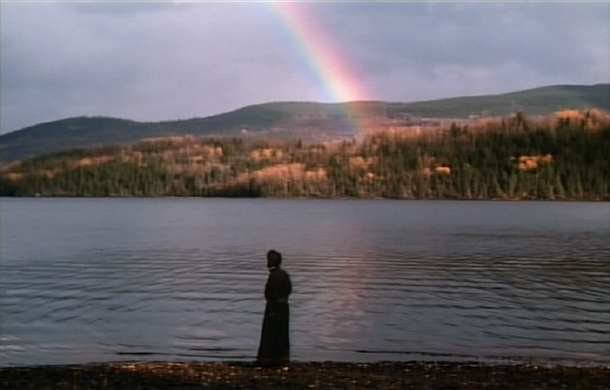 paul cooney
Semen. There, now I have your attention don't I? You're such a pervert. Don't worry my little dumpling I don't judge, for who among us hasn't dreamed of putting on a monk's robes and masturbating to thoughts of an Indian maiden being railed in the woods? Or are you not a dreamer? Are you one of those few, those unhappy few, who have never visited your local monastery and chatted with a friendly friar over a few steins of his abbey's microbrew before finally convincing him to let you borrow his cloak for some nocturnal revelry? It's a win-win! You get a snazzy costume that chicks can't resist, and he gets to live vicariously through your debauchery. Belie dat.
I digress. The 90's. They were a crazy time for sure. The internet hadn't been invented, crack came in only one flavor, and a fine film like Black Robe went grossly underappreciated. It begins with a shot of a map and somber music, so you know you're in for a treat. Were my pants down before the opening credits ended? I'll let posterity figure that out, but this mamby jam didn't waste any time in conveying the central theme of the film - everyone's dumb.
From one moment to the next the viewer is blown away, whether it's the fantastically beautiful shots of the St. Lawrence River and the mountains astride it, or a monk taking a dump over the side of a canoe. Are there flashback shots of people in cathedrals in France? You bet. Do we also get to hear someone fart in a teepee? Sho nuff. A clock has a speaking part for christ's sake. I'm not making this shit up!
Our forlorn hero, Father Paul, is sent up the river to the Huron mission to bring the word of Jesus H. Christ to the natives. Will he make it? Well we'll find fucking out won't we! He's accompanied by some friendly Indians who are supposed to make sure he arrives safe and sound, however they don't like him much cause he's kind of an unhappy sanctimonious prick who's always sputtering nonsense about paradise. They find his musings dubious, especially when they ask him if there's gonna be tobacco and broads in heaven. He stupidly says, 'No, you won't need them.' I don't need to hang around high schools when springtime rolls around either, but I do it cause that's what paradise means to me. What about that is so hard to understand? The Indians hold Blackrobe in contempt after hearing enough of his bullshit and he returns the favor, thinking them simple minded and stupid. The irony of course is that they're both right! How about that?! When do we reach the brave new world of genetic engineering already so I don't have to deal with all these idiots who weren't blessed with great sense and greater looks like me?
I digress...though the Indians and honkies are a simpering collection of innate drive driven morons one and all, something everyone can agree on is that Sandrine Holt looks mighty fine in her over the knee deerskin boots. She even wears some dynamite mittens at one point. Thus we can't blame Father Pervert when he slips out of his teepee to spy on her when she sneaks off into the woods for some fuckee suckee time with the randy voyageur. Blackrobe peers through the branches and watches her get railed atop a bed of pine needles. You go, boy! Of course since he is religious nut he literally flagellates himself afterwards. If only he had spent less time with the bible and more time studying Confucius. "I never met a man who loved virtue more than sex." Sandrine is puzzled when she hears of the vow of the Blackrobe to remain celibate. "Why would they make a promise like that?" Why indeed Sandrine!
Blackrobe looks for an ally in his hunky fur trader buddy, but he finds only scorn. When the priest calls the Indian ideas of the afterlife childish Monsieur Dreamboat retorts, "like hanging around on clouds and staring at god?" Zing! Put that in your bible and smoke it! A menacing mini-Indian sorcerer starts to call the priest a demon and subsequently the other Indians get tired of Blackrobe's shit pretty quick. They decide to abandon him with a goose, but not before one of them smirks and says, "Ask your Jesus for help, Blackrobe." Who knew Indians could be so sarcastic! A pretty sweet fight follows involving some Iroquois with some truly awesome haircuts and face paint combinations. The lead warrior from Apocalypto is playing yet another Native American badass here and relishes cutting off Blackrobe's finger with a sea shell after running his captives through the gauntlet. I'm really impressed with these Iroquois thus far. They have a sense of style and they seem to get results.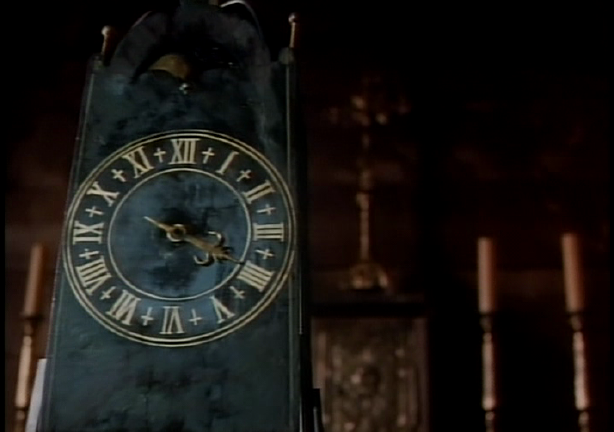 But Sandrine! I haven't forgotten you, nor can I look away when you hatch what might be the most daring escape ever, highlighted by the ingenious use of your ass. Things were bleak but then dear Sandrine, looking like she came fresh off the Land O' Lakes box, crawls over to the sentry with a sultry look on her face and a waggle to her bottom. In a flash she's exposed both her tawny breasts and buttery soft thighs. Can you fault that sentinel for letting his guard down and getting his prick up? Did you not notice how tawny she was? She gets on all fours and he enjoys a few last happy harried thrusts before she clobbers him with a burning log. Oddly enough that's exactly how my astrologist predicted I would go, and I refuse all invitations to go camping as a result.
Where was I? Auggie Doggie Schellenberg as the friendly chief really starts dropping wisdom once the snow starts falling and he feels his life ebbing away. "No man should welcome death. It is a cruel place, but it is the sunlight." Preach it, Auggie! Most people should die and most things suck but every once in awhile you find something awesome, like pizza or the Phillippines. He ridicules the Blackrobe's idea of paradise and also appears to slap Kevin Costner directly in his face with the devastating "I'm as stupid and greedy as any white man." Don't you romanticize me Costner, you hump! If you were worth a damn as a bodyguard La Whitney would still be with us!!! As Auggie lays dying and awaits the caress of the She-Manitou the Blackrobe attempts to baptize him, saying if he accepts god's love he'll get to go to paradise. Hot daughter Sandrine ridicules Blackrobe's attempts at conversion and displays a rather cold attitude about poppa dying, insisting that they leave him in the snow cause the dream has spoken and dreams must be obeyed. Speaking of dreamy, dreamboat fur trapper, in a surprise rebuke, tells Sandrine that although Blackrobe is a fucking moron, his heart is in the right place. She smolders at his lack of accord and it only adds to her allure. Auggie, who could easily just sigh and say whatever and cross his fingers and pretend to be baptized and humor the Blackrobe, instead gently brushes him off. He won't go through with the charade! Fuck you and your wager, Pascal!
Everyone leaves kind of disappointed and confused and Auggie lays alone and dying with an arrow in his back. It's pretty fantastic and I suggest you stop watching smut long enough to check it out again and again. Blackrobe finally makes it to the mission and he's kind of disillusioned at this point already, which is understandable, and matters aren't helped much when he walks in the door of the church and he sees his predecessor frozen in death with an axe through his skull. Dibs on his chalice! The old priest who's not dead yet encourages Blackrobe to lie to the Huron in order to get them to convert. Sure that might be breaking a commandment or two, but they don't apply when you're dealing with savages or something. Blackrobe is a little disappointed to hear that but then the old douche dies and there is much rejoicing.
Many want to kill the Blackrobe as well, cause in addition to his religious nonsense he's kind of a somber buzzkill and his beard is rather unbecoming. I imagine he smells pretty rank at this point too. However the Huron cut him some slack when he tells them he loves them, and they allow themselves to be baptized en masse. It looks like the Black Robe is really gonna do some good! Alas, whatever he did his efforts were in vain cause 16 or so years later those rockin and rollin' Iroquois came a knockin' and practically annihilated the Hurons and that was fucking that. All in all it's a pretty dynamite movie, and whenever I'm in Montreal, a charming city full of trees and vice, I extol its virtues and the beauty of Quebec to the girls in the massage parlors and sex shops, and if they speak English, they usually humor me by telling me they'll check it out.
47. RATCATCHER (1999, Lynne Ramsay)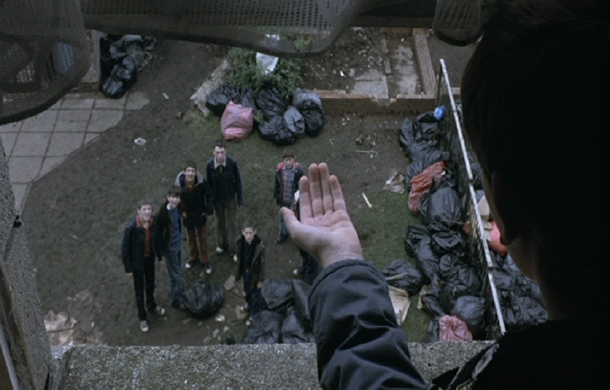 marcus pinn
Lynne Ramsay's Ratcatcher is a film inspired by the good qualities of 1970's Terrence Malick (it even features some of the same music that was used in Badlands), the kitchen sink realism of Alan Clarke without all the violence, Ken Loach's Kes and certain aspects of Claire Denis' earlier work like U.S. Go Home and Nenette & Boni. But its biggest influence would have to be Truffaut's 400 Blows. True, Malick's name was mentioned in just about any review or interview concerning Lynne Ramsay in the early part of her career, but I've always been amazed at the lack of critics who failed to site 400 Blows or even Small Change. In fact, if I had to quickly describe James Gillespie (the main character of Ramsay's feature film debut), I'd dub him the "Scottish Antoine Doinel." Ratcatcher is beautiful (the score, the intimate moments and the way Ramsay shows the innocence of youth), dreary (the majority of the film has a pretty drab atmosphere and grayish tone) and raw (the dialogue, the accents and the use of non-professional actors.) From Boyz N The Hood and Stand By Me to more recent stuff like George Washington, Ratcatcher is another film in a long line of coming-of-age tales where a young boy witnesses death or sees a dead body for the first time and has to hold on to a secret that's much too heavy for a child to carry. It was one of the first in a renaissance/mini-explosion of films starting in the late 90's and ending in the early 00's where youth were portrayed with a kind of depth and maturity (while still maintaining their youthful innocence) that hadn't been shown on film in quite some time. These films included Yi Yi, Sweet Sixteen, Raising Victor Vargas, L.I.E., Mean Creak and George Washington. In fact, Ratcatcher and George Washington have a spiritual connection between each other that could spawn a separate write-up all together. Both are heavily influenced by Terrance Malick's style, are essentially expanded versions of a student film project, have very similar plots and focus on lower income/poor families. However, the one Terrence Malick element that Ramsay didn't adopt which David Gordon Green did is the dreamy/poetic voice-over narration which would've been problematic (and tough on the ears) due to the thick Scottish accents of the actors in the film that require subtitles.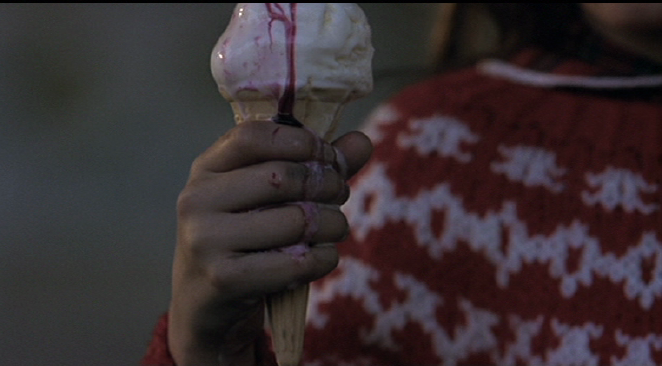 Although there is a main plot to Ratcatcher (a young boy, James, witnesses the death of his friend that he may have accidentally caused yet keeps it a secret) Ramsay focuses more on the day-to-day life of the various characters that live in the Glasgow housing projects where the majority of the film takes place. The story is set in the early 1970's during a garbage workers strike which leaves the already poor Glasgow town filled to the brim with trash and garbage bags overflowing everywhere. Throughout the film there's piles of garbage in the background of just about every scene, which adds to the dreary atmosphere. One of the subplots in Ratcatcher has to do with low income housing conditions and James' family trying to move in to a better home. The garbage workers strike almost acts as a metaphor for how the poor/working class are treated. It's bad enough that the living conditions in the film are already pretty gloomy, but now it's to the point where no one will even collect their trash, forcing the poor people to live on top of their own garbage as if they don't matter anymore (maybe I'm reading too much into it but that's what I got from of it.)
One of Ratcatcher's most unique qualities is its timeless feel. Don't get me wrong, Ramsay makes it a point to drop little artifacts and mementos to remind us that the story is set in the 1970's, but it still feels like it could take place in just about any era. Anyone who had a childhood full of roughhousing, crushes, fighting with siblings, looking up to older kids, wishing you could beat up your dad or just going off somewhere on your own to explore can certainly relate to Ratcatcher whether you grew up poor or not. After watching Ramsay's latest film, I can honestly say I like her best when she takes on smaller projects. For the last few months, I've been cringing at the fact that the disappointing We Need to Talk about Kevin, which was kind of an attempt to gain a bigger audience, will be many people's introduction to the world of Lynne Ramsay and will totally turn them off. For someone who only has three feature films under her belt in a thirteen year period (with a decade long gap between two of 'em), you don't have time to make a bad movie (especially something that comes off like an arthouse version of The Good Son with a splash of The Omen.) I hope Ramsay returns to Scotland for her next feature.
46. OUT FOR JUSTICE (1991, John Flynn)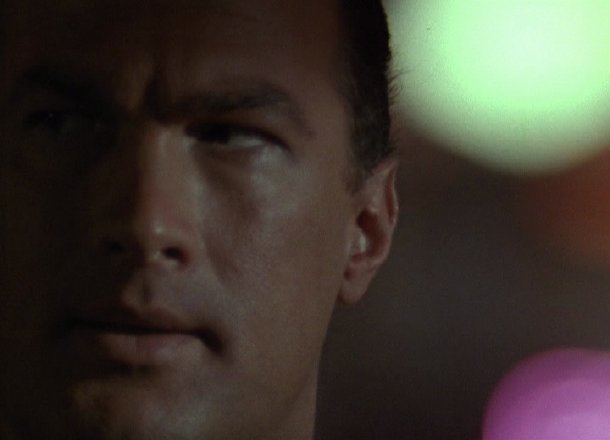 ian loffill
I find it strange that I've heard more people make a case for, say, Hudson Hawk than any of Steven Seagal's early work. I remember being a bit disappointed that Seagal was not featured in the cast of The Expendables. If nothing else it might have helped serve as a reminder for certain viewers of what once was. Any career that includes highlights like Above the Law (aka Nico), Hard to Kill, Marked for Death, Under Siege (plus its sequel), Fire Down Below and Executive Decision is no disgrace in my book. A friend of mine described Steven Seagal as an actor-auteur. It sounds ludicrous at first and I can't imagine a forthcoming BFI retrospective but it's hard to think of a more singular filmography. It gets to a point where certain titles seem to blur together. Checking the late night TV schedules or the DVD shelves in a rental outlet it might be hard to distinguish between the likes of Kill Switch, Driven to Kill, Out for a Kill and Out of Reach. A Seagal movie is a formula thing for certain, something to which he can shoehorn in his music career and environmental concerns to an overenthusiastic and embarrassing degree at times. His film career had trailed off by the late 1990's, a time when action cinema in general seemed to be in decline, and in filmdom he's largely written off as a joke for his seemingly endless side projects including TV series Lawman, numerous allegations made against him and the innumerable cheap Direct-to-Video thrillers he's appeared in ever since his heyday ended. As a result, Out for Justice is the kind of film that is easy for many people to dismiss but for me it's also too damn good to ignore.
The film begins with a pre-credits episode largely unconnected to the main narrative, kind of like what the Indiana Jones and James Bond films had done previously. Here we witness New York cop Gino Felino (Seagal) blow a stakeout in order to arrest a pimp beating up one of his hookers. The bad guy is put through the windshield of a car before the title appears onscreen. It means business from the start. The taut narrative that follows sees Gino out to avenge the death of his best friend and fellow cop at the hands of his former childhood friend. It all takes place over the course of one night in his old neighbourhood of Brooklyn. Seagal is in very good company here. The supporting cast includes Gina Gershon, Jerry Orbach, Julianna Margulies (in her first film role) and of course William Forsythe's unforgettable turn as the mad, drug addled scumbag villain Richie Madano. Its nihilistic and unpredictable antagonist is the film's masterstroke, giving us two shockingly random murders near the very start of the movie from a man intent on perhaps nothing more than a night of mayhem in his own territory. At the helm of the film is master craftsman John Flynn. Like Seagal, he moved to straight to video thrillers and TV movies which were perhaps better homes for his lean and efficient style at that point. Mainly hailed by cult aficionados/Tarantino fanboys for his Vietnam veteran revenge thriller Rolling Thunder, Flynn in my view deserves a place in US cinema history alongside the likes of Don Siegel, Budd Boetticher and Walter Hill for the tough no-nonsense approach he brought to a terrific body of work that also includes The Outfit, Defiance (not the Daniel Craig movie), Best Seller and Lock Up. Just writing about Flynn's underrated virtues here makes me feel like I should cut to the chase. It's worth noting how even in a token scene where Gino is reconciling with his wife, the next cunningly judged eruption of violence is on its way. The film's tour de force scene, and there are many contenders for this claim, has Gino interrogating a group of lowlifes in a seedy bar run by Richie's brother Vinnie. He starts with small talk and shoves a few patrons around before the tensions mount and everyone present wants a piece of the crusading cop who is, of course, no pushover. In an age where action cinema feels more artificial and slapdash you can't help but notice the force and impact of the violence in Out for Justice. When Gino tells Richie "those bullets could've saved you a lot of pain" he's not kidding. The car chases, fight scenes and shootouts are all expertly handled and the film even finds time in its briskly paced 90 minutes to appeal to my sentimental side when Gino adopts a stray puppy along the way. Over the years I've acquired more than a few guilty pleasures as an active filmgoer but Out for Justice certainly isn't one of them. I'm an unapologetic fan of this film; the movie certainly speaks for itself.
<<Previous Page 1 2 Next Page>>
home about contact us featured writings years in review film productions
All rights reserved The Pink Smoke © 2012