100 GREAT CINEMATIC DEATHS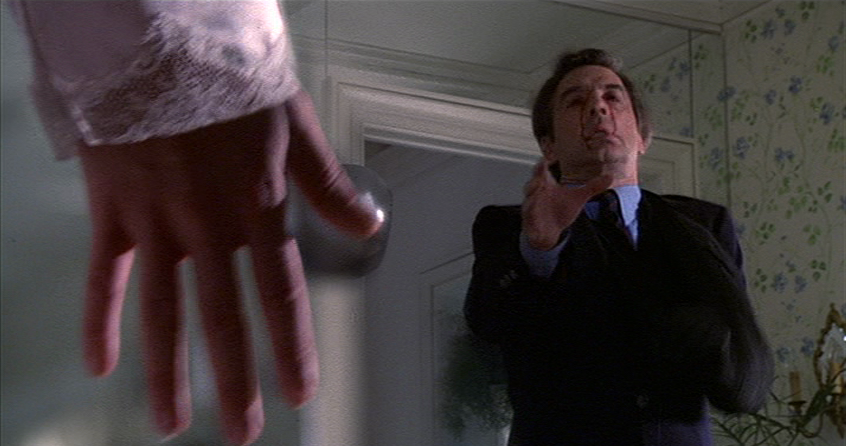 by john cribbs, ian loffill, paul cooney, marcus pinn, christopher funderburg & stu steimer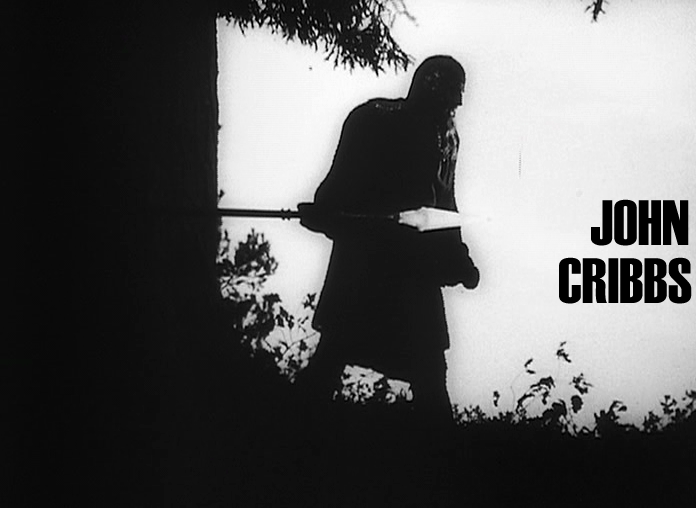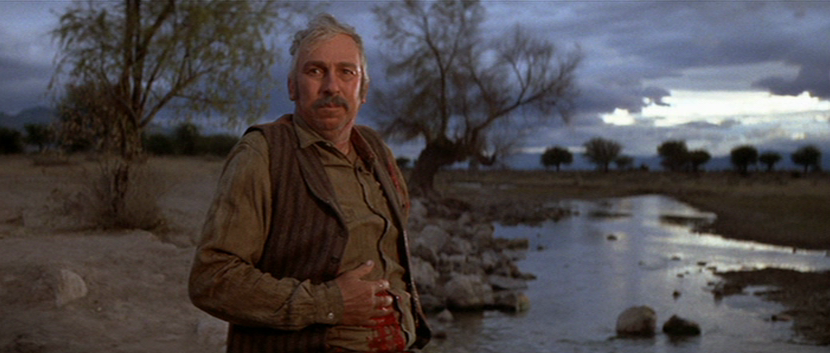 1. Slim Pickens in Pat Garrett and Billy the Kid
"Us old boys ought not to be doing this to each other," an outlaw says as he lay sprawled across a roof, gutshot by an overzealous Pat Garrett. Sure enough, there doesn't seem much point to the clumsy gunplay that's just transpired, making the mortal wounding of Slim Pickens' Sheriff Colin Baker, guilted by Garrett into aiding him in his own inglorious crusade, all the more meaningless. Drawn into the tiny wars of men whose way of life in America is dying without the help of bullets, leaving behind a half-built boat, Baker appears resolved to exit the world as he wanders determinedly to a still pond beneath the setting sun, his expression serene, like he's already looking across from the other side. Even his devastated lady friend betrays a gleam of sad acquiescence once she sees his tranquil composition. Baker's ignoble yet elegant exit, paired with the ensuing scene on the river where Garrett and a stranger on a passing barge stare each other down before lowering their rifles, reveals a glimmer of compassion in the mercurial nature of death in Peckinpah's west.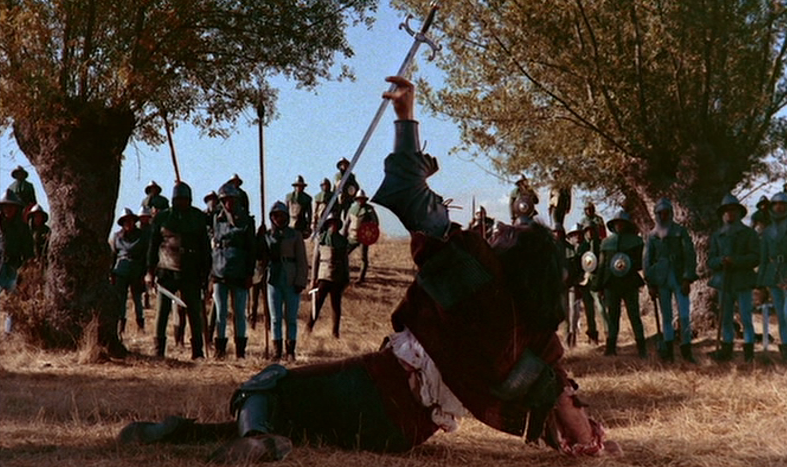 2. Laurence Olivier in Richard III
Since there were no living witnesses to the Battle of Bosworth Field in 1955, Olivier couldn't make the fall of his horseless Machiavellian hunchback monarch as authentic as, say, Spike Lee could with Malcolm X. But Sir Larry went even further off-book by changing the end of Shakespeare's play so that his Richard isn't killed in single hand-to-hand combat; instead, he's stabbed multiple times in the center of a large crowd a'la Julius Caesar. Of course it's the conceit of the thespian-director to have everybody in the cast kill him, however this change gives the slaying a much sexier edge. Penetrated by all those swords at once, Olivier's Richard tumbles to the ground writhing in what appears to be combination pain and ecstasy, his subsequent spasms perfectly synchronized with William Walton's thrusting string score. Everything leading up to it is so much fluff, but if the movie's on TCM I'll tell my wife to call me in for the end. While Olivier managed to perform one of film's most subtle symbolic final scene deaths (The Entertainer), this one is full-on hammy, and enjoyably so: it predates every extended, exaggerated death scene* from Jean-Pierre Léaud's in Made in U.S.A. to Zbigniew Cybulski's in Ashes and Diamonds. Speaking of which...
* I'd include Nordberg from The Naked Gun but he survives.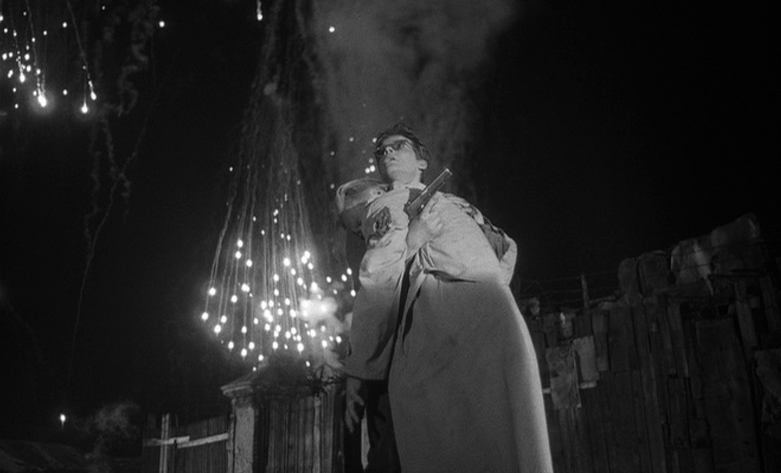 3. Waclaw Zastrzezynski in Ashes and Diamonds
The planned assassination of Zastrzezynski's communist commissar Szczuka consumes Zbigniew Cybulski's Home Army soldier Maciek throughout the entire day during which Andrzej Wajda's film is set. That day, in which Germany officially surrendered to end World War II, culminates in an explosive, celebatory fireworks display that lights up the sky just as killer and victim embrace after Maciek has emptied his pistol into Szczuka's dancing body, illuminating the previously discreet act while at the same time spotlighting the spectacular insignifcance of it: this is no longer a noble assassination, now it's just a dirty murder. Maciek, used to fighting in the dark Warsaw sewers (or just using that as an excuse to look cool by wearing his sunglasses at night) is confounded by the sudden brightness, and considers the dead meat in his arms with newfound remorse and mortification.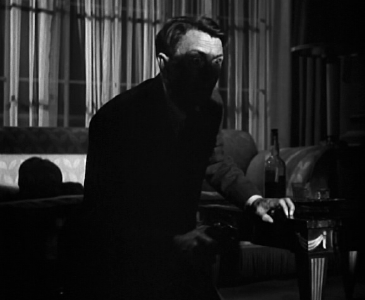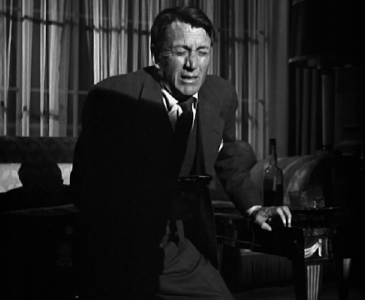 4. Paul Fix in Force of Evil
There are a lot of great deaths near the end of this nasty little noir, most memorably the impulsive, Justus D. Barnes-esque shooting of a tratiorous bookkeeper and the offscreen killing of stubborn, sweaty small time racketeer Thomas Gomez (who's been "dying while still breathing" the entire movie; seriously, every time he stands up you hope he'll just sit back down.) But the most stylish of them occurs during a shootout in an office after the ball is dropped and three men realize they're going to have to kill each other. One knocks over the desk lamp and everybody scatters in the darkness. Trying to escape by carefully opening the office door, the first one is plugged in the back by hood Billy Ficco. But Ficco (Paul Fix) has inadvertently doomed himself, as his previously concealed form is slowly revealed by the light from the other room as his victim's lifeless body arches forward and edges open the door. Realizing his fatal mistake milliseconds before a slug punches him in the chest, Ficco falls forward and dies undoubtedly feeling like a true moron.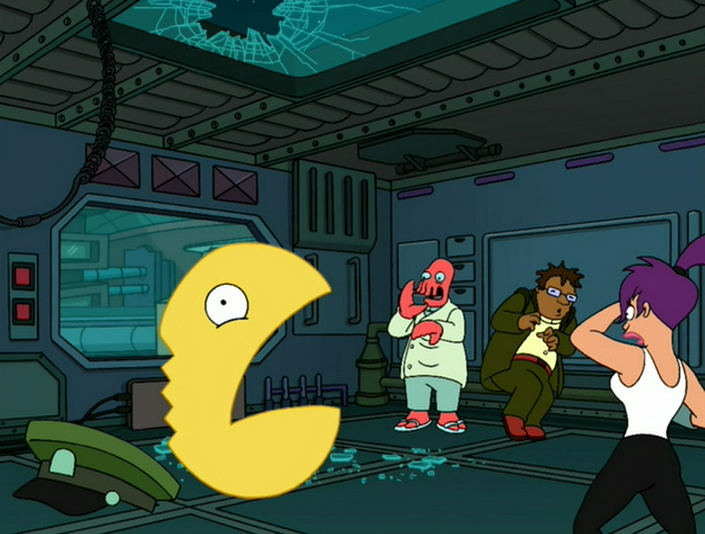 5. Pac-Man in Anthology of Interest II
With one day left til retirement, General Pac-Man falls victim to stray laser fire from the invading Nintendians and, unlike Fry, doesn't have a spare life. With a fading "re-re-re-re" he is digitized out of existence, leaving behind a grieving Ms. Pac-Man. Someone please, tend to the widow Pac-Man.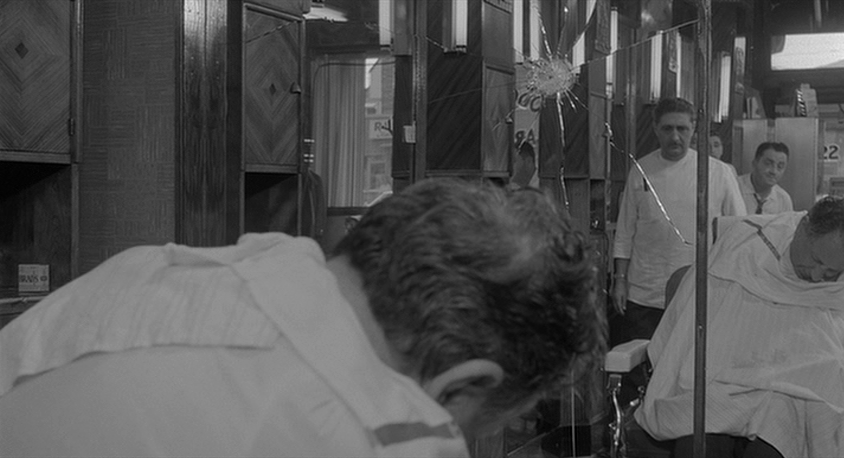 6. The man in the barber shop in Mafioso
The movie makes an amazing transition from being absurdly comedic to deliriously ominous when Sicilian mob bosses ship a hapless Nino (Alberto Sordi) off to America inside a crate to pull a hit on some rival New York don. Nino remains blithely ignorant of what exactly they want him to do (so...he just has to deliver this letter then go home, right?) up 'til the very moment he's forced to walk into a barber shop and gun down a stranger. You could argue that it's the lead up to the actual murder that makes the scene so noteworthy. It's proceeded by such memorable encounters as the sudden presence of a drunk man on the street who tries to make friends with Nino, and there's even a little hint of comedy right before the hit when Nino walks in, already uncertain of his target, and sees a line of men in barber chairs, their faces covered by towels. This subtle joke lightens the mood temporarily before the victim is revealed and Nino raises the gun, the abruptness of his resolve (motivated by fear of reprisals from the Sicilian mob) completely offsetting the movie's light tone. Nino's been so charmingly aloof, he's the last character you'd ever expect to shoot someone down in broad daylight.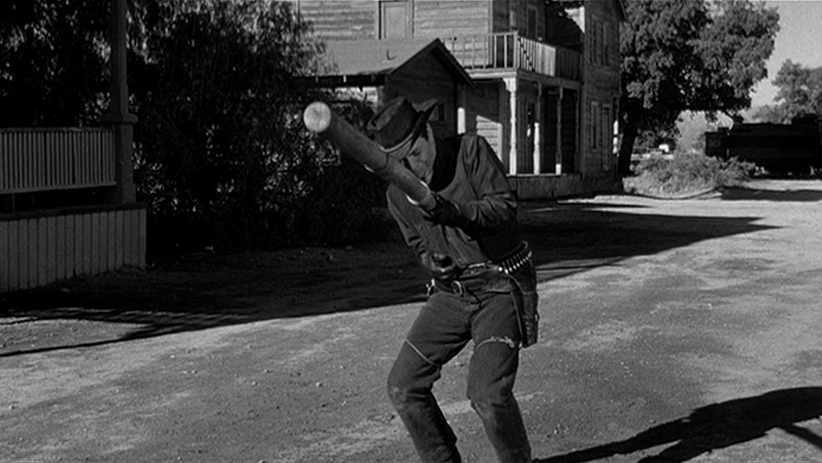 7. Great harpoon death #1: Sebastian Cabot in Terror in a Texas Town
I'm not talking about some twerpy harpoon gun death a'la Thunderball, Face/Off or The Dead Pool - I mean a bonefide hand-thrown harpoon. The best example is the satisfying climax to a feature-length slow build in Joseph H. Lewis' last film, which should have been titled Harpoon Crazy. Not only is the movie bookended by the showdown between Cabot's gunslinger and Swedish whaler Sterling Hayden's harpoon-heaving giant, the pike in question is the very weapon Hayden's father was gripping in his hands when Cabot gunned him down earlier in the movie. Seeking vengeance for this as well as Cabot's terrorizing of immigrant farmers, Hayden harpoons up and marches miles down a train track into town to find his enemy. Cabot, recently spooked after witnessing something he'd never seen before - a man who "wasn't afraid to die" - stands across from Hayden with a confidence that gradually weakens the longer he stares into the eyes of the silent bohemian and the business end of this migrant's mobile meathook. Seconds later it's sticking out of Cabot's chest: Hayden beat the bullet! Everything that plays out between the brutal bookends is superfluous melodrama, but Lewis' swan song secures its place in cinematic history with this memorable meridian - until a character is run through by a stuffed swordfish hanging on the wall in a Victorian costume piece or something, it will remain the most curious marriage of backdrop and chosen projectile.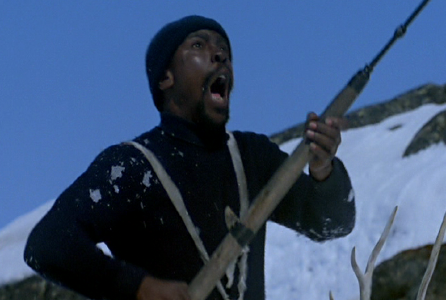 8. Great harpoon death #2: Lou Gossett, Jr. in The White Dawn
The three "civilized" castaways of a whaling ship quickly wear out their welcome among a small tribe of Eskimos and get pegged as harbingers of ill tidings, the death of a young woman who passes out on the ice and freezes after an innocent drinking binge with some Warren Oates-brewed alcohol serving as the offical last straw. Assaulted by his hosts in an igloo, the groggy yet resourceful Gossett Jr. bursts out the top of the roof like an angry leviathan rising from the sea, ready for action. What he couldn't have anticipated was the impeccable aim of a young Inuk whose trusty harpoon glides right into the vulnerable center of Lou's back, felling the bald, bellowing beast, himself an out-of-practice master harpooner (oh the irony!) Although the film previously featured an excellently-staged polar bear skewering, Gossett's end is the highlight thanks to the satisfying combination of desperate self-preservation (busting out the roof of a damn igloo) and brutal efficiency of a peace-loving native you wouldn't have thought capable of swatting a fly.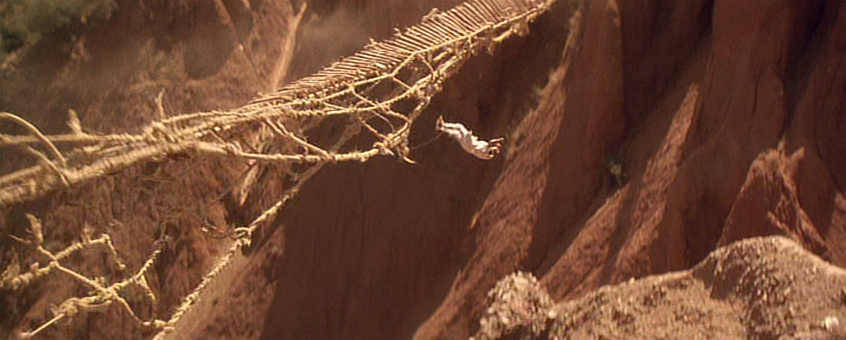 9. Sean Connery in The Man Who Would Be King
Another "white dudes exploit primitive culture and get their comeuppance" anti-imperialism special, as two rogue ex-non-commissioned officers of the Indian Army journey deep into Kafiristan to get rich only to end up with way more than they bargained for. Connery, through a series of adventures too outrageous to relate here, accidentally becomes the god of a vast civilization and even modestly chooses the best-looking among them to be his queen. This all backfires when SHE accidentally exposes Connery's con and all 100,000 deceived Kafiristanians instantly turn on him. Trapped at a cliff between armies, Connery musters his most divine poise and steps out on the bridge, defiantly belting out "The Son of God Goes Forth to War" (with Mickey Caine harmonizing) as they cut the ropes from both ends. It's not long before ol' Sean falls, round and round like a penny whirligig, not quite godly but gloriously human.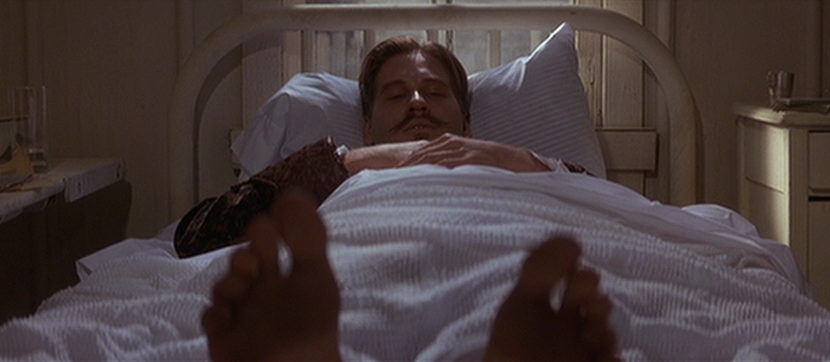 10. Val Kilmer in Tombstone
One of the most egregious kind of characters in movies is the one who coughs throughout the film, or mentions going to the hospital or seeing a doctor...we get it, you're dying. But somehow Val Kilmer's Doc Holliday (not to be confused with Michael J. Fox's Doc Hollywood) manages to be that character and still be badass. Holliday's wild living catches up with him not in the form of a bullet but rather a terminal case of consumption, through which George S. Cosmatos demonstrates not all deaths in the west were the result of showdowns with six-shooters (or harpoons.) After supplying work for half the undertakers in the southwest, Doc dies unceremoniously in an empty hospital with only Kurt Russell's Wyatt Earp by his side. At the last moment (taken from allegedly true historical documents) he glances down at the socks covering his feet and mutters "I'll be damned." He never expected to die with his boots off.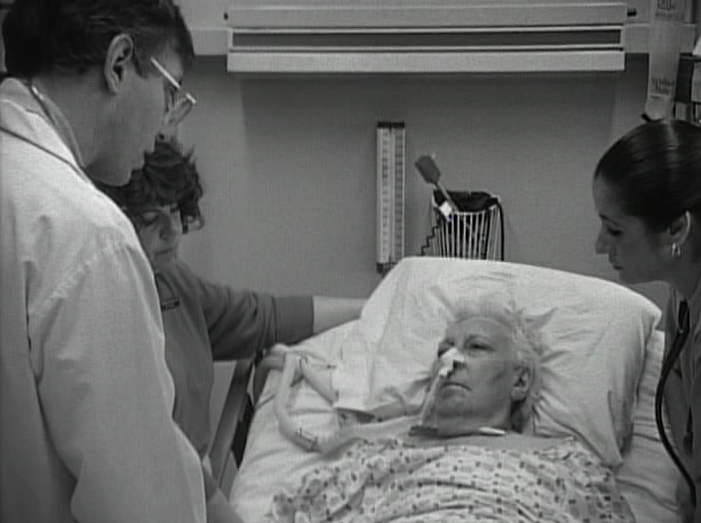 11. Bernice Factor in Near Death
This one's a cheat, since Bernice doesn't technically die in the film - her death just happens to be the key subject of a six-hour documentary. As a stroke victim tethered to machines in an ICU who can only communicate through weak gestures, she deals with a slew of doctors and nurses trying to get a sense of what her final plans are: does she want the breathing tube removed? Does she want the tracheostomy? Is she just holding on for the sake of her devoted husband of many years? What Fred Wiseman's dealing with is death in human hands, how being as respectful and humane as possible towards dying patients can so quickly turn into condescension and bullying. In trying to draw a response from her, with every intention of getting a clear understanding of what she's trying to say, the hospital staff repeat themselves ad nauseum as they would a child. Naturally they don't want to misinterpret anything she might be trying to convey to them, but they ultimately betray their own frustrations by looking up helplessly at other staff members and shrugging or suggestively leading Bernice towards the answer they're looking for. As fresh corpses are spirited away from their hospital room to the morgue in a transfixing combination of solmenity and efficiency, well-meaning physicians spout off discomforting phrases like this innocent acknowledgement of superiority: "I don't want to keep you alive unless you like living."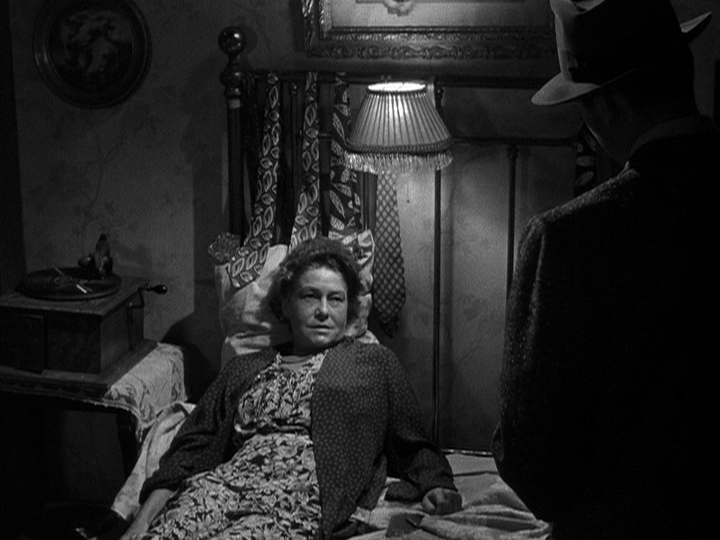 12. Thelma Ritter in Pickup on South Street
The consequences of Richard Widmark helping himself to some top secret microfilm planted in the purse of an unwitting accomplice to espionage and treason on the train, then deciding to offer it up to the highest bidder, is the harsh murder of his only friend. Thelma Ritter's Skid Row Moe, "an old clock runnin' down," has no reason to stick up for Widmark but she does anyway. Sitting on her crummy bed over dirty sheets and under a pathetic light, she refuses to give up her pal, then flat-out insults the Commie thug who's got a gat pointed straight at her. She reasons that there's no reason to continue the way she's going - "I gotta go on makin' a living so I can die!" - and gives him permission to do what he's gotta do, offering one of the best exiting lines ever: "Look mister - I'm so tired, you'd be doing me a big favor if you just blow my head off." He obliges, the sound of a gunshot punctuating the end of the scene as a meaninglessly spinning record, like Ritter's surrendered existence, reaches its end.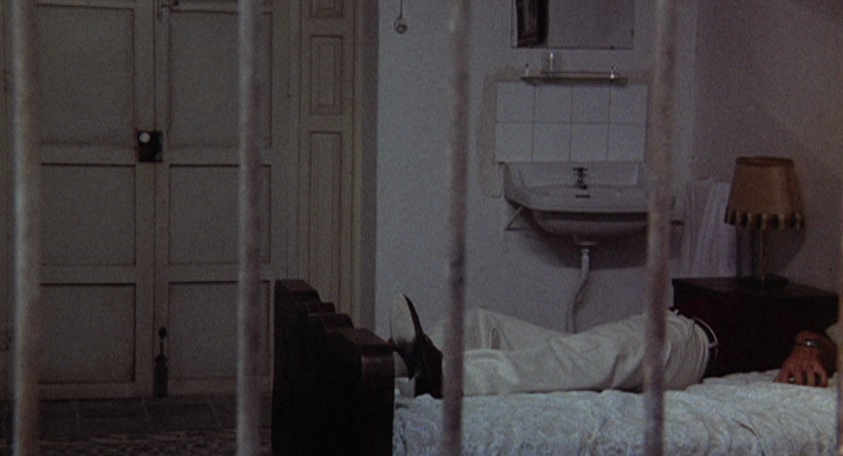 13. Jack Nicholson in The Passenger
The penultimate shot of The Passenger is a well-documented cinematic feat along the lines of the opening crane shot of Touch of Evil, so I won't waste time with the play-by-play. The basic idea is, Jack Nicholson lies down in a hotel bed, the camera moves outside through the window, when it turns back into the room Nicholson is dead, the victim of thugs looking for the deceased arms dealer he's traded identities with. "There's no escaping trouble" is part of the movie's message, but moreso it's that some people aren't cut out for adventure. Although he staged his death to escape these very things, Nicholson finds he can't elude modern man's natural tendency to obligation, schedule, commitment, a personal order that drives us instinctively towards our destinations ("We're creatures of habits," the dead man has told him, repeated posthumously on a tape recorder.) Nicholson hasn't been successful at living beyond his symbolic suicide - moments after his death his wife catches up to him (in a great moment later mirrored by Martin Donovan's murder at the end of Amateur: "Yes, I know this man") - and he's discovered too late that no matter who we pretend to be, what personality we adopt, the "few bad habits" we can't get rid of determine our fate. While the scene evokes the sinister nature of political assassinations ("People disappear every day"), Antonioni really turns this murder into a natural death, with Nicholson relaxing in bed, no actual sound of the killing heard, the peaceful Spanish village outside continuing its lulling existence while he fades from it. If you buy into the "Antonioni the architect" gimmick, moving outside and back inside is one of his more profound achievements, the movement through the window always reminding me of the line from Cocteau's Orpheus about mirrors, "gates through which death comes and goes." Sometimes so are windows, or the screen of a movie theater.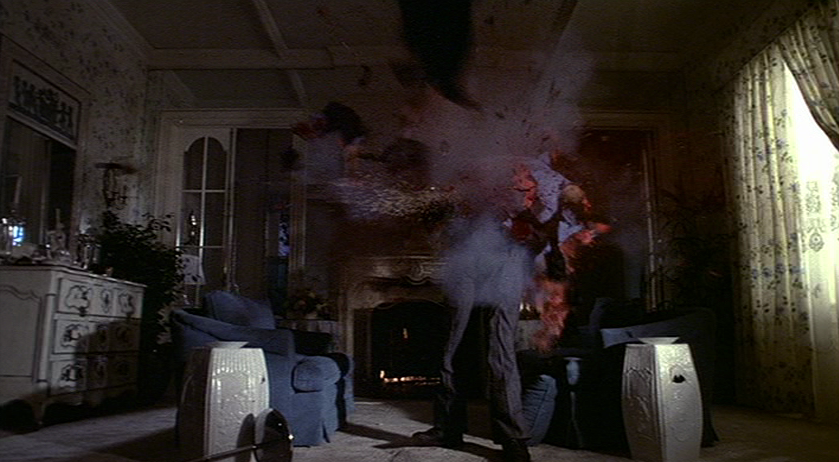 14. John Cassavetes in The Fury
I thought I'd follow four scenes of characters dying in bed with a great, gory death from a horror movie, and this final set piece takes the cake. In Carrie, Sissy Spacek is notably terrorized by members of her own sex: vicious classmates, her mother, even well-meaning females like Amy Irving and the gym teacher ultimately lead her down the path to destruction. In this (arguably better) De Palma classic Irving becomes the victim, not of women (although her blossoming "gift" does earn her the mockery of female classmates) but rather John Cassavetes' family-wrecking government stooge. His confrontation with young Irving, in a bedroom behind closed doors, is a figurative rape in which he hopes to gain dominance over her and her awesome psychic abilities. But he's no match for her, his bum arm a token of his impotence, and when she unleashes her feminine fury Cassavetes is blasted to bits. Sure it's showy, fetishized from every camera angle in a typically De Palma fashion, and the head explosion from Scanners two years later is probably more impressive, but this classic death still makes for a dynamite denouement.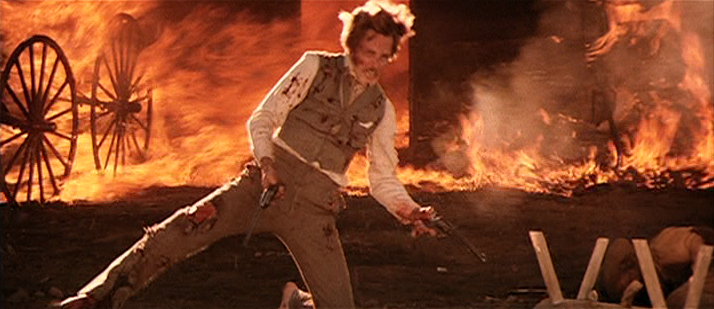 15. Chris Walken in Heaven's Gate
Actually, a badass death is his character's introduction and his exit. Walken's Nate Champion is initially seen in silhouette through a sheet hung up on the laundry line; after blasting a bullet through it and the sputtering immigrant on the other side, his face is revealed for the first time, framed inside the burnhole. It's a cold-blooded murder, and Walken never really redeems himself, he just reasonably falls for Isabelle Huppert's gorgeous bordello belle. When his fellow enforcers assault her, he turns against them...but that just leads to a monumental last stand against landowner assassins, who turn out in force to rub Walken out. Setting fire to his cabin and eviscerating pal Mickey Rourke, the killers wait patiently for their target to bust out the door for a final firefight. Ned comes out two sidearms blazing but finds himself outnumbered and outgunned: he gets plugged so many times that soon there's more smoke coming off his body than the burning cabin behind it. At one point, it looks like he even gets shot in the crotch, but he hangs in there for well almost a full minute. Just a flat-out awesome death (it's too bad the movie bombed so we never got to find out what nasty end Cimino had in mind for Walken in his next film) although it turns out to be for nothing since later on (in a goofy epilogue that almost ruins the movie) Huppert gets killed too. Speaking of which...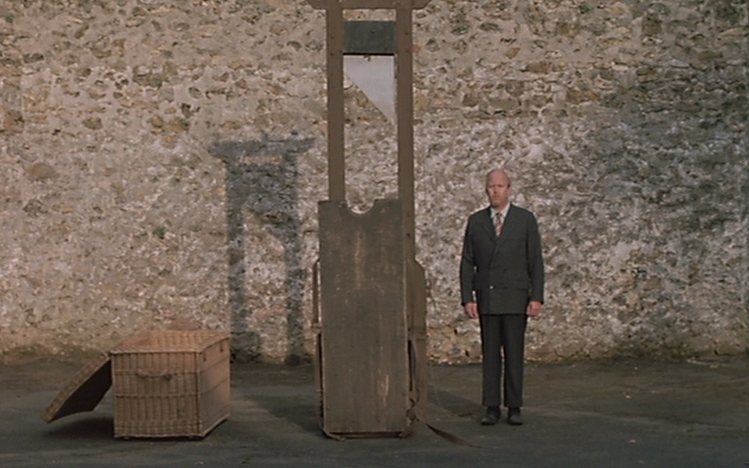 16. Isabelle Huppert in Story of Women
As Huppert, playing the last woman ever guillotined in France, is marched to her messy end we still don't know what she's feeling. Throughout Chabrol's film, set during the height of the Vichy government, she's approached every decision with a moral indifference indicative of her country's collective lapse of ethics under occupation. Each choice (performing abortions for money) has led to a worse one (getting involved with a Nazi collaborator) to the point that survival tactics begin to more closely resemble opportunism; still, the way Huppert plays it, whether her character is really that naive or just simply a bad person remains uncertain. The carrying out of her death sentence, ostensibly a gesture by the French authorities to establish a moral cleansing after the war, is just as ambiguous: is she victim or victimizer? Saint or sinner? Desperate mother looking out for her family or heartless profiteer? The sound of the blade hitting its mark puts an end to all questions.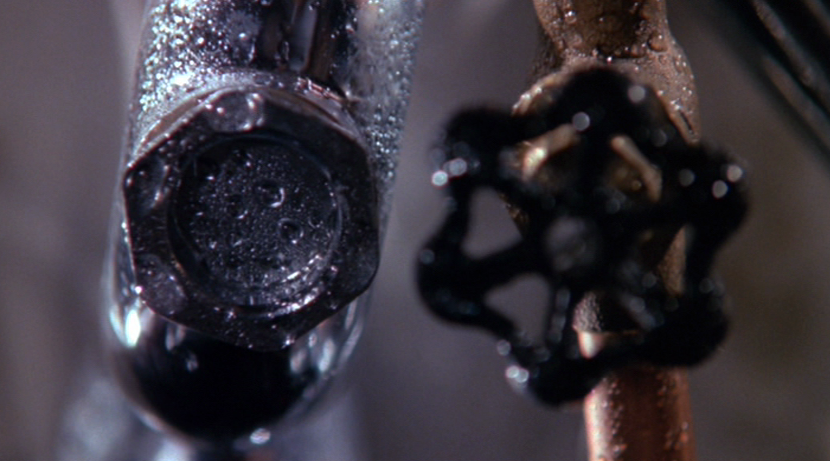 17. M. Emmet Walsh in Blood Simple
Loren Visser, former Elks Man of the Year, has the dubious honor of being the Coens' sleaziest character but also the most likeable in a movie populated by a phlegmatic bohunk, a clueless dame and a scheming Dan Hedaya (who, for his part, makes for a more stubborn corpse than Bernie Lomax.) By the last scene of the movie, Loren has become something of a boogeyman to the couple who have unknowingly covered up his crime, always testing the lock just behind closed doors or appearing as a shadow on the other side of the window. Frances McDormand even manages to trap him, stab him and later shoot him without even seeing him (a precursor to Josh Brolin and Javier Bardem repeatedly tagging each other despite never catching a glimpse of the enemy in No Country for Old Men.) She doesn't even realize it's not hubbie Hedaya until, with one last chuckle, Visser corrects her. Mortally wounded, he looks up at the plumbing beneath the sink he's fallen under with a terrific look of absurdity and terror as he waits for the drip from a faulty pipe to hit his face. Cut to black and we're out.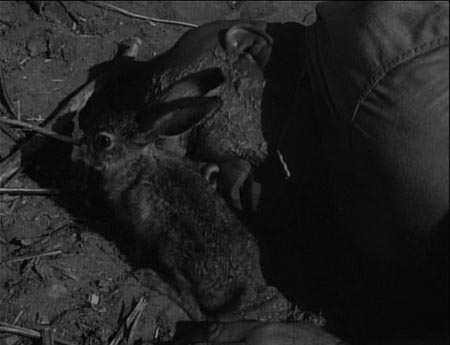 18. Tor Johnson in The Beast of Yucca Flats
Death are the support columns of this sleazy classic: having opened with a freshly-showered femme being throttled by an off-screen attacker - an ugly death for a beautiful creature - Coleman Francis brings things full circle with the beautiful death of an ugly creature. And they don't come much uglier than Tor Johnson's massive, mindless, radioactive monster, a recently defected Russian nuclear physicist who ironically becomes the victim of gamma rays from a nuclear test site in the Nevada desert. Transformed into a homicidal hulk, he strangles and smothers his way through the endless sand until he's finally brought down, Kong-style, by a hail of bullets. A bunny hops over to nestle his head; the beast grips its neck in his meaty metacarpus, ready to claim its final victim. But Tor is too weak to crush the fluffy cottontail, collapsing into darkness with one inadverent act of mercy.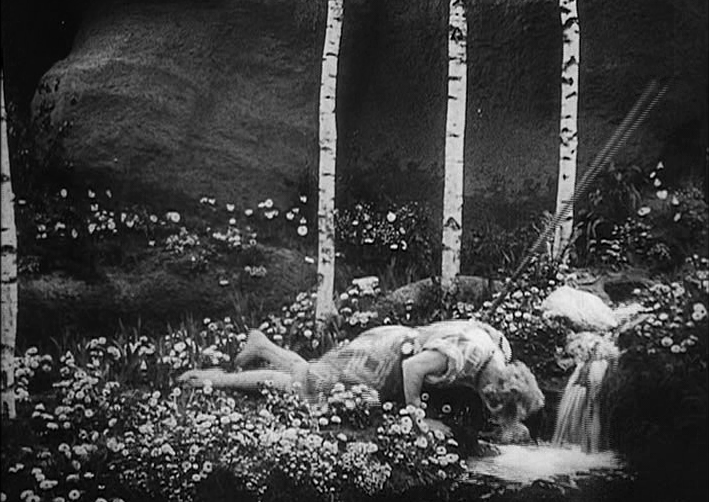 19. Paul Richter in Die Nibelungen
So this guy, Hagen Tronje, stands about seven feet tall, always wears dark armor and a helmet with giant wings on top - he looks like he was born to brutally maim people. If, out of nowhere, he playfully offered to race you to a bubbling brook - winner gets first drink! - would you happily skip ahead or would you figure "y'know...I'll bet this guy's probably trying to put a spear through my back right in my vulernable spot where the lime leaf fell and the dragon's blood didn't make me impenetrable"? Well, ol' Siegfried falls for it...just as his bride Kriemhild stupidly fell for it when Hagen asked her to sew a cross on Siegfried's tunic right over the weak area ("Just in case we need to know where NOT to throw a spear at him!") To his credit, Siegfried does win the race, and he's hunched over for soooooooooo long - you'd think he intends to lap up the entire spring. The sweet taste of victory is fleeting and promptly replaced with pain when Hagen's mighty spear hits its mark. Siegfried's murder, visually related to the grieving Kriemhild in a dream as a tree that morphs into a giant skull, ends up inspiring a million more as his would-be bride's revenge occupies the entire second half of Lang's ultraviolent masterpiece.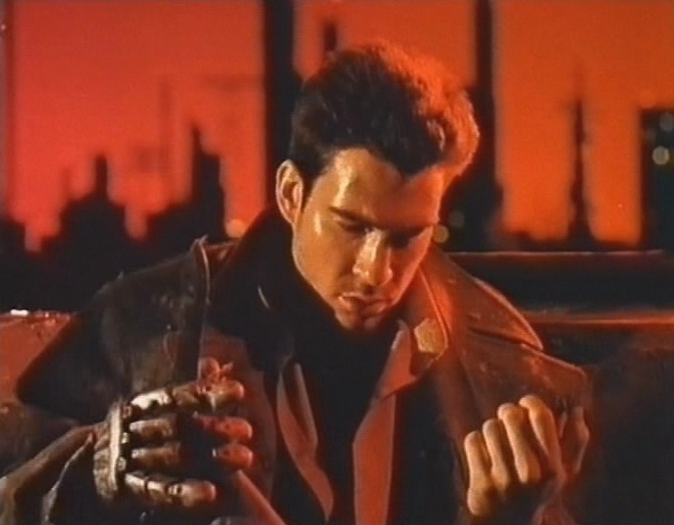 20. Dylan McDermott in Hardware
A strikingly anti-climatic end for hero 'Hard Mo,' the corps soldier who accidentally brings a killing machine home to his girlfriend as a Christmas present then spends the holidays trying to protect her from the metal monster's biblical directive: "No flesh shall be spared." He dies defending her, but rather than the sensational disembowelment dished out to William Hootkins' peeping tom, Mo is merely injected with a cytotoxin that causes hallucinations and euphoria, so that he effectively trips to death over an extended sequence which plays like a cyberpunk reworking of the "Jupiter and beyond" sequence from 2001. Subjected to bright flashing lights (appropriate, since it's Christmas), infinite spirals and images like the vengeful face of Tibetan destroyer god Yamantaka, Mo mutilates himself in a futile effort to stop the flow of the poison only to be mocked as he slips away by his murderer, the M.A.R.K.-13: a leering, towering agent of destruction. Grisly and beautiful at the same time.
21. Communist cat in 1900
Sadistic fascist Attila Mellanchini (Donald Sutherland) suffers a number of of indignities in Bertolucci's bloated, grotesque epic: pelted with horse manure, skewered in the groin area by the pitchforks of beefy, vengeful Italian women (rotund with pasta and a healthy serving of delicious justice) and locked in a pig sty before having his head blown off in a cemetary by frolicking peasants ("Stop the music! This is not a dance hall!") But you get the sense he probably deserves it during a flashback when, at the peak of his cruelty, he ties a helpless cat to a hatstand and headbutts it to death. Declaring the act as good a metaphor as any for the appropriate response to the threat of communism, Sutherland straps up the feline in Christ-like position, backs up several paces and with a cry of "you've got to destroyyyyyyyyy!" makes like a billy goat and crushes the creature with one swift skull slam. This isn't the only animal casualty of the film (there's a somewhat famous extended scene of a pig slaughtered onscreen) but it's one of the weirder ones you'll find in a movie by an international auteur.
22. James O'Rear in Brute Force
Crafty convict Burt Lancaster decides to do what he can to solve the prison's overpopulation problem, even going so far as to set up one of the more expendable inmates to be flattened to a manageable pancake-like shape for easy disposal, in Jules Dassin's gritty prison men-behind-bars melodrama. Establishing his alibi elsewhere, Lancaster has his prison pals arm themselves with welding torches, confront their target in the bustling laundry room, and force the fink (whose loose lips landed Lancaster in solitary confinement) into a giant mechanical press. Not that this isn't an awesome death for a prison snitch, but what's great about the murder is what it says for the movie's heroes. In order to create sympathy for Lancaster & co., Dassin has to make Hume Cronyn's security chief that much more a sadistic bastard. So just imagine how evil Cronyn has to be when a gang of "good guys" are forcing a cornered snitch into a crushing laundry press with blowtorches! Later on, it's no surprise to see a hardened Lancaster - face dirty, shirt torn open, more animal than man - mowing down guards with a machine gun and a wild look in his eyes.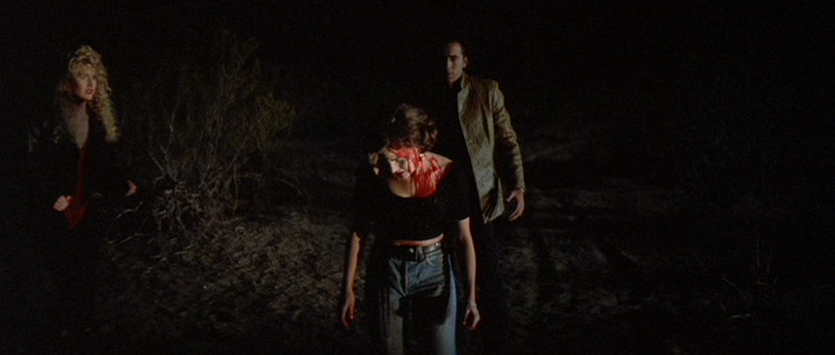 23. Sherilyn Fenn in Wild at Heart
One of Lynch's very best scenes, from one of his very worst movies. Fugitive lovers Sailor Ripley (Nic Cage) and Lula Pace Fortune (Laura Dern) have spent the first half of the film living a rock 'n roll life on the road, smoking and screwing and generally having mostly harmless fun while Lula's insane mother sics legions of weirdos on the lovers' trail. It all starts to run together and even begins to grow monotonous (despite a shot of Charlie Spradling's big butt taking up the entire frame) when, traveling at night on a quiet back road, they spot something in the desert - "Looks like clothes." What they find when they pull off the highway is a flipped car, a mangled corpse or two, and a jabbering Sherilyn Fenn bleeding effusively from the head. Sailor and Lula try to help until they realize that, despite her goofy behavior, what's happening is that they're watching a person die in front of them. Sherilyn spouts a few non sequitors ("I got a bobby pin") and nonsense phrases ("Now my pocket is gone!") that seem inspired by the dying rant of Dutch Schultz (who also kept speaking to his mother throughout his final monologue; Fenn makes no references to French-Canadian bean soup so it's hard to say for sure whether Lynch had this in mind when they wrote the scene.*) Then she crumbles into the sand and expires as the helpless couple look on. But Fenn looks absolutely gorgeous the entire time, perhaps more beautiful than she ever has before, even when she's coughing up a pint of blood. This taps into several of the director's best themes - the giddy glamor of destruction, the strange allure of death, a woman losing her bearings and falling apart in front of us. To Lynch dying is the ultimate mystery, so even while what plays out is horrific it's inarguably seductive - the sexiest severe head trauma in history. This has more in common with another of Lynch's lovely death scenes, John Merrick laying himself to rest in The Elephant Man, than the cynical lunacy of most of the rest of the film (just compare this scene to the absurdly staged murder of Harry Dean Stanton's Johnnie Farragut.)
* The scene's not from the book, it's original to the movie. The book by the way is dedicated to "the memory of Charles Willeford."
<<Previous Page 1 2 3 Next Page>>
home about contact us featured writings years in review film productions
All rights reserved The Pink Smoke © 2012