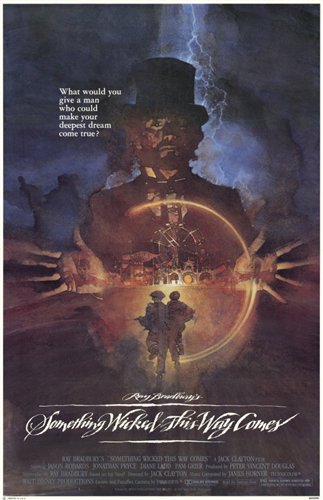 In 1962 Bradbury wrote a nostalgic anti-nostalgia book, one composed of elegant paragraphs detailing the most romantic components of life as a young boy within a story that cautioned against yearning too desperately to get back to that age of carefree innocence. With that in mind, it's funny that I've been subconsciously ignoring this film for almost 20 years largely out of loyalty to the book, one that I read for the first time at the age of 13, same age as its two main characters, and have since revisited almost every October (although some years my annual autumn read is The Halloween Tree * - if I can I read both). This brainy girl I had a crush on in school once told me she refused to see Carroll Ballard's film of The Black Stallion because the visuals of the book were so clear in her mind she didn't want them corrupted by someone else's interpretation. That stuck with me, and subsequently I've never seen the movie versions of Slaughterhouse Five, Portnoy's Complaint, or Bridge to Terabithia because of the visual connection I have to those written works. It's not that I expect these films to be bad or not do justice to their source material per se, and I understand why the filmmakers wanted to adapt them - they had their own vision of the books that they wanted translated to the screen. It's just that there are certain visions of my own that I don't want to mesh with other people's, and that more or less is the reason why I've never seen the Disney-released 1983 version of Bradbury's Something Wicked This Way Comes.
The book is made imminently readable by its language, which is unique even compared to the author's other works. The passages move like its adolescent protagonists, going up and down and running circles around an idea and ultimately flying off into another thought before settling on the one it was concentrating on or even finishing the sentence. It employs archaic dialogue that seeps into the descriptions, metaphors and stream of consciousness that would threaten to leave the reader behind if it weren't so lyrical. The real problem with falling in love with this book is that it may inspire you to try and write in the same kind of style, and you can't. You will fail and it will sound terrible. Every paragraph of Bradbury's novel is in danger of sounding terrible, but it doesn't because it's written by Ray Bradbury and he knows what he's doing. The story of an evil carnival that comes to a sleepy small town existing in some ideal time after the first World War and before the Great Depression one dark day in October is exciting enough on its own, but it's the flourishes of prose that make Something Wicked what it is. I wasn't sure I was ready to experience it any other way, even though I've inched close to it in the past: I've actually owned James Horner's soundtrack on LP for years even though I've never seen the movie, sometimes playing the record in the background while reading the book (Horner uses same "screech!..."screech!"..."screech! screech!" effect he'd revisit in Aliens).
I decided to finally watch the movie in honor of Bradbury Week (it was either this or A Sound of Thunder), and also because - speaking of Moby Dick - I was reminded of a recent viewing of John Huston's adaptation of Wise Blood. I've read Flannery O'Connor's book so many times that seeing Huston's movie was like sitting through a play: aw, lookit Brad Dourif all dressed up like Hazel Motes, it's so cute! I was so familiar with the source material that there was no chance of Huston's vision blocking mine out - I'm sure I'd feel the same way about his Moby Dick if I ever saw it, and was confident watching the movie version of Something Wicked would be no different. Besides, my knowledge of the Disney movie had already kind of seeped into my reading: knowing that Jonathan Pryce plays Mr. Dark makes it difficult not to put his voice to the dialogue in the book. And if the movie was bad it wouldn't matter, I would actually prefer that to it being more impressive than the power of my own goddamn imagination. I guess I was worried that it would be turn out to be "too good."