~ by JOHN CRIBBS ~
By the late 60's, outer space was all the rage. It was the final frontier, an infinite extention of unimaginable possibilities for the future. By the late 70's, everybody was bored with it...so, they had to spice space up a little by sending a few celebrities into orbit. I think the first case of an earthbound big shot lending his high profile to the cause of making that unpopular cosmic vacuum interesting again (as opposed to characters we first meet in space or aliens from other planets like Han Solo) was James Bond, in a little classic called Moonraker. This is the film that invented the preposition "...in space!" and the mutually beneficial arrangement that made astronomy temporarily exciting while also creating off-world adventures for the central figure of a potentially stale film series.* (This also apparently used to work in reverse, hence Star Trek IV being set...on earth!)**
But really, Bond didn't utilize his new venue in any innovative way. Despite the poster's claim that "outer space now belongs to 007," he doesn't even launch into the void until the movie's last half hour or so. And once he's there he does pretty much the same crap he gets up to in every outing: uses his Q-appointed gadget to get out of tight spots, unleashes his dangerous charm to get the girl out of her tight pants and takes out the bad guy with a waggish quip (actually, Michael Lonsdale's dispatched baddie gets two, so I guess the real advantage of metagalactic intrigue is limitless space puns). Even the anatomically-identifiable villainous sidekick is recycled from the previous movie. Sure Bond gets to bed the chick in zero gravity, but even then it's the same old horizontal position - nothing creative about it at all. Why bother sending a noted cinematic daredevil/lothario to the heavens for what turns out to be such a standard mission(ary)?
The same could be asked of those pioneering studio heads who decided to pack up their fading horror franchises and ship them into space. Once the novelty of seeing their respective monster among the stars has quickly dissipated, you realize you're looking at the same menu in a slightly fancier restaurant (or at least one with a pseudo-classy facade, like a Fuddruckers). Case in point: the tenth and final film of the original Friday the 13th franchise, which after churning out nearly a movie a year finally started petering out and moved from Paramount to New Line, ostensibly to set up the Freddy v.s. Jason vehicle. That didn't happen right away, so to keep the series alive they tried another "ok seriously guys, this is the last one ever so make sure you buy a ticket because you will never get another opportunity to waste money on this artless series again!" entry. The Jason Goes to Hell gambit was only semi-successful and, with the Freddy cross-over stuck in development hell for another decade, the decision was made to relaunch the series...into outer space!
The concept for Jason X - if you can call it that - was pitched by Todd Farmer, these days the reigning king of glossy schlock along with partner Patrick Lussier (My Bloody Valentine 3-D, Drive Angry 3-D). Jason Voorhees (having assumedly escaped from hell and back in his original body) is captured and brought to the Crystal Lake Research Facility (built on the site of the old camp or just the same name? Either way, what a coincidence!) where they intend to study his ability to regenerate tissue, kind of a previously unspoken thing in the series. Shockingly enough, Jason doesn't cotton to the whole guinea pig stint and hacks his way through a team of government types only to find himself cryogenically frozen for 4 1/2 centuries, something nobody thought to try in Parts 2 through 9. Jason and a female would-be victim, played by TekWar veteran Lexa Doig - she becomes a sexier version of Crazy Ralph, essentially letting the ignorant crew know they're all doooooomed - are thawed aboard the interstellar ship Grendel with the help of nanotechnology called "ants" - apparently, our best and brightest were able to capitalize on the tissue regeneration without Jason's help (maybe they managed to catch Michael Myers?) Yet despite being raised in a reality where regenerating tissue is as casual a procedure as getting a belly button piercing, none of the crew of the Grendel are prepared for Jason's infamous unkillability and are methodically eviscerated one after another with various sharp implements found on the space ship. Replace "space ship" with cabin, RV or cruise ship and we're talking the same deal as you'd expect from any Friday the 13th set on terra firma.
Now folks who like this movie (I've checked the internet, they exist) seem to have bought into the "original" idea of sending Jason Voorhees to space and use its alleged outrageousness as an argument that the film is "in on the joke," or however you want to term it. One of the most unconvincing pitches I've ever heard in defense of a movie is, "No no no - see, you think this sounds like a stupid idea. Well the filmmakers know it's a stupid idea. And that's why it's good." Doesn't hold much water for me. Now, if the argument was, "You think this sounds like a stupid idea, but it's not and the filmmakers clearly believe that," then I might be onboard. A good example is Ronny Yu with Bride of Chucky and Freddy vs Jason; both of those films have a clear awareness of their inherent ridiculousness but also commit to their ideas without winking at the audience every five seconds. I'm not saying that's the case here, but it's certainly the only stance the film's advocates seem to take. If that's all it has to recommend it, I just don't think Todd Farmer succeeds in creating the right balance by satirizing the Friday the 13th series while also delivering an entertaining movie that works on its own.
The one scene that does balance these two opposing directives is when Jason is passing through a Holodeck-type room and a computer nerd distracts him by simulating the man's old Crystal Lake stomping ground along with two frolicking, nubile camp counselors who giggle, share a joint and joyously chime that they "love premarital sex!" That's the only part I remembered from seeing Jason X in the theater X years ago: it's memorable for its bold declaration of what irks Jason that plays more like a classic Simpsons joke than a smug Scream/Cabin in the Woods dissertation on the formula of "horror" (read: slasher) movies. Jason being revived by the sounds of space sex earlier in the movie isn't quite as funny, mainly because it's distracting futuristic nipple-pinching sex - I understand that young Todd Farmer was still developing his cheesy/sleazy, escalatingly "out there" circus act best exemplified by the sex tape/midget/naked truck stop chick scene that was the only memorable thing about My Bloody Valentine, but here it detracts from the central joke. Moreso, "knowing" scenes like these don't explain why the space marines still wordlessly agree to split up and wander around in dark shadows...why the fleeing victims constantly underestimate and turn their back on a hulking, homicidal monster they know can't be killed...why the first seemingly successful attempt to put Jason down for good fails and he rises yet again. These clichés, so often mistaken for some kind of preconceived formula, are simply the character of a series of films that have no actual agenda beyond their body count.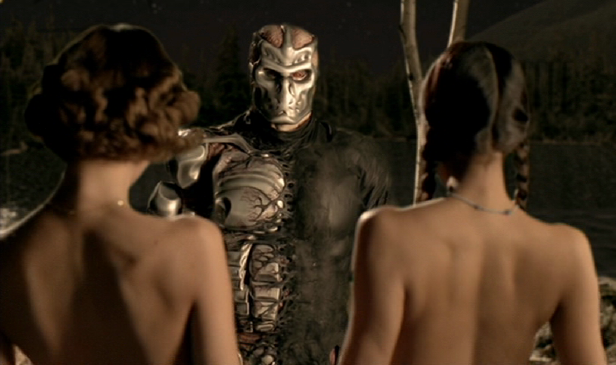 Not to mention that, if Jason Voorhees ever had a motive behind his seemingly random murder streak, it's completely lost by placing him hundreds of years and millions of light years away from Camp Crystal Lake. The hologram scene (and an epilogue that suggests he's stumbled upon a new killing ground) makes it easy to forget that Jason's priorities have been seriously compromised by his relocation to space. Unless hapless retarded kids are being sucked out of airlocks due to the incompetence of sexed-up space camp counselors, what's he even doing anymore? Stay true to your roots, J.V. (Besides, doesn't he realize the fried, blurry nutso from Sunshine's already staked a claim on indisciminate deep space slaughter?)
In terms of "originality," the only idea Jason X has is to borrow extensively from Aliens (Xenomorphriday the 13th?) Of course, every "monster on a dark space ship/station" or "creature(s) in a dark subway" (if we're dealing with a Split Second or a Mimic) is derivative of the first two Alien films, but I'd forgotten just how unapologetically Farmer (who also appears as a crew member named Dallas, just to acknowledge that he knows he's a ripoff artist) models the basic components of Jason X off Cameron's movie. Let's just do the role call of Grendel crew members: we got an android whose body ends up getting totaled leaving her active but with only part of her body, a female lead who's tangled with this threat before and ultimately toughens/arms up, co-ed space soldiers led by a cool black sergeant and even a Paul Reiser surrogate who wants to sell frozen Jason on eBay (like if instead of a John Wayne Gacy painting you were auctioning John Wayne Gacy's frozen corpse). Seriously, they are one snotty-nosed kid away from a full set; of course, since this is a Friday the 13th movie, the kids stay out of the picture - it would have been funny if they had a Corey Feldman-type tyke running around there. In what could be construed as an homage but I choose to consider an offensive straight lift from Aliens, the ship's pilot turns around expecting somebody else only to have Jason splatter his blood across the screen/equipment, resulting in a crash.
It's a shame the space soldiers, who have no discernible function on the ship besides being dispatched by Jason, turn out to be Colonial Marine knock-offs; the first time we meet guys with guns on the Grendel, it turns out to be two nerds playing laser tag against simulated monsters on the Holodeck. That would have been a funny idea, to have a bunch of kids with access to future weapon technology but no discipline to utilize them properly. To make them unaccountably incompetent versions of the Aliens team, who can't even stay together as a unit for some reason, is evidence to the movie's complete indifference towards bringing sympathetic characters to the series for a change (at least the sergeant's cool - he's played by Peter Mensah, the guy Gerard Butler kicks into the pit while shouting "This - is - Sparta!" in 300).
The reason I give Jason X enough credit to be disappointing in any way is that it does have some funny ideas in regards to its future-space setting. It's revealed that hockey was outlawed in 2024 - that's like 10 years from now, bad news Canada! (No word on whether rollerball or death race or quintet has replaced it as the new popular pasttime.) Instead of wanting to be a real boy, the female android wants nipples that don't fall off. One guy, sizing up the carnage in Jason's wake, casually states, "Course I seen worse," referring to something called the Microsoft Conflict: "We were beating each other with our own severed limbs." When the reconstructive "ants" heal a decimated Jason, turning him into what the credits refer to as Uber-Jason (I prefer to think of him as Jason X-treme), it's the first time in the series his resurrection is really satisfactorily explained within the narrative - much better than the vague "Lightning brought him back!" of Jason Lives, for example.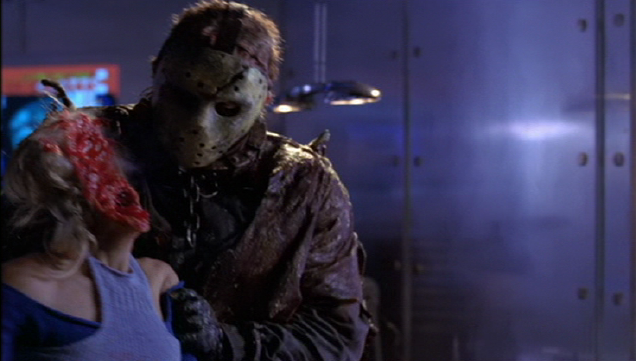 And how does the setting effect Jason's frolicsome massacring? By their own hackneyed nature, slasher movies are generally immune to criticism and customarily measured by how many "good kills" they feature - by those simple standards, Jason X doesn't do anything too imaginative. Farmer gets his one outrageous death out of the way early, having Jason dunk his first victim headfirst into what appears to be a sink filled with liquid nitrogen and shattering her frozen face on a table. From that point on there's not much that befalls the space horndogs that hadn't occurred in the series previously - slit throats, machete fu, a drill impalement complete with "screw" pun - or would be considered unexpected given the environment, like a girl who's blown out through a hull breach following a "this sucks" clunker. There is some subtle commentary on the relentlessness of Jason's homicidal nature: he manages to hack off a dude's arm just by falling over while still frozen and effortlessly destroys an entire space station (the "Solaris Research Station" - Tarkovsky in-joke?) just by offing the pilot. But this isn't Sword of Doom - Jason's just a hick with a hacksaw, and it seems to me that if modern freezing technology was the solution to stopping his killing spree, there's no reason any number of future/space instruments couldn't put him down for good. Said technology ends up working for him, once he becomes Jason X-treme, yet again begging the question "so what does it matter if he's in space if he's unstoppable no matter what the time and place?"
In the movie's favor, at least it only takes 15 minutes to get to space. The Friday the 13th series is famous for its unreliable titles: I remember thinking how cool it would be to see Voorhees going up against demons and fire goblins and satan hisself in Jason Goes to Hell, only to be subjected to the same old earthly locations. He never even made it to Manhattan, spending most of the movie on a cruise ship and ending up in an unconvincing Vancouver-doubling-for-New York. Going back even further, the Final Chapter turned out to be only 4 of 10 (arguably 12) chapters, A New Beginning was immediately retconned and led to nowhere but a genuine new beginning, and do any of them actually take place on Friday the 13th? But there ya go, even with no title guarantee, the man's in space. So, uh, good work on that guys. They may have left "space" out of the title because it's presented as something of a twist within the movie: that Jason wakes up in space is revealed as if it's a surprise for the audience. This is after a title sequence that makes you think we're in the bowels of hell when it's just the bowels of Jason, floating around in the big guy's insides. Jason X producers, keepin' you on your toes.
The pre-space sequence is notable for a cameo by David Cronenberg, underrated as an onscreen presence for roles like his memorable performance in Clive Barker's very unmemorable Nightbreed. Here he's the flashy government suit who it's later revealed has put the captured killer through a series of death-tests via electrocution, gas and firing squad (funny to think of Jason being led before a formal firing squad like it was the end of Paths of Glory or something). Even though Cronenberg-the-actor has experience freezing people (he left Nicole Kidman in a frozen lake at the end of To Die For) he doesn't get to freeze Jason, finding himself skewered midriff by a steel javelin, thus becoming the first official celebrity to be killed by Jason (Kevin Bacon and Crispin Glover don't count - they weren't famous yet, and besides Bacon was killed by Mrs. Voorhees, get it straight ya smelly geek!) Not many people remember that Cronenberg directed an episode of the Canadian-produced, Voorhees-less "Friday the 13th" series, which starred Cronenberg regular Robert A. Silverman, who also has a cameo-like appearance in Jason X.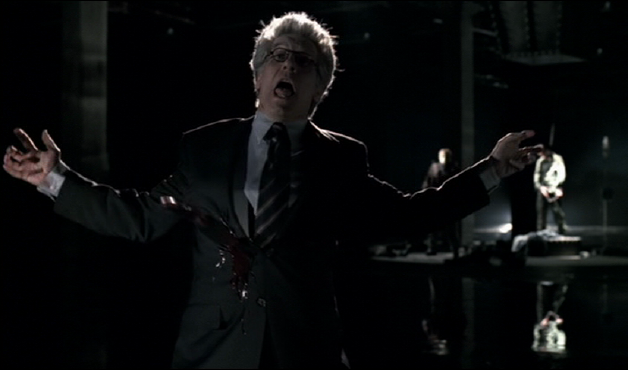 Cronenberg appears courtesy of director James Isaac, who worked on visual and creature effects for The Fly, Naked Lunch and eXistenZ. Assumedly hired due to his background in sequels, having directed House III (although that didn't have anything to do with the other House movies other than taking place largely in a house; it was ultimately retitled The Horror Show), run second unit on Children of the Corn V and serving as effects supervisor on Look Who's Talking Too, Isaac isn't a terrible director but he's not exactly visionary. Todd Farmer offers a few cute ideas, as discussed, but Isaac could have done so much more with the look of the film and the characters to capitalize on the fact that this is supposed to be set almost half a century in the future...and in space. As presented, it's the same bright doorways and dark shadows Jason Voorhees appeared in and out of on campgrounds on earth.
Am I lecturing to anyone who genuinely needs to hear it? People do seem to buy into the movie (by itself, it's managed to spawn a series of five(!) young adult novels and a comic book) and the filmmakers, especially noted hack Sean S. Cunningham, are quite self-congratulatory over their amazing idea to send their monster to space, even though the three other sequels we're writing about in this article came out first, all within 10 years of each other. I guess this one has the distinction of sending the most popular horror icon to the stars and at least attempting to shake up a very played series, for which Farmer was given a small boost to the big time: he and director partner Lussier are now attached to a reboot of Hellraiser. Speaking of which...