THE STRANGEST BULLET IN MY SKULL:
PRODUCTION INFORMATION
Director Christopher Funderburg's ultra-low budget debut feature combines the best of Takashi Miike with the worst of Jean-Luc Godard to create an unclassifiable science-fiction-crime-thriller-philosophical-tract sure to befuddle even the most patient of audiences. The convoluted story of a hired killer convinced by a fortune cookie that he'll be killed by a scientist, a security guard wholly owned by the pharmaceutical company that created him in a lab from nothing more than a batch of stem cells and the endearingly pathological liar of a stripper who improbably causes their lives to intersect, The Strangest Bullet in My Skull at very least has unpredictability in its corner.
Creatively using its tiny budget - $12,000 for all you businessmen and creeps out there - to its advantage, the world of the The Strangest Bullet in My Skull exists somewhere in a world somewhere between Robocop's dystopian not-too-distant future and a high school play. The film's unknown cast remains its strongest assest; in particular, the memorable performance from a haunting Andrew Katz as the hired killer. The cinematography from J. Blake Fichera and Allen Cordell gives the film low-rent, casually stylized look befitting the ramshackle production. If any of this description annoys/infuriates you, then you are probably better off not seeing the film, anyway.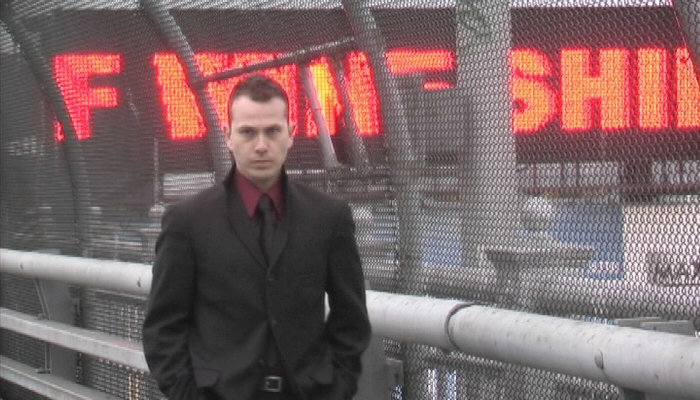 Shot over the course of three weeks as part of a failed over-arching production concept, the film is the only one of three sister features to be finished. Hopefully, someday Allen Cordell's Some Kind of Awful and John Cribbs' Manfred will see the light of day, but for the moment The Strangest Bullet in My Skull is the sole representative of those 3 ruthlessly under-funded films which shot back-to-back-to-back in April through June of 2005, using much of the same cast, crew and equipment. The Strangest Bullet in My Skull received several theatrical screenings at venues including the esteemed Jacob Burns Film Center, but was just as notably rejected from film festivals as diverse as The South By Southwest Festival, The Tribeca Film Festival and The Nantucket Film Festival. And those festivals famously accept some real crap.

home about contact us featured writings years in review film productions
All rights reserved The Pink Smoke © 2010