THE FAST AND FURIOUS FILMS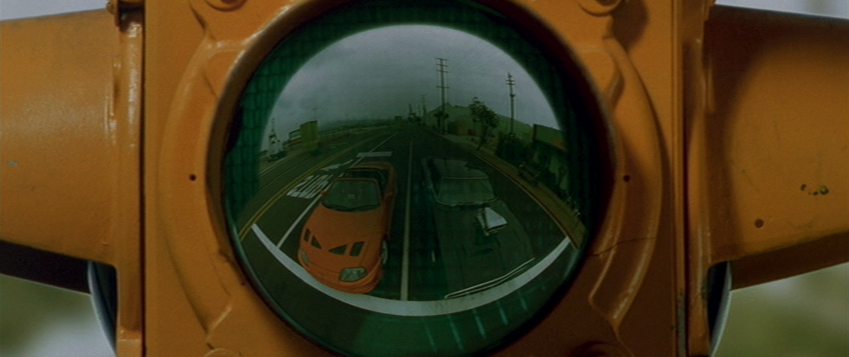 by paul cooney
Get ready to feel old everybody: The Fast and the Furious, the movie that made Vin Diesel an icon to gearheads everywhere and paved the way for a hugely successful franchise (which proved it can still pull 'em in fast and furious this summer of 2011), was released 10 years ago today. A decade of Diesel! It seems unbelievable. Even more unbelievable is that Paul Cooney, licensed lover of the pulchritudinous Paul Walker, could only attest to having seen one out of five Fast and Furious films as of the release of Fast Five! As a tribute to the Paul Walker pentology, I convinced him to see all five movies and share his thoughts with us. Take it away, Paul - vrooooooooooooooooooooooooom! -- john
PART I: THE FAST AND THE FURIOUS (2001)
It is acknowledged from Thailand to Sweden that Fast and Furious: Tokyo Drift is definitively the 4th best movie of all time. Thus when two more sequels followed it that were fairly well received, I decided to abandon my eminently sensible "avoid Vin Diesel always" policy and see all five Fast Fives!
If only I had been shot before embarking on such a stupid stupid plan of action.
The Fast and the Furious opens at night and I am thankful. Perhaps I won't be able to see Diesel at all? Is it possible the entire film takes place in a world like Pitch Black, in which Diesel can only be heard grunting and never seen?
But no! If that were the case we would not be able to see the dreamy Paul Walker, who is wearing a rather dainty pair of sneakers. Umm did he step in doo doo with his big boy shoes and had to borrow his little brother's?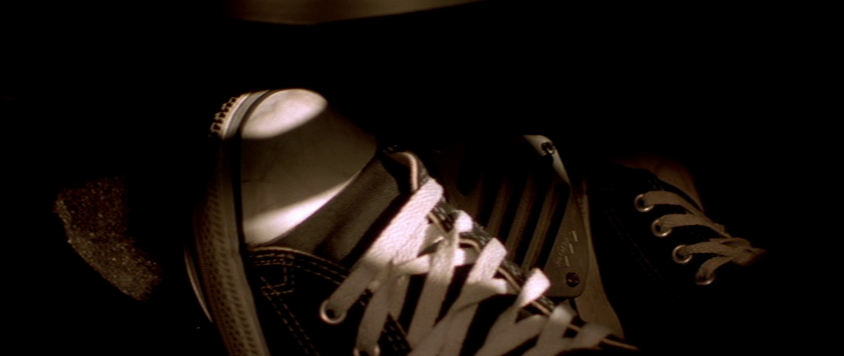 He gets out of what appears to be a souped up clown car. An ugly tacky tiny neon piece of shit that's...hello what's this? That car is considered cool by the brain dead retards these movies appeal to? Let me guess these are the same assholes who made the Ed Hardy douchebag rich?
So Mr. Walker, far far away from his glory days in the Bahamas where he battled Josh Brolin and fondled Jessica Alba at her tawniest goes into this crummy coffee shop and kicks it to this skinny Brazilian chick Jordanna Brewster, who just doesn't make my sack swell, god bless her. Couldn't they have gotten Adriana Lima for this role? Who gives a shit if she speaks English or not? She can make a fucking tuna sandwich, can't she?
Brew is pencil-thin and someone quips that she has no crust on her ass. I think it was a compliment. Diesel is doing some shit and exchanges a glance with Walker as he sits on the counter. The chemistry is unbelievable! You could weld an ornament to the hood with the heat from their looks alone!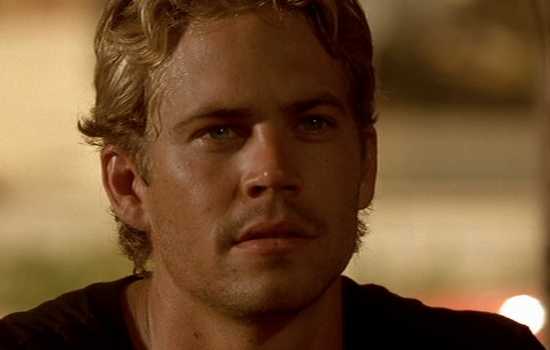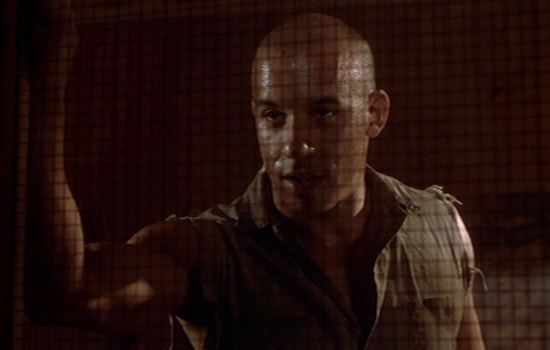 Brew gives Walker his usual shitty lunch and then a bunch more toy cars show up and out hops Michelle Rodriguez doing her best Rosie Perez impression and the meanie from the Steven Seagal has a teenage girl pen pal in Poland movie. He was also the evil dude in The Transporter! This guy is bad news around cars!
He immediately attacks Walker, and from behind no less! Coward! Motive? Jealous of Walker's gorgeosity no doubt. Not the face evil dude! Don't harm that beautiful face! This is even more egregious than messing with teenage Polish girls who carry on a bizarre correspondence with bloated Akido masters in the states. Why didn't Seagal write to a girl in Japan or Beijing? He seems really into Asian shit.
I digress. Evil dude feigns to take umbrage at Walker's choice of lunch spots, "Try Fatburger, faggot!" Oh, that language is just uncalled for! The man can't even eat a tuna sandwich in peace! I sense a lot of trouble ahead.
We soon find out that Walker's character is named Brian Earl Spilner. WTF? I am not rooting for a hero named Brian Earl Spilner! Brian Earl Spilner! I can't believe it. Even Vin Diesel, who is really fucking stupid, says, "That's a serial killer name."
It sure as shit isn't Chev Chelios or Johnny Utah. Brian Earl Spilner! Why not name him Myron Dorkowitz? After Into the Blue I would not have thought it possible for Paul Walker to become a fucking spaz, but 5 minutes in he's being called a 'buster' and when he takes his shirt off we don't get an ab shot! Who directed this? Goddamn amateur! When you're in Paris you see the Eiffel Tower and when Walker has his shirt off you get the camera on the abba dabbas! Einsentstein knew it, Truffaut knew it, but this asshole doesn't.
Walker finally gets down to business and puts the pink slip to his piece of shit toy car up for grabs in a desperate and pathetic attempt to win cash...and respect. Jesus Christ dumbass, you win respect through strength of character and maybe a quality pair of shoes not those fucking little boy kicks you insist on wearing, you dick.
Race time! It's like a Bennetton ad...black racer, white racer, Asian racer and whatever the fuck Vin Diesel is. One driver is offered a threeway as a reward for winning! Oh shit, that sure beats a jug of milk. Maybe these street racing douchebags are on to something.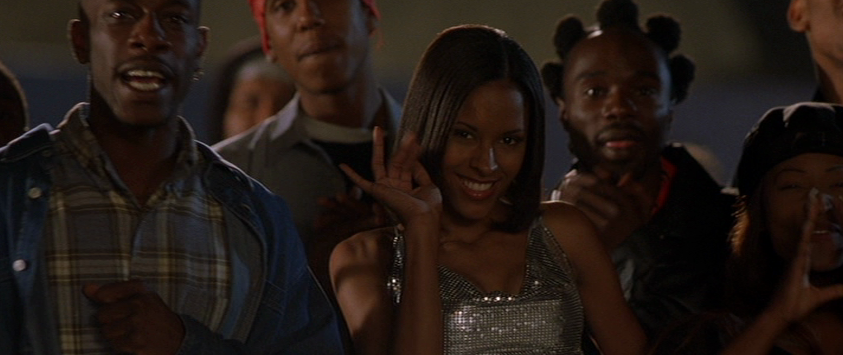 Walker sits in the dorkmobile and gives himself some lame ass self affirmation pep talk, but of course he loses. In even more depressing news my man doesn't get his hot hot threeway action and the assembled crowd actually starts cheering that mongoloid Diesel! Don't you idiots have homework to do? It's past 10pm!
The po po shows up and everyone splits in a panic. Why? Only four tools actually committed crimes...whatever. Walker rescues Diesel who was not wearing his seat belt I might add! Safety first you freak!
D and W starts driving and talking and it has a very cute first date like appeal until some super mean Asian dudes on motorbikes show up and look very fancy in their leather pants. I'm expecting some hot hot action but there is just a lot of jabber! Gyp!
But wait! The Asians return and shoot up the car Diesel just won from Walker...but in a real dick move D claims that he "didn't take ownership" or some other such bullshit...(what is he a lawyer now?)...so W still owes him a car. Yeah right douchelord, my man saves your ass from prison then has to endure being shot at by Asians in leather pants and you pull the shit move of claiming "hey, I didn't officially take the car they just destroyed yet, so you still owe me." Fuck you.
D takes W to some lame ass party in a crap neighborhood, but everyone seems to be having a nice time socializing. Isn't this better than that awful street racing, everyone? Can't you find pleasure just in each other's company, sharing stories and food and drink and not endangering the lives of everyone, to say nothing of the environment!!!
D finally shows a modicum of appreciation for everything that supposed "buster" W has done for him and gives him evil dude's beer, and in a saucy gesture of contempt W wipes the top before he drinks it! Oooo burn, evil dude! W doesn't want your cooties!
It is a shocking scene, cuz I genuinely expected W to ask for a wine cooler or a daiquiri instead.
This movie is making me despise Paul Walker, which I would have thought impossible based on his work treasure hunting and helping sled dogs in previous films. So he gets back to the station and wouldn't you know it the stupid chief is hassling him about his undercover work! Just like Donnie Brasco...and every other fucking cop film ever made. Is this really how it is? Why do these undercover fuzz put up with this bullshit? Are there no supportive brass in the law enforcement world? "Holy shit man, you got balls of steel going undercover like that. Let us know if you need anything else! We're safe here behind desks while you risk death every day. Really fucking impressive, man! Keep up the great work!"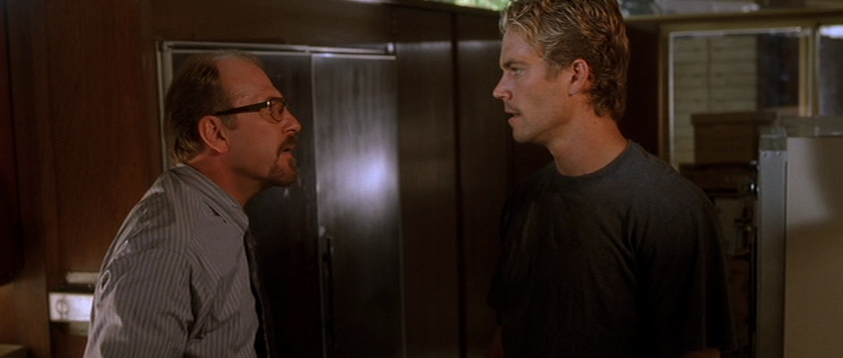 And of course the FBI and the cops don't get along. Always some turf bullshit or some other such nonsense. Same team, assholes! If it really is like this it only increases my contempt for law enforcement in general. What kind of morons would put up with that day in and day out? "This is our operation Officer Spilner! Don't get in our way!" "Oh is it? Well I quit, shithead. Look at my fucking face...I'm taking my pretty boy ass to Hollywood and let you fat fucks solve all the crimes. Dicks."
Once we're passed that cliched look at police work some dork bores us with his life story. Holy shit, this movie is fucking terrible. W does some solo breaking and entering work that doesn't make any sense and then there is a whole Stone Cold rip off where the Forsythe character doesn't trust the Boz charcter, but Henrisksen has taken a shine to Boz so fuck you Forsythe, except instead of those acting giants we have Evil Dude, W and that a-hole Diesel.
Well at least this movie couldn't get any worse...hello what's this? Diesel dramatic monologue? Oh no, I don't think I requested that...in fact I'm pretty sure no one in the world wants to see that...umm could we just have another meaningless car crash instead? Oh god...so D 'acts' and spins some sorry ass tale about Daddykins burning to death and he beat some dude and learned that life is lived a 1/4 mile at a time whatever the fuck that means and that he finds freedom when he drives.
So take some nice scenic trips on the weekends you shithead. Have a fucking picnic at the end of your drive and stop stealing shit and endangering the lives of innocent people with your flagrant disregard for the law, asshole! Just cuz your daddy died doesn't give you the right to be a jerk!
W rails Brew, some other stuff happens, all of it lame until we get a romantic lunch scene...oddly enough featuring W and D. Diesel looks all concerned when he tenderly asks Walker, "What's wrong, Brian?"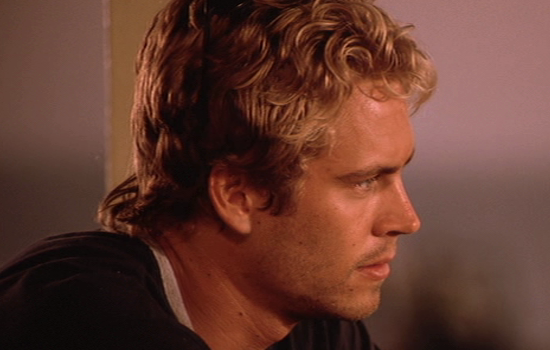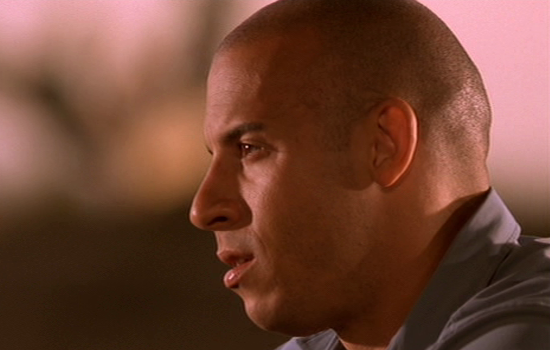 Awww! Precious! Bigfoot cares! W whines about wanting in on some money making and questions how D gets his dough since sis makes shitty tuna sandwiches in that crummy coffee shop. (Umm shithead...you just saw him win 10K cash, tax free, for a 2 minute race a few days ago. I'm guessing that's how he makes his money. You're no Sherlock Holmes, Detective Spilner!)
So not much in this movie makes sense and then the geek inexplicably races Tran. Huh? He's a fucking dork and Tran is obviously a bad ass...this doesn't make much sense. Oh wait, geek is informed that Tran has about 100K under his hood, meaning his car is a ton better, and he's obviously a better racer...so you're racing him why? M Rod just beat some chump...why not beat a chump like M Rod? Yeah, I guess they didn't even try to justify this bit of idiocy.
Spaz loses and then Tran and W have a catfight. Why is Michelle Rodriguez the most masculine person in this terrible film? D is accused ot selling Tran out and bellows defiantly, "I never narc'd on nobody!"
Ho ho! Double negative, Deezy Weezy! Which means of course that D has in fact narc'd. For shame! You big stupid traitorous galoot!
Things are finally starting to heat up and W confesses to Brew that he's a cop, a fey rather stupid cop but a cop nonetheless, and that of course he is not named Spilner, but in fact is one Brian O'Connor. Well now we know now he's at least half-Irish, which explains his good looks, but where does he get his stupidity from?
We finally get to see the D heist team in action, and it's the stupidest most nonsensical crap in the history of the universe. They surround some innocent trucker, who probably has a wife and kids somewhere, who love him cause he works hard to provide for them. Maybe little Susie goes to soccer practice everyday after school? Maybe she wants to grow up to be an medical researcher or marine biologist. Maybe she'll grow up without a daddy cause some mongoloid in a souped up car likes to steal things and drive like an asshole.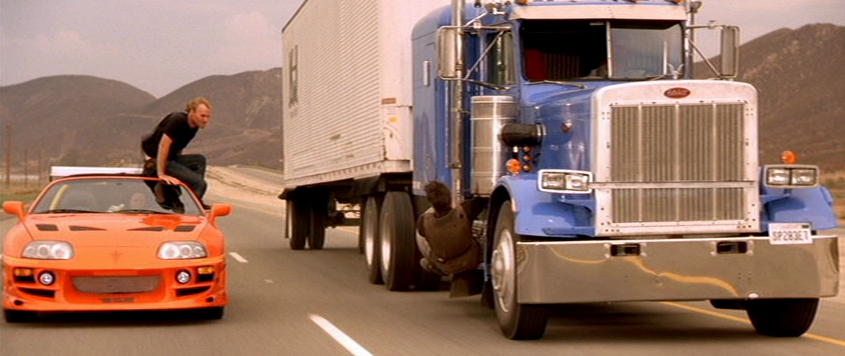 They shoot at the truck and logically enough the driver never stops or calls for help through any of this nonsense. Just keeps driving. The plan is to jump onto the front of the moving semi and then....
Wait, what? Have D and these idiots never heard of carjacking? It works you know. Wait 'til the truck is stopped. Put a gun to driver, make him leave, voila, successful theft.
W comes to Evil Dude's rescue and it was really stupid and then some other stuff happened that I don't remember, but I did enjoyed seeing Tran return and kill the geek who welched on the race he lost. He deserved it.
D flees and W chases him for a bit and they have another cute conversation at a red light and then have an even cuter race, which ends when D gets T boned by a truck...omg! Is the driver of the truck ok? Is he hurt? Were there any other innocent passengers in his vehicle? Are they dead? Any spouses widowed or children left without parents as a result of D's grotesque disregard for decency?
We'll never know cuz W doesn't even check to see if they're ok, just drives up to D as he emerges unscathed (yeah right) from the horrific crash. They have yet another cute convo with no worries of the authorities showing up cause this is a land without 911, and then W decides to let D run off. Umm, why exactly? Not only is he a scumbag thief (who isn't even a Robin Hood type thief and giving it to the poor, he just seems to funnel all his ill gotten booty back into stupid looking souped up small dick compensation mobiles and wife beaters. And it's not like he's robbing drug dealers or some other bad guys...he's robbing blue collar slobs working shitty jobs, and increasing the cost of goods and insurance for all citizens mind you. To say nothing of the countless lives he puts at risk with his ridiculous method of thievery), but he's an asshole!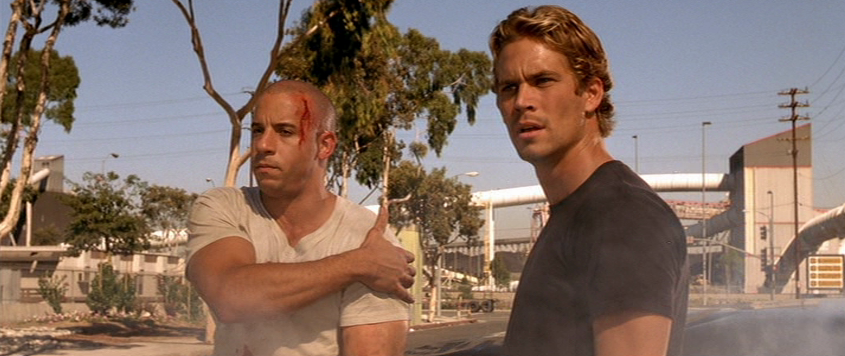 W lets him go though... cuz he was such a good friend to W and... hey wait a minute...he treated W like an asshole pretty much the whole movie. W was the one who saved him from prison and his dick friend Evil Dude's life when that ridiculous truck heist that D insisted happen even though everyone had a bad feeling about went downhill...D owes W not the other way around! The only explanation is that W loves D! God, this movie is so fucking awful. Thank god America isn't so fucking stupid that it spawned four sequels.
Oh god no...
---TO BE CONTINUED!---
home about contact us featured writings years in review film productions
All rights reserved The Pink Smoke © 2011