MY YEAR IN FILM 2006
john cribbs
A note on this year's list...
It was an underwhelming year, the first in a long time where there wasn't one movie that stood out among the rest. Everything in my top ten is a solid four out of five: enjoyable, even great, but unworthy of comparison to at least six of my favorites from last year. The real challenge was selecting the elite from the worst of 2006. That said, a few films did stick out...
My Favorite Films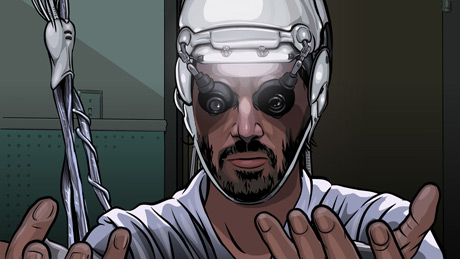 1. A Scanner Darkly
Richard Linklater's film, the first truly faithful adaptation of a Philip K Dick work, is layers. Nothing is simple, everything - identity, relationships, environment, and more abstract entities like perception and neurosis - is almost impenetrably coated by a treacherous reality. That's what makes Linklater's decision to once again interpolate rotoscope animation, the "tracing" technique he used in Waking Life, so wonderfully inspired. With rotoscoping pioneer Bob Sabiston, he's reached an artistic zenith: Scanner looks like nothing that's come before. With each frame so painstakingly focused on, it's one of the most meticulously crafted recent movies and the best paranoid survelliance thriller since the days of The Conversation and The Parallax View. We enter the film as foreign to its wavering surfaces as Keanu Reeves' junkie Bob Arctor, so unhinged by the effects of Substance D that he doesn't realize the narc scrutinizing his pathetic existence is himself. A clear, individual vision of this world is as elusive as the face on a scramble suit, Dick's brilliant imagining of a protective disguise that progressively flashes the features of hundreds of different people, brought remarkably to life through the animation. We see the lives of its characters obliquely, as the title suggests, and while the film isn't without its flaws (Woody Harrelson's performance almost cost it the #1 slot) it's as thematically rich and technically ground-breaking as anything from last year.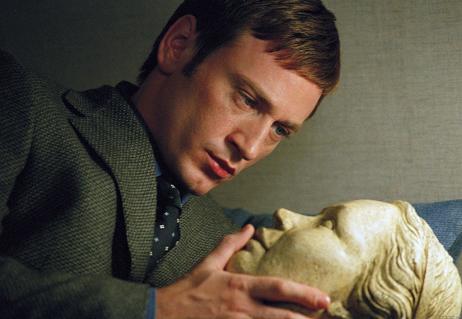 2. The Bridesmaid
At 76, Claude Chabrol is still the master of sinister mindgames and playful menace. His second adaptation of a Ruth Rendell book (the first being the brilliant Le ceremonie) sets up the sort of darkly comedic malice imbedded in the director's best films: his effortless shift from danger to safety, from day scene to night scene, from crowd of extras to intimate lead actors, from fake plot to actual storyline. Chabrol doesn't just tell a story, he traverses arcs like threads that his characters move across from one to the other, obscuring outcomes while revealing more of his players' secret motivations whether it's simply gleaning what effects them or judging their alleged guilt (or both.) In The Bridesmaid, Benoit Magimel plays a twenty-something who seems like a genuinely good guy, cares for his family, has a respectable job and is very good looking. Enter the exotic mystery that is Senta, a bridesmaid at his sister's wedding with whom he becomes instantly drawn to and involved with. Laura Smet, as Senta, is dynamite. Chabrol, like Senta, keeps his skeletons (literally) in the closet until the final dastardly joke. Leading up to it, we're treated to several of the director's favorite fixations: scrutinizing but honest policemen, weird television programs, the obscuring of what's an innocent lie and what's deadly real, not to mention his familiar touch of morbid hyper-reality that borders on the absurd.
My original thoughts on the movie are here.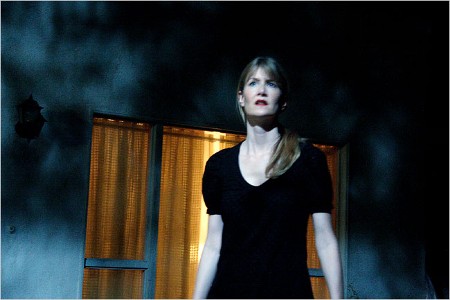 3. Inland Empire
Define Inland Empire as you will - indulgent odyssey, surreal sketch comedy/horror, indiscreetly long Mulholland Drive B-side. At the end of the day, it's pure Lynch. His name is all over the credits: as writer, director, producer, editor, cameraman, set designer and sound engineer, his fingerprints are unmistakable. For the full three hours, you're further into Lynch territory than you had probably ever hoped to be, for good or bad. It's the world of a woman, in an incredible performance by Laura Dern, or rather the many different worlds of a woman "in trouble," whose feelings about her vulnerable femininity drive her to identity crisis, from an ideal existence as a movie star to life as a whore on the street, and beyond that to masochistic voyeur of her own dementia. Working in a purposely impromptu style because of his belief that everything leads to something else, Lynch makes a minor miracle out of what could have been a catastrophe, discovering new ideas and images from the same subjects that have fascinated him passionately over his career. Incarcerating subrealities, physical and psychological torture, the varnished anatomy of Hollywood productions and terror of dissonantly overwhelming pop culture...and since it's Lynch, nothing is handled without humor: Jeremy Irons and Harry Dean Stanton have never been funnier.
My original thoughts on the film are here.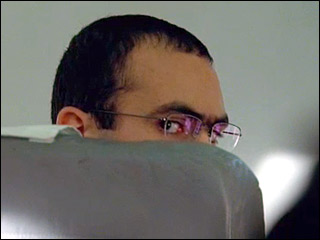 4. United 93
Paul Greengrass' verite drama is about something that happened on September 11, 2001. It's about the events of that day, and it's not interested in the next five years of national healing, controversy, misplaced patriotism, George W Bush and a war on terror. It's about fear and confusion, and what little there is to do when the control over one's fate has been horribly snatched away. Playing out almost entirely in real time and filmed in a way that's both neutrally distant and unbearably close up, the film stretches the level of apprehension until its breaking point, when the victims audaciously unite to retake their fates. In the meantime we meet the players in this powerful reenactment: the airline controllers and military officers (some played by the actual people), the handful of passengers and the terrorists. That Greengrass is able to make you feel slightly anxious for them to execute their plan says a lot for how tightly he brings the audience into the action and how universally repellent is the perversion of destiny. Too soon? Not fucking soon enough.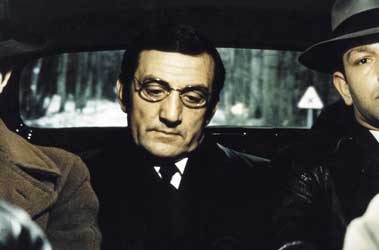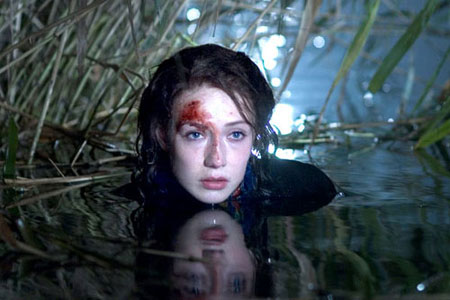 5. Zwartboek and Army of Shadows
The resistance thriller, a subgenre of the war movie that's been dead as long as the robot western, was brilliantly revitalized this year by Zwartboek, Paul Verhoeven's return to the Netherlands, and the restoration (and first ever released in the States) of Jean-Pierre Melville's Army of Shadows. The former is a Mata Hari update that more than makes up in thrills what it lacks in plot originality. Melville's film, initially released in 1969, needs no excuses and makes none for its grim portrayal of desperate underground soldiers whose trust in each other is devastated by the betrayal and corruption of occupied France. They feature the same deadly environment, frivolous regard for life, infighting and second guessing as the best resistance movies (Roma citta aperta, Ivan's Childhood, Verhoeven's own Soldier of Orange), imbued with the distinctive style of the filmmaker. Having first person experience of the war - Verhoeven as a youth in Nazi-controlled Holland, Melville as an actual participant in the resistance movement - both directors know that after the need to survive, what matters is the sacrifice you're prepared to make for others and the moral line that must not be crossed. Traitors and spies, love and death, loyalty and betrayal: black shadows expertly explored by two master directors.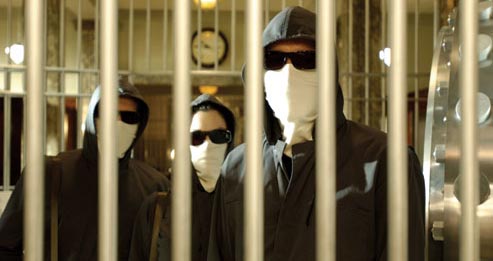 6. Inside Man
If he has indeed sold out with Inside Man, I will gladly give a cackling Spike Lee a ride all the way to the bank. Probably the most entertaining movie of the year, it's a bank heist flick where things are actually going on - every character is shadowy, functioning on their own private agenda. From the beginning, we're displaced by an intimate, misleading narration by head criminal Clive Owen, and from that point on nothing is as it appears: strategies are anticipated and thwarted, robbers and hostages switch places, and the handful of characters who know what's really happening scam and barter and lie through their teeth to keep the truth under the rug, much to the chagrin of Denzel Washington's New York City cop. Lee has a great time playing with the audience while keeping things at a tight pace, throwing in a joke or knowing nod to great heist films from the past here and there, and getting three great performances out of his lead actors. What fun.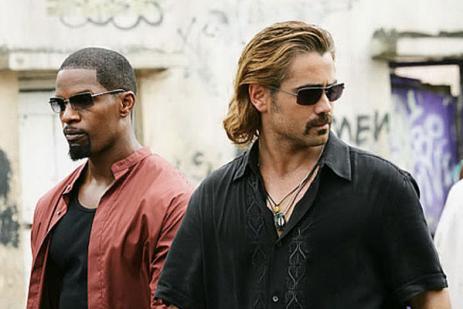 7. Miami Vice
Michael Mann's Miami, shot in dazzling Hi-Def nighttime photography by Dion Beebe, is a portrait of sin. What world does it exist on, with its matted electrical storms and artfully polluted skies, its mansion that rests above a crater of waterfalls where it seems as if the earth itself has cracked at the surface? In the foreground we've got cops and crooks, the line between them obscured by Mann's obsessive theme of identification, barking tough guy (and girl) jargon when they're not opening up on each other with a wide array of state-of-the-art weaponry. Whether telling off the FBI under the low clouds of a pearl grey Miami, or sitting back with mojitos and Gong Li in Havana, the heroes are isolated against a facade of danger: a world where good people die and the bad guys could conceivable win. In dropping his biographical inquiries after The Insider and the vastly underappreciated Ali and returning to the crime procedural with Collateral, it looked like Mann might be taking a step back, but Vice rips into new, exciting territory with the velocity of a "go fast" boat. With his reputation as a genre director, it's easy to forget that Mann is first and foremost a filmmaker of color and architecture, a skilled craftsman whose work showcases better sound, editing and camerawork than any other studio-backed creation. He also demonstrates what a good director can do with a bad actor (having a movie with Robert Downey Jr in the top 10 two years in a row is crazy enough, but two with Colin Farrell?) Mann's Vice rises above Farrell, and its TV origins. It's propulsive pop opera at its best, and features two action scenes that rival the highlights of Mann's explosive filmography.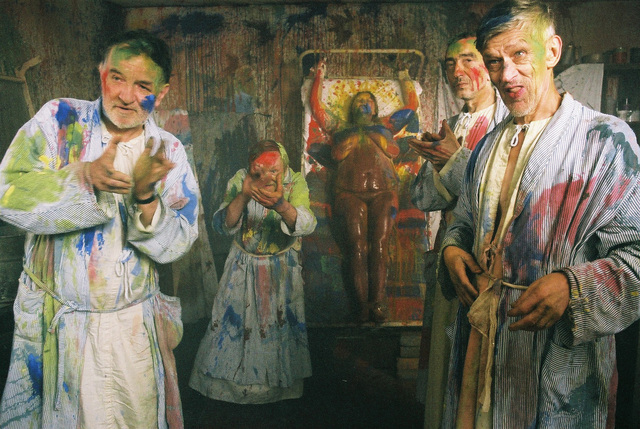 8. Lunacy
An virtuoso marriage of Poe and the Marquis de Sade, Jan Svankmajer's fifth feature film (sadly, his final collaboration with wife/partner Eva Svankmajerova) is a self-proclaimed horror film about dancing meat. That first sentence pretty much sells the movie, but there's even more to the film than the director's usual mixture of live action and surreal animation. It has the same strange science fiction timelessness as Godard's Week/end. When characters riding in an 18th century coach pass an upturned car and a flaming noose, it's a unique bewilderment that perfectly intones a film about being a prisoner to society's madness. Like his lunatics who've taken over the asylum, Svankmajer sets the stage for political allegory, but craftily makes room for his own brand of dark comedy and pathos. "Today, art is all but dead anyway," he states in an introduction to the film. "In its place is a kind of a trailer for the reflection of the face of Narcissus." Welcome to Lunacy, Svankmajer's own trailer.
My original thoughts on the film are here.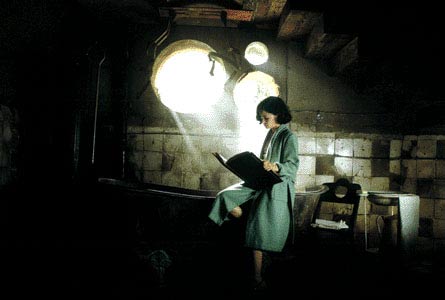 9. Pan's Labyrinth
Guillermo del Toro's spell over the eyes is effortless: what he's been working on over the past ten years is access to our souls. He's come closer than ever with Pan's Labyrinth, the story of a girl (Ivana Baquero, a revelation) who shields herself and her mother from the misery of life during Franco's fascist regime with visions of giant treefrogs, wriggling roots that whine like bratty infants, and the ten foot tall Pan, brought to life by excellent make-up effects and Doug Jones' creature performance. And while the film doesn't always work, it's the sort of gloriously flawed creation that fits right in with old school children's movies for adults like The Dark Crystal and the work of Hayao Miyazaki while also recalling Takashi Miike and consolidating the same ideas del Toro's been developing since Cronos and The Devil's Backbone. In a year of phony "bedtime stories," this is a genuinely heart-felt fairy tale, masterfully told through scenes of enchantment and horror.
My original thoughts on the film are here.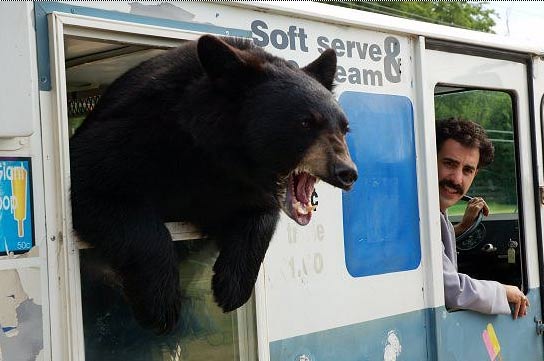 10. Borat: Cultural Learnings for Make Benefit Glorious Nation of Kazakhstan
Yes, it's wildly popular. Yes, my mom knows who Borat is. Yes, it's not cool anymore to cheerfully shout "Jagsemesh!" at people on the street (ok, that was never cool.) But does that change the fact that Sacha Baron Cohen and his crude Kazakhstani creation have brewed up the funniest movie I've seen since dot dot dot? Do the efforts of Cohen and company deserve any less praise, the film's controversial aftermath and the sue-happy idiot-subjects being completely besides the point? All I know is, it's never hurt so much to laugh so long. Cohen is a master manipulator of people and situations, a highly gifted improviser and, lest we forget, a filthy Jew. Borat is fearless in its bar-raising humor and revelatory in its exposure of our deep-seated predjudices and xenophobia: the scene in the trailer with the frat boys is hilarious and shocking. If there were a medal for courageous filmmaking I'd give it to Cohen, but I'd run away fast before he got a chance to make me realize something about myself I didn't want to know...
My original thoughts on the film are here.
Worth Mentioning: Brick and SLiTHER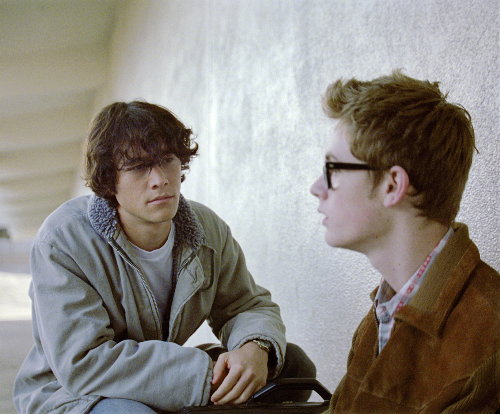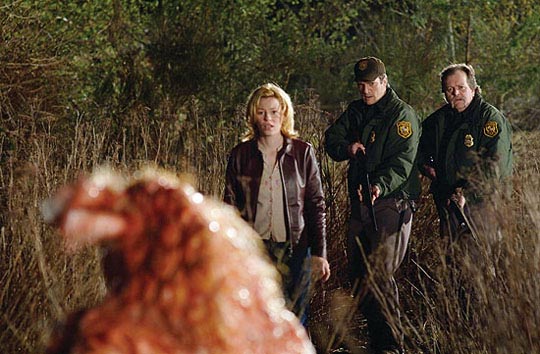 Two young filmmakers, two promising debuts. Rion Johnson's Chandler-transplanting high school caper and James Gunn's slimy monster movie turn their respective genres upside down with smart screenplays and deft direction that seem like the work of experienced auteurs with several films under their belt. Both labors of love (and you can feel it), Brick was a five-year project funded mostly by Johnson's parents while SLiTHER's Gunn waded through the mediocre task of bringing Scooby-Doo to the screen (which he handled admirably) before getting a chance to tackle something true to his heart: sex and mutilation. Johnson takes a huge risk in giving gritty dime-novel dialogue to a bunch of teenagers and Gunn brings to life the kind of fun, gory and smart horror film that hasn't existed since Frank Henenlotter stopped making movies. Great leading performances from Joseph Gordon-Levitt as Brick's schoolyard sleuth Brendan and Nathan Fillion as SLiTHER's Bill Pardy ("I'm Bill Pardy") compliment the expert handling of these ultra-low budget endeavors whose helmsmen seem to suggest through their wily, fresh material, "I'm just getting started..."
Best Reissue: Army of Shadows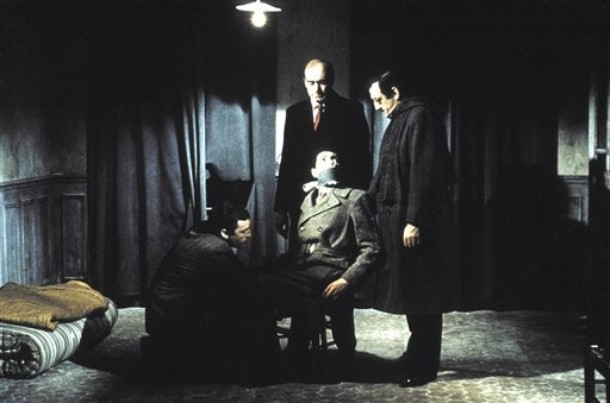 My Least Favorite Movies
1. Little Children
There was buzz at the Toronto Film Festival that Todd Field had solved the "cinema problem" with his second film. If the problem was that there weren't already enough boring, mean-spirited, soap opera-posing-as-indie art film slice of Ameircana as deconstructed by self-congratulatory intellectual "small" movies being hailed for their simplistic scrutiny of their already well-represented subject matter, then problem solved. Little Children makes the bad taste of similarly empty suburban exposes like American Beauty seem minty fresh. Through condescending voice-over, we learn about the foibles of a selfish set of characters unhappy with the situation they're "trapped" in, specifically unexciting marriages and loud kids: weren't they supposed to be great artists and skateboarders? They're the "little children," but the title better describes the filmmakers, who add a subplot involving neighborhood outrage over a local pedophile to spice up their lame melodrama and disguise their hatred of the movie's characters by creating a moral ambiguity.
My original thoughts on this shit is here.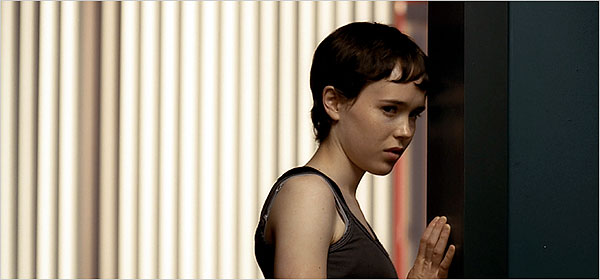 2. Hard Candy
The worst kind of "cutting-edge" film, one which uses its would-be edgy premise to disguise its true nature. A primitive psychological drama, Hard Candy (which on one hand feels like the worst one act play ever performed) is an endless cat and mouse game (how many times is he going to escape and get caught again?) that features the infuriating kind of dialogue where the probing torturer casually circles her victim while saying his name a lot ("You know what, Geoff? I'm starting to feel sorry for you, Geoff. Geoff, are you ok? You want some water? Geoff?") In reversing the roles of pedarast and intended victim, it's the movie that becomes the pervert. I don't know who came up with the idea that torture and murder were in any way more acceptable than sex with a teenager, and the movie has to make all sorts of excuses and apologies in its conclusion to erase its reproachful morals (and thereby make everything that's come before pretty much moot.) The obvious visuals (like her little red hoodie) and attempt at hipness (the line "Oh, and I HATE Hoobastank!" tries to get a cheer from the hip Blonde Redhead-adoring crowd) make it all the more distasteful and trite. Sandra Oh appears for a few seconds to look ugly, something the movie needs no help with.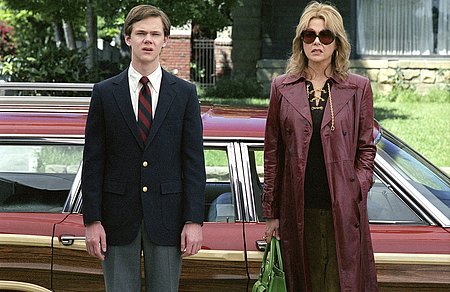 3. Running with Scissors
Hm - it seems that, coincidentally, three movies featuring Patrick Wilson have turned out to be the three worst movies of the year. I can't remember the last time an entire ensemble cast has crashed and burned so badly: even the great Brian Cox (the reason I saw the movie) gives a hugely miscalculated presentation. I'm starting to think that dysfunctional family movies (there's another one later on the list) are my least favorite, because it's been so long since someone did it right. Director Ryan Murphy couldn't be more awkward in his attempts to portray awkwardness, the result being some kind of hyper-inelegance embarrassing for everyone involved and anybody watching. In the year of the "memoir scandal" that exposed the bogus lives of James Frey and the nonexistent J.T. LeRoy, Augusten Burroughs' unreliable narrative was probably a bad place to start, and it didn't get any better from there.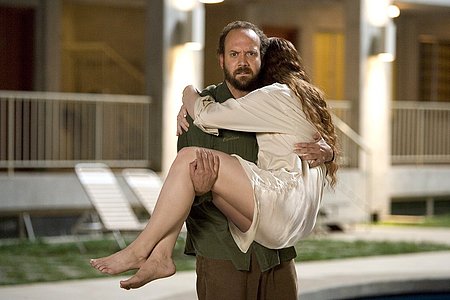 4. Lady in the Water
I know the cause to wholly dismiss this movie needs no help from me, but I can't help loving to hate it and reveling in M Night's inevitable plunge into pure indulgence and self-parody. I'd be hard pressed to think of anything more arrogant than casting oneself as a writer whose beautiful work will one day save the world (although he did have good tips on stopping technologically superior aliens: throw a water balloon at 'em!) He tries to make the movie critic-proof by having Bob Balaban play a pompous film reviewer who steers the hero down the wrong path (since, you know, this movie's so original) and is hilariously mutilated by a monster called a scrat. The scrat is after a narf who requires the aid of a seer to get back to Narnia, or something...the material Shyamalan feels so above defending is a "bedtime story" only in the sense that its exhausting exposition is a natural sedative. He could not have found better people to drag down with him than the overrated shlub Paul Giamatti and daddy's girl Bryce Howard, who sits around with wet hair like a comatose patient with Down's syndrome - Giamatti's character wanting to protect her makes about as much sense as the director trying to convince anyone that he's still relevant in any way.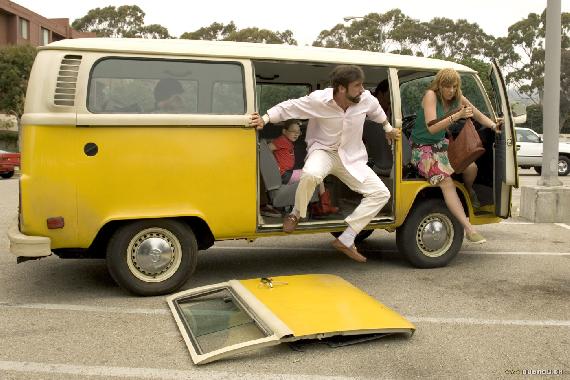 5. Little Miss Sunshine
My second least favorite movie of 2006 to start with the word "little," this offensive bit of nothing runs down the list of eccentric indie characters - overzealous motivational speaker, suicidal homosexual, foulmouthed porn-reading junkie grandfather, mordbid Nietzsche-loving teen - then sets them on the road to redemption. Except they never get there: they're pretty much just as intolerably awful a bunch of losers as when they started out. When the movie isn't ripping off everything from Welcome to the Dollhouse to National Lampoon's Vacation, it aims its cannons at the broadest of barns, the child beauty pageant. Really, they're shallow and exploitive? Way to pull the veil off that one, movie. Like Running with Scissors, Sunshine's nastiness conflicts with its attempts to be simultaneously clever and charming, exemplified in the ten to twenty sequences of the family pushing their yellow VW van to get it started then hop in one at a time. If the film's goal is to show how the adorable little girl makes those around her better people, it's a waste of time - those people are ridiculous, unconvincing caricatures who might as well be crushed under the wheels of the perpetually-pushed VW.
Original thoughts on the movie here.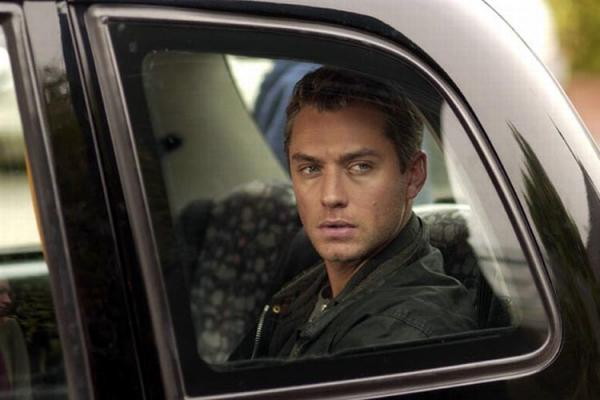 6. Breaking and Entering
The competition to be this year's Crash and give answer to the ethnic issues only sappy Hollywood dramas can resolve was a harsh one, but while Babel was dismissable enough, Anthony Minghella (who I always give too much credit due to The Talented Mr Ripley) helmed this senseless piece of shit that aims for Paul Haggis-style "healing" and manages to pick up some of Little Children's smug characterizing as well: pity Jude Law, so sick of his terrible life with a pretty wife, stepchild and successful business (opening narration: "We never look at each other anymore...") He has a profound speech about how "It's like...we break and enter into each other's lives...without caring that we hurt each other..." Like Don Cheadle's similarly simplistic "crash" analogy, it's hilarious tripe.
7. Flandres
There have been all manner of pro- and anti- war movies based on the recent conflict, and while we in the States have to stomach Home of the Brave ("I guess you don't need two arms to push someone away!"), the rest of the world is stuck with Bruno Dumont's Flandres, the most dehumanizing movie I think I've ever seen. Young people in a small French town go about the day mindlessly working, screwing and drinking until they're called to duty in some unnamed Middle East country, where they mindlessly rape and kill before meeting their own gory death, scenes which the film seems to relish in. While there are some gorgeously framed set-ups and Dumont is a skilled hand at pacing, there's just no telling what he's getting at. With no reference as to who these kids (and the movie does have that Larry Clark ickiness) are and what war they're supposed to be fighting, Dumont only seems interested in depicting the human body as a tarnished piece of meat, brainlessly violent and promiscuous, that might as well be subjected to the horrors of battle, or just stink up an open valley in the middle of nowhere. I'm afraid I may have just made the movie sound cooler than it is...it's ambivalently cold and more than a little boring.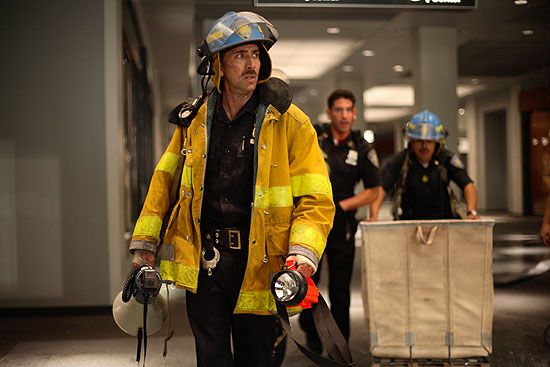 8. World Trade Center
The flip side of the United 93 coin was Oliver Stone's disaster movie with a 9/11 tag slapped on it. The once enfant terrible auteur has turned into the government's best PR man, waving the flag over the eyes and senses of his audience when he isn't following the standard "Who dies next?" formula of any catastrophe thriller. What United 93 conveys and this film leaves behind in favor of bronzing its own patriotic ego is the confusion of the day, what the impact was on people. We get to see a whiny Maggie Gyllenhaal and tough old gal Maria Bello biting their nails over the fates of their NYPD husbands, but how would it be any different if, say, they were shot in a liquor store robbery or trapped under a collapsed subway tunnel? What's the point?
My original thoughts on the film, and Oliver Stone's pink shirt, are here.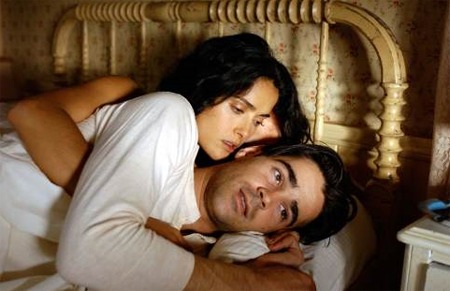 9. The Black Dahlia and Ask the Dust
Soderbergh may have come up dry with his nostalgic nod to classic movies The Good German, but in revisiting the film noir, former Hollywood mavericks Brian De Palma and Robert Towne completely sputtered out. A huge problem was the utter miscasting of male leads Josh Hartnett and Colin Farrell (thank god there's a Colin Farrell movie to hate this year!), but beyond that there's nothing either filmmaker brings to table to enchance the bland scripts, literary adaptations from books by James Ellroy and John Fante, respectively (or maybe not so respectively.)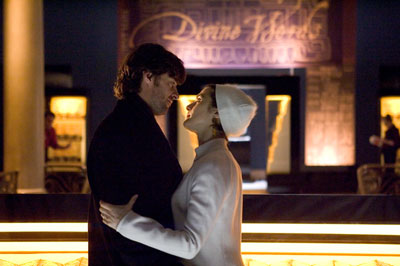 10. The Fountain
Darren Aronofsky bought his own hype and spent several years trying to get this vanity project off the ground, a Zen tale of loss and immortality that plays like your stoner roommate trying to explain what he did with your keys. Some of the Spanish Inquisition and conquistador scenes are interesting, but the "modern" set up with Hugh Jackman trying to save dying wife Rachel Weisz by dissecting monkey brains is schmaltzy and sentimental, while the "ladies and gentlemen we are floating in space" interludes are less 2001 and more 28 Bong Hits Later. I feel bad trashing the movie, considering it was a critical and commercial failure, but it is pure indulgence: the milky philosophy of The Matrix without any flipping around in cool shades. Jackman comes away unscathed, giving the asinine material his best shot.
<<Previous Page 1 2 3 Next Page>>
home about contact us featured writings years in review film productions
All rights reserved The Pink Smoke © 2008All rights reserved The Pink Smoke © 2008