MY YEAR IN FILM 2006
page 3
john cribbs
The Local Hero Award for most overrated underrated film of the year: Sherrybaby
Acceptable sequels: Final Destination 3, Fast and the Furious: Tokyo Drift
Who asked for these sequels anyway: Basic Instinct 2, Underworld: Evolution, Ice Age: The Meltdown, Scary Movie 4, Garfield: A Tale of Two Kitties, The Grudge 2, The Santa Clause 3: The Escape Clause, Clerks II, Saw III, Rocky Balboa, Mission: Impossible III
Sequels to dread: M:I4, Snakes in a Biodome, Gorillas on a Hovercraft, The Make-Up, Big Mrs. Sunshine, Dreamwomen, Star Trek III: The Pursuit of Happyness
Most unfortunate title: (three-way tie) Lucky Number Slevin, Goal! The Dream Begins, The Night Listener
Most prophetic title: Failure to Launch
Movie that has every chance of being as bad as its title: The Wind That Shakes the Barley
Runner-up: Notes on a Scandal
Much better than it deserved to be: The Devil Wears Prada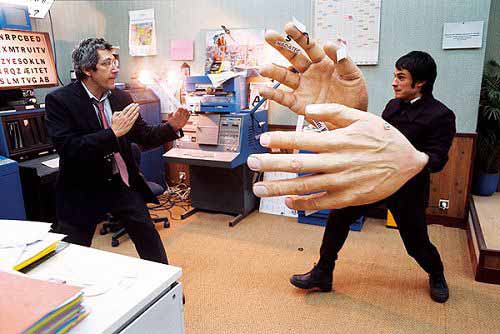 Biggest surprise of the year: The Science of Sleep
In what was the biggest surprise of the year for me, I got to meet the Michel Gondry everyone kept telling me about: the fun and innovative artist with a knack for fantasy-dramas as smart as they are irresistibly endearing. I also got to meet the Gael Garcia Bernal that people claim won them over in The Motorcycle Diariesand Bad Education. Here, writer/director and actor collaborate marvelously on a film where Gondry's adorably childlike oddments and imagery really clicked with Bernal's charming and ultimately sad performance as an artist whose waking life begins to clash with his colorful dreaming state. As much as my cynical eyes roll when someone describes how a movie made them "smile," that probably happens because it's so rare for a film to nab me emotionally in that way. Science of Sleep did, and managed to maintain a stimulating momentum despite its patchwork of scenes. Besides that, it's the best love story of the year, with the beautiful Charlotte Gainsbourg providing a muse for the outpouring Bernal's eccentric, sometimes grotesque, subconscious. Original thoughts on the film are here.
Biggest disappointment (tie): Fay Grim and Idiocracy
Best ending: The movie did actually end - good enough. Pirates of the Caribbean: Dead Man's Chest
Worst ending: The Prestige... More twists than a pretzel M Night Shyamalan made himself, and it still makes about as much sense as that analogy.
Most offensive theft: Speaking of endings, Worst death Part IIthe Lord of the Flies end of Apocalypto. Also, Mel borrows Jackie Chan's rolling decapitated head POV.
Still not entirely convinced this movie wasn't a joke: Akeelah and the Bee
Best character name: Jaguar Paw, Apocalypto
Worst character name: Cleveland Heap, Lady in the Water
Worst case of Futro in a movie: Moving images on newspapers in Children of Men, recycled from Cuaron's Harry Potter movie?
Most instantly forgettable movie: An American Haunting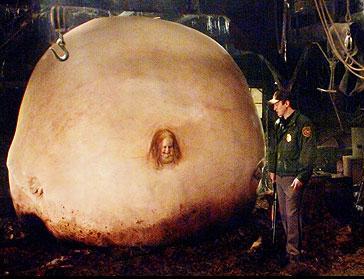 Best death: Childbirth's a bitch – SLiTHER
Worst death: James Marsden's Cyclops just kind of stops being in the movie (X-Men: The Last Stand)
Worst death part II: Jamie Bell kidnapped and tortured by dem dirty Japs in Flags of Our Fathers (was it because of King Kong?)
Most shocking death: The early departure of Tobey Maguire in The Good German (nice try, Children of Men)
Best first half of a horror film: The Descent
Best second half of a horror film: United 93
Stand-out joke of the year: Borat telling a rodeo audience "I support your war of terror!"
Stand-out lame joke of the year: Granny's pin number, 1234 – isn't that a Spaceballs joke? (Employee of the Month)
Strangest joke of the year: The warrior in Apocalypto shouting "I am walking here!" after a tree falls in his path
In case I needed a reminder that Ghost World was no good: Art School Confidential
Stand-out performances: Gong Li (Miami Vice and Curse of the Golden Flower), Will Oldham (Old Joy), Rory Cochrane (A Scanner Darkly), Sasha Baron Cohen (Borat and Talladega Nights: The Ballad of Ricky Bobby), Laura Dern and Jeremy Irons (Inland Empire), Gary Cole (Talladega Nights: The Ballad of Ricky Bobby), William H Macy (Edmond), Emily Blunt and Meryl Streep (The Devil Wears Prada), Ray Winstone and John Hurt (The Proposition), Daniel Craig and Eva Green (Casino Royale), Tobey Maguire (The Good German), Gael Garcia Bernal and Charlotte Gainsbourg (The Science of Sleep), Ivana Baquero (Pan's Labyrinth)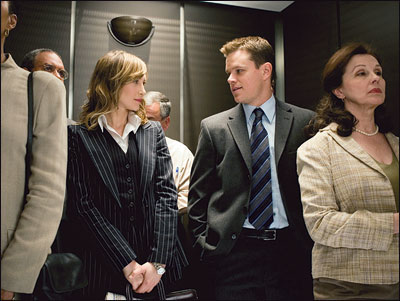 Performance of the year: Vera Farmiga as Madolyn in The Departed
Most surprising performance: Leonardo DiCaprio in The Departed
Worst performances: Paul Giamatti and Bryce Dallas Howard (Lady in the Water), Josh Hartnett and Fiona Shaw (The Black Dahlia), Maria Bello (World Trade Center), Kevin Kline (A Prairie Home Companion), Alec Baldwin and Mark Wahlberg (The Departed), Daniel Craig and Sandra Bullock (Infamous), Patrick Wilson (Hard Candy and Little Children), Sienna Miller (Factory Girl), Adam Beach (Flags of Our Fathers)
Stinkiest performance of the year: Maggie Gyllenhaal in World Trade Center
Most overrated performance: Penelope Cruz in Volver
Genius most in need of a new agent: Hugh Jackman. Scoop, X3, The Fountain, Flushed Away, Happy Feet, The Prestige? New year's resolution – find him some good movies!
Who's still giving Ed Burns money? The Groomsmen
Seriously, people know Renee Zellweger is not a British person, right? Miss Potter
Best cameo: Vin Diesel – obvious and contrived though it may have been – in Fast and the Furious: Tokyo Drift
Weirdest cameos: Mos Def and Elvis Costello in Tallegeda Nights
Filmmaker of the year: Paul Greengrass, United 93
Filmfucker of the year: Todd Field, Little Children
Best moments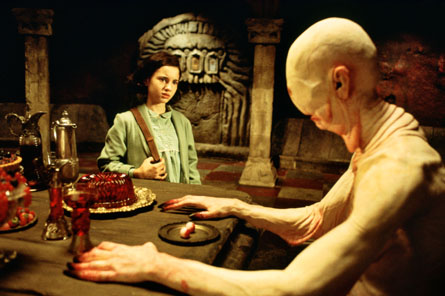 The Pale Man's feast (Pan's Labyrinth)
Miami Vice's trailer park scene, hands down best action sequence of the year
Bayonet-to-the-neck fu, Army of Shadows
Mountain Dew jingles in The Devil and Daniel Johnston
Vera Farmiga takes ten seconds to judge, convict, and sentence the weird pedophile couple in Running Scared
Wyclef Jean performs an impromptu version of "If I Were President" backstage with the Central State University Marching Band during Dave Chappelle's Block Party
Captain Stanley and his wife get ready for Christmas dinner (The Proposition)
Steve-O using himself as bait, Jackass Number Two
Zwartboek's spy Carice van Houten thinks of everything, dying her dark pubic hair blonde
"Superstar!" Will Oldham tells the story about the notebook store lady, Old Joy
"Quick, get a lawyer! Find out if there's any law against impersonating a slut!" Frankie Cheeks, alive and well thanks to the viewer - Final Destination 3 "alternative" scene
The terrifying LA morgue extra feature on the Chaos dvd
Harry Dean Stanton asks for a few bucks he can borrow (Inland Empire)
Laura Dern bleeds on the sidewalk between two people talking (Inland Empire)
Biggest things to look forward to next year:
Hot Fuzz
Luc Besson's Angel-A
Judd Apatow's Knocked Up
Paul Greengrass' The Bourne Ultimatum
Brad Bird's Ratatouille
Jury's out:
Spider-man 3
David Fincher's Zodiac
Rob Zombie's Halloween
Eastern Promises – have we lost Cronenberg forever?
Bleakest things to stomach in the near future:
Ocean's 13
Rush Hour 3 (though I have to admit, Van Damme as the villain is inspired casting)
A Mr. Bean sequel
Michael Bay's Transformers
<<Previous Page 1 2 3 Next Page>>
home about contact us featured writings years in review film productions
All rights reserved The Pink Smoke © 2008All rights reserved The Pink Smoke © 2008