~ by JOHN CRIBBS ~
For those just tuning in: what I'm doing in this series is heading down to the local video store and finding interesting movies I've never heard of. For younger readers, a "video store" is an establishment that you can walk or drive to and rent Video Home System cassettes, also known as VHS tapes, from an actual person and take it home for your own entertainment purposes (you gotta bring it back to the store when you're done, though.)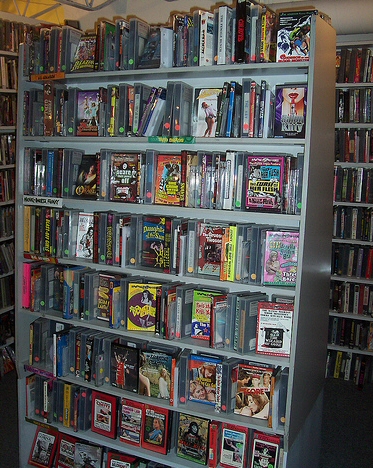 I'm basing my selections on the outrageous video boxes, the kind that helped us decide whether a movie looked like it was worth our time back in the days before the internet started telling us everything there is to know about every film before they're even released. Then I'm writing about my VHS safari.
Then I'm writing about them - simple as that. With the inevitable extinction of the video store it's become more difficult to hunt down some of these more obscure titles... they're becoming harder to find than Bigfoot.
And the obsolescence is almost complete. Netflix didn't even wait for the dust to settle on Blockbuster's grave before taking measures to separate their streaming and mail rental divisions, an obvious move torwards dissolving the dvd service all together. Even though the ploy was met with a joyously, overwhelmingly negative response from customers, it's a small victory in a war whose outcome was determined long ago. Given the chance to make money and spend less, corporationswill find another quick route towards the total discontinuation of packaged media, no matter how many International Independent Video Store Days are allegedly observed. The adventurous and social side of home video entertainment has already been unobstructedly annihilated (the social network feature of the site, where you could connect with friends and trade recommendations, was the first thing Netflix jettisoned.) Now they seek to eliminate the cover, the spine... the hard copy of the movie itself. It doesn't feel like evolution, it feels like a bad dream. Hey, speaking of which...