~ by JOHN CRIBBS ~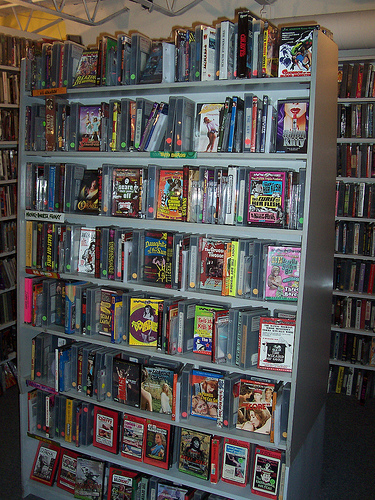 For those just tuning in: what I'm doing in this series is heading down to the local video store and finding interesting movies I've never heard of. For younger readers, a "video store" is an establishment that you can walk or drive to and rent Video Home System cassettes, also known as VHS tapes, from an actual person and take it home for your own entertainment purposes (you gotta bring it back to the store when you're done, though.)
I'm basing my selections on the outrageous video boxes, the kind that helped us decide whether a movie looked like it was worth our time back in the days before the internet started telling us everything there is to know about every film before they're even released. Then I'm writing about my VHS safari.
With the inevitable extinction of the video store it's become more difficult to hunt down some of these more obscure titles... they're becoming harder to find than Bigfoot.
And the obsolescence is almost complete. All three Blockbusters in my area just went bust. Part of me wants to celebrate the imminent death of the soulless corporation that employed fascist policies as to what titles they stocked, that killed so many great independent video stores, but mostly it just makes me sad. The end of the most powerful rental company on the planet is the Seven Chalices Full of Plagues for the industry; that is, the second to last sign of its demise.
The next stage will be the discontinuation of packaged media, followed by the dissolution of video streaming - not in the near future mind you, probably not until they figure out how to channel movies and tv shows directly to the human brain. I guess that'll be fine...but it will be hard to determine whether or not they're any good without a video box.